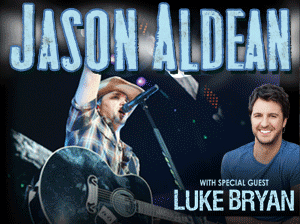 Double your country music dose with two of  today's hottest stars –  Jason Aldean and Luke Bryan live in concert at 1-800 Ask Gary Amphitheatre in Tampa on August 10, 2012.
Buy Jason Aldean Luke Bryan Tampa tickets and enjoy some of your favorites,  including  "Why," "She's Country," "Big Green Tractor," "Dirt Road Anthem," "Tattoos on This Town," "Hicktown,"  "Amarillo Sky,"  "Country Girl (Shake It For Me)," and  "All My Friends Say." 
"The whole thing about being creative is coming up with new things," Jason says. "What makes you different and more creative than the other guys is taking something to an extreme and making it better without ripping anybody else off. I think that's the key. The great ones figure it out and are constantly evolving, and that's what makes 'em grea
Jason Aldean tickets are on sale now.
1-800 Ask Gary Amphitheatre is located at 4802 US Highway 301 North, Tampa, FL  33610.
Directions To 1-800 Ask Gary Amphitheatre
FROM TAMPA 

– I-4 to exit 7A (Highway 301 South) 

– south (right) 1/4 mile 

– entrance on the right 

– US Highway 301 Entrance gate 



FROM ST PETERSBURG/CLEARWATER 

– I-275 North to I-4 East to eixt 7A (US 301 South) 

– south (right) 1/4 mile 

– entrance on the right 

– US Highway 301 Entrance Gate 

 


FROM SARASOTA 

– I-75 North to exit 260B (SR 574, MLK Blvd) 

– west (left) 2 miles, past US 301 

– entrance on the right 

– Dr Martin Luther King Jr Blvd Entrance gate 



FROM OCALA 

– I-75 South to I-4 West to exit 5 (MLK Blvd) 

– west (left) 1/2 mile 

– entrance on the left 

– Dr Martin Luther King Jr Blvd Entrance Gate 



FROM ORLANDO 

– I-4 West to exit 7 (US 301 South) 

– South (left) 1/4 mile 

– entrance on the right 

– US Highway 301 Entrance gate 



Jason Aldean tour dates