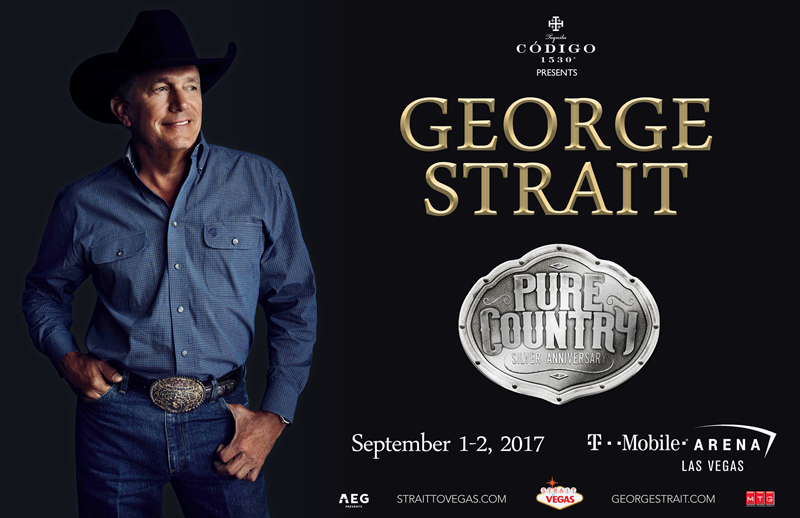 When George Strait walks the 60-steps from the gauntlet to the center stage at T-Mobile Arena in Las Vegas on September 1 and 2 , he will do so knowing countless fans of his 6x Platinum-selling Pure Country will be in the crowd as they celebrate its silver anniversary alongside the King of Country. In honor of the anniversary, the Pure Country soundtrack will appear for the first time on vinyl with a limited-edition pressing made available in conjunction with September shows (released-wide 25 years to-the-day since it initially hit shelves, Sept. 15 ). Strait will pay special tribute to the film's impact on his music for a not-to-be missed set of shows.
In a rare interview and iconic nearly-8,000-word profile in The New Yorker , Strait divulged that he was initially reluctant to star as the lead in the feature film . Strait revealed he "was persuaded by the producer Jerry Weintraub, and by Colonel Tom Parker, the former manager of Elvis Presley… After a concert in Las Vegas, Parker told Strait how important Hollywood had been to Presley. 'Elvis hated making those movies,' he said—but they transformed him from a pop star to an icon.'" Serendipitously, from his Las Vegas shows this weekend at T-Mobile Arena, Strait revealed his plans to honor the motion picture's connection to fans over the last 25 years with a special spotlight on the music and stories behind some of the soundtrack's most beloved songs.
In observance of the release of the vinyl and the film's silver anniversary, Alamo Drafthouse, an independent movie theater chain founded in Austin, Texas with 28 locations nationwide, will host special screenings of Pure Country throughout the month of August. Known for a completely immersive experience, providing food and beverages during their showings along with a strict no talking/no cell phone policy, it's the perfect way for fans, old and new, to relive their favorite moments and songs while experiencing Dusty on the big screen once again.
George Strait's final four shows of 2017 are Friday, September 1, Saturday, September 2, Friday, Decemb er 8, and Saturday, December 9, 2017.