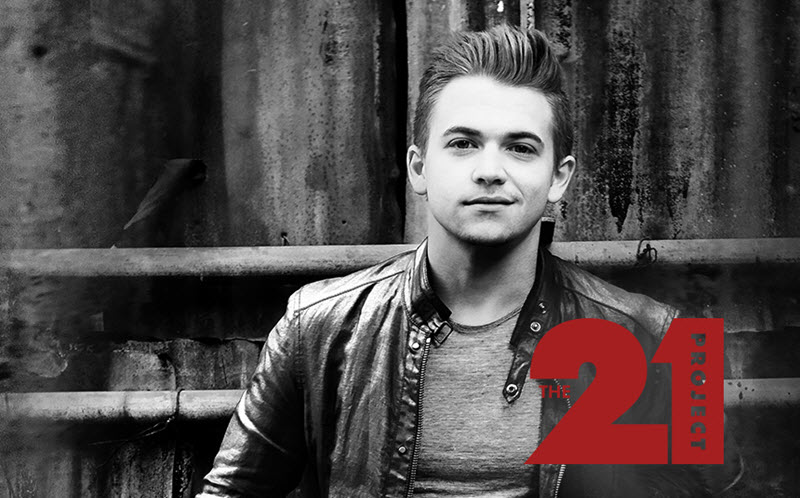 Hunter Hayes' new CD,  The 21 Project, hits stores today (Nov. 6).  The limited edition, three-disc set explores the arc of seven new songs – including Hayes' current Top 25-and-climbing single, "21" — as they progress from acoustic, to studio, to live recordings of each track.
"I wanted to do something a little more (with this project)," Hayes said in a recent interview with USA Today . "We always have these weird, wild and wacky acoustic arrangements and the live arrangements always have a different energy as well, so my thing was like, 'Let's just have all those as part of the story. They're going to live in that space. They're going to become those things – acoustic versions, live versions eventually. Why not do it now? Why not make it all a part of a project? Why not give the fans 21 songs at once versus just seven?' It just sounded like more fun to me."
Hunter Hayes : The 21 Project Track Listing
1."21" (Dallas Davidson, Kelley Lovelace, Ashley Gorley, Hunter Hayes)
2."Young And In Love" (Hunter Hayes, Dan Omelio, Dave Barnes)
3."Saint Or A Sinner" (Hunter Hayes, Lori McKenna, Barry Dean)
4."Where It All Begins (feat. Lady Antebellum)" (Hunter Hayes, Charles Kelley, Dave Haywood, Hillary Scott)
5."Suitcase" (Hunter Hayes, Ashley Gorley, Ross Copperman)
6."The Trouble With Love" (Lori McKenna, Hunter Hayes)
7."I Mean You" (Hunter Hayes, Jimmy Robbins, Ashley Gorley)
Get a behind-the-scenes look at the making of The 21 Project:
Hailed as a "country-rock-blues guitar hero in the making" by the Los Angeles Times, five-time GRAMMY nominee Hunter Hayes is a singer, songwriter and multi-instrumentalist who roared onto the music scene with his Platinum-selling, No. 1 self-titled debut album and chart-topping sophomore album, Storyline , on Atlantic / Warner Music Nashville. With three No. 1 singles already under his belt (including the multi-Platinum smash "Wanted," "Somebody's Heartbreak," and "I Want Crazy"), Hayes delved into unprecedented territory with the innovative release of his Top 25-and-climbing single, "21," which is the most-streamed current country song on Spotify with nearly 24 million streams. He launched his limited-city 21 Tour this fall and released a special, three-disc collection of new music dubbed The 21 Project on November 6. For the latest updates, visit  www.hunterhayes.com  or follow on Twitter/Instagram @HunterHayes and  www.Facebook.com/HunterHayes .