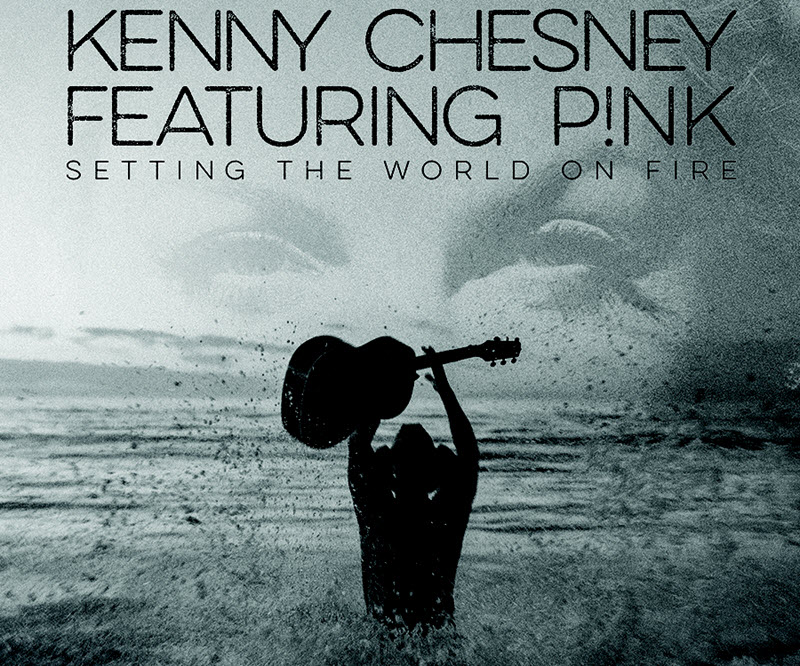 Kenny Chesney's duet with P!NK, "Setting The World On Fire" hits country radio on July 28 at 5 p.m. ET. Invoking the dazzle of being lost in the heart of Saturday night: lipstick on mirrors, philosophical conversations strewn across hours, bands on the speakers matching the name on your t-shirt, "Setting The World On Fire" is the wonder of how sweet and enervating falling into love can be.
"You can't conjure a song that captures that feeling of being on the brink like this does," Chesney says. "The lyrics are a perfect way of saying it, but when you feel that melody rise, the arrangement picking up momentum – it's bigger than you are, and all you want to do is throw yourself against the night. Then when P!NK comes in, well, that just brings this (song) to life."
"With the Spread the Love Tour in full force," the man The Wall Street Journal calls "The King of the Road" says, "I wanted a song that packs all that joy, all that fun, all the energy that love is made of. When I heard 'Setting The World On Fire,' I knew it was exactly the song I'd been looking for. Like 'Somewhere With You,' there's an urgency, but this one is 'in' the moment – and what a moment it is!"
Given Chesney's history of unlikely – and often chart-topping – duets with Dave Matthews ("I'm Alive"), the Wailers ("Spread The Love"), Mac McAnally ("Down The Road"), Grace Potter ("You & Tequila," "Wild Child") and six weeks at No. 1 with Uncle Kracker ("When The Sun Goes Down"), teaming with P!NK continues his longstanding tradition of seeking the best collaborators in modern music.
"To me, great songs are great songs regardless of genre – and the core of being alive is the same no matter where you are," Chesney says. "That rush of realizing there's something going on here… You're really clicking with someone… Or even just one of those perfect nights with your friends, there's no feeling like it. And I like the idea of P!NK with her voice that is so strong and contains so many colors, she really makes that idea of giving into your heart, shouting out the window and whirling around in the middle of an abandoned street feel real."
Listen to Setting The World On Fire: