Montgomery Gentry has recorded a cover of Robert Earl Keenís hilarious, wry Christmas carol, ìMerry Christmas From The Family,î which will be included on their first greatest hits collection, Something To Be Proud Of: The Best of 1999-2005. The CD will be released on Columbia Records November 1, 2005.
Eddie Montgomery and Troy Gentry have scored Platinum and Gold sales, eight Top 5 hits and their current single, ìSomething To Be Proud Of,î is at No. 1 on the Billboard and R&R country charts for the second consecutive week. The outlaw duo felt Keenís comical holiday song was a natural for them to record.
ìComing out of the box, Eddie & I were bad-asses and hell-raisers and definitely not the ëRudolph the Red-Nosed Reindeerí type,î Gentry says. ìBut this song was one of those fun partying songs that talked about the bad in-laws and the aunt that's a chain-smoker. It seemed to fit the Montgomery Gentry image and really, fits a lot of American families.î Montgomery adds, ìI love this song because it represents everybody's family. I don't know any family that isn't just a little bit messed up.î
First available on Keenís Gringo Honeymoon CD released in 1994, ìMerry Christmas From The Familyî has become one of the classic humorous holiday songs of its time and is a mainstay in Keenís setlist.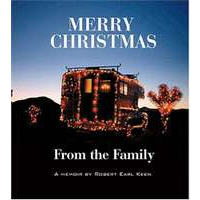 Due to the overwhelming success of the song, Keen was inspired to write and create an accompanying book, which has sold over 50,000 copies since its initial release in 2001.
A new edition of the book published by The University of Texas Press hit store shelves in September, just in time for the start of the holiday season. The book is 76 pages, includes color photos, and a CD of ìMerry Christmas From The Familyî with lyrics.
Merry Christmas From The Family lyrics
Mom got drunk and Dad got drunk
At our Christmas party
We were drinkin' champagne punch
And homemade eggnog
Little sister brought her new boyfriend
He was a Mexican
We didn't know what to think of him
Til he sang Feliz Navidad
Feliz Navidad
Brother Ken brought his kids with him
The three from his first wife Lynn
And the two identical twins
From his second wife Mary Nell
Of course he brought his new wife Kaye
Who talks all about AA
Chain smokin' while the stereo plays
Noel, Noel, The first Noel
Carve the turkey turn the ball game on
Mix Margaritas when the eggnog's gone
Send somebody to the Quik-Pak store
We need some ice and an extension cord
A can of bean dip and some Diet Rite
A box of pampers , some Marlboro Lights
Hallelujah everybody say cheese
Merry Christmas from the family
Fran and Rita drove from Harlingen
I can't remember how I'm kin to them
But when they tried to plug their motor home in
They blew our christmas lights
Cousin David knew just what went wrong
So we all waited on our front lawn
He threw the breaker and the lights came on
And we sang Silent Night
Oh Silent Night o' holy night
Carve the turkey turn the ballgame on
Mix Bloody Marys cause we all want one
Send somebody to the Stop 'n Go
We need some celery and a can of fake snow
A bag of lemons and some Diet Sprite
A box of midol, some Salem Lights
Hallelujah everybody say cheese
Merry Christmas from the family
Feliz Navidad
The road goes on forever… and the party never ends as ACountry presents your chance to experience Robert Earl Keen live. Click here to win FREE Robert Earl Keen tickets!
: : : : :
Buy the Merry Christmas From The Family book now from Amazon
Buy Montgomery Gentry now from Amazon
listen to Mongomery Gentry free samples / download from iTunes
listen to Robert Earl Keen free samples / download from iTunes