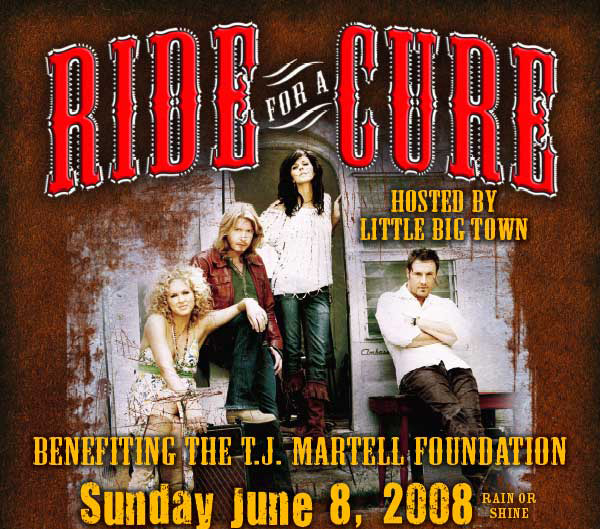 Little Big Town hosts the second annual Ride For A Cure motorcycle ride on Sunday, June 8, 2008 benefiting the T.J. Martell Foundation. The ride will kick off at the Harley-Davidson of Cool Springs and end at the future location of Harley-Davidson of Columbia for a post-ride barbecue lunch followed by a special jam session with Little Big Town and friends.
Celebrities and special guests participating in the ride include Darryl Worley, Lonestar, Gary Chapman, GAC's Storme Warren, Heidi Newfield, Bo Bice, Jennifer Hanson, Trent Tomlinson, Emma Mae Jacob, Ira Dean, Chuck Wicks, Jeff Allen, Charles Kelly of Lady Antebellum, James Otto, Christian Kane, Earl Brown, Bluefield, Kendall Johnson, Levi Rose, Randy Houser, Shelly Fairchild, The Roys and FLOORD.
The post ride jam session will feature performances by Little Big Town, Darryl Worley, Lonestar, Bo Bice, Ira Dean, Jennifer Hanson, FLOORD, Levi Rose and more.
Harley-Davidson of Cool Springs – 7128 South Springs Drive
10:00 a.m. Pre-Ride Announcements
10:30 a.m. Ride Begins
Harley-Davidson of Columbia – I65 and Bear Creek Pike
11:30 a.m. Ride Ends
12:00 p.m. Lunch and Jam Session with Little Big Town and Friends