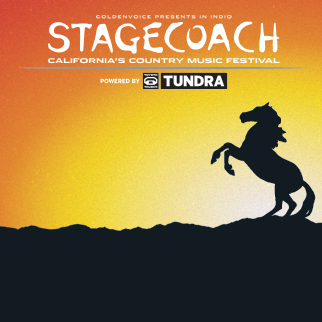 The 2009 lineup for Stagecoach: California's Country Music Festival-Powered by Toyota Tundra, includes Brad Paisley, Kenny Chesney, Reba and Kid Rock. The third annual Stagecoach festival will be held Saturday, April 25, 2009 and Sunday, April 26, 2009 at the Empire Polo Club in Indio, California.
Additional announced performers include Little Big Town, Miranda Lambert, Poco (Richie Furay, Jim Messina, Rusty Young, Paul Cotton, Jack Sundrud and George Lawrence), Charlie Daniels Band, Darius Rucker, Earl Scruggs, Chris Cagle, Lady Antebellum, Reverend Horton Heat, Jerry Jeff Walker, Ricky Skaggs, Ralph Stanley, Lynn Anderson, Doyle Lawson, Peter Rowan Bluegrass Band, Danielle Peck, Dale Watson, Zac Brown Band, The Duhks, Waddie Mitchell, Randy Houser, Hot Club of Cowtown and James Intveld.
Alongside the wide variety of musical options—the critically acclaimed gathering features artists from the genres of mainstream country, bluegrass, folk, roots rock and alt-country in three performance areas—concert-goers will experience a weekend of fun for the entire family. Stagecoach also includes a leading BBQ competition and expanded camping area with amenities exclusive to campers.
Last year's Kansas City BBQ Society (KCBS) sanctioned Stagecoach Invitational BBQ Championship cook-off featured nearly 50 teams from across America competing for the official KCBS California state championship. By purchasing a five "taste ticket" pack, concert-goers experienced a variety of BBQ choices including chicken, tri tip, ribs and beans. Each taste ticket includes the ability to cast one vote for their favorite team.
Due to overwhelming demand, the Stagecoach RV camping was also expanded last year to accommodate the number of music fans who chose to stay on site; more than 4000 RVs filled the area. Some of last year's camping amenities included: WiFi access, an internet and re-charge tent, a 21-and-over clubhouse and cantina with Bloody Mary breakfasts, rest rooms with showers, potable water trucks and holding tanks. Festival attendees staying in the RV and camping area were also allowed "in & out" privileges throughout the weekend.
In just two years, Stagecoach has joined the ranks of top U.S. destination festivals. The Los Angeles Times (5/6/08) noted: "Stagecoach brought an impressively wide range of performers together across its three stages: young and old, mainstream and fringe, traditional and experimental…The talent lineup also tested the limits of what defines 'country' music." USA Today (5/5/08) said STAGECOACH has "found a national identity…on the same polo field as the Coachella Valley Music and Arts Festival." And the Orange County Register (5/3/08) added, "Stagecoach…should be considered a smashing success. Indeed, years from now this second outing may be viewed as the turning point for the budding Americana monolith…The achievement of this year's three-day and more rock-embracing Stagecoach, however, is much more significant. It has proven that a refined, downscaled (yet in other ways expanded) version of that concept can become every bit as much an eagerly anticipated cornucopia as its sister festival has been for years."
Tickets for Stagecoach go on sale Friday, November 14 at 10:00 AM (PT) at all Ticketmaster locations. Ticket prices start at just $99.00 for two-day passes. A variety of reserved seating, camping and RV packages are also available; to view a complete breakdown of available ticketing and onsite camping/RV options, please visit www.Stagecoachfestival.com.

source: MSOPR