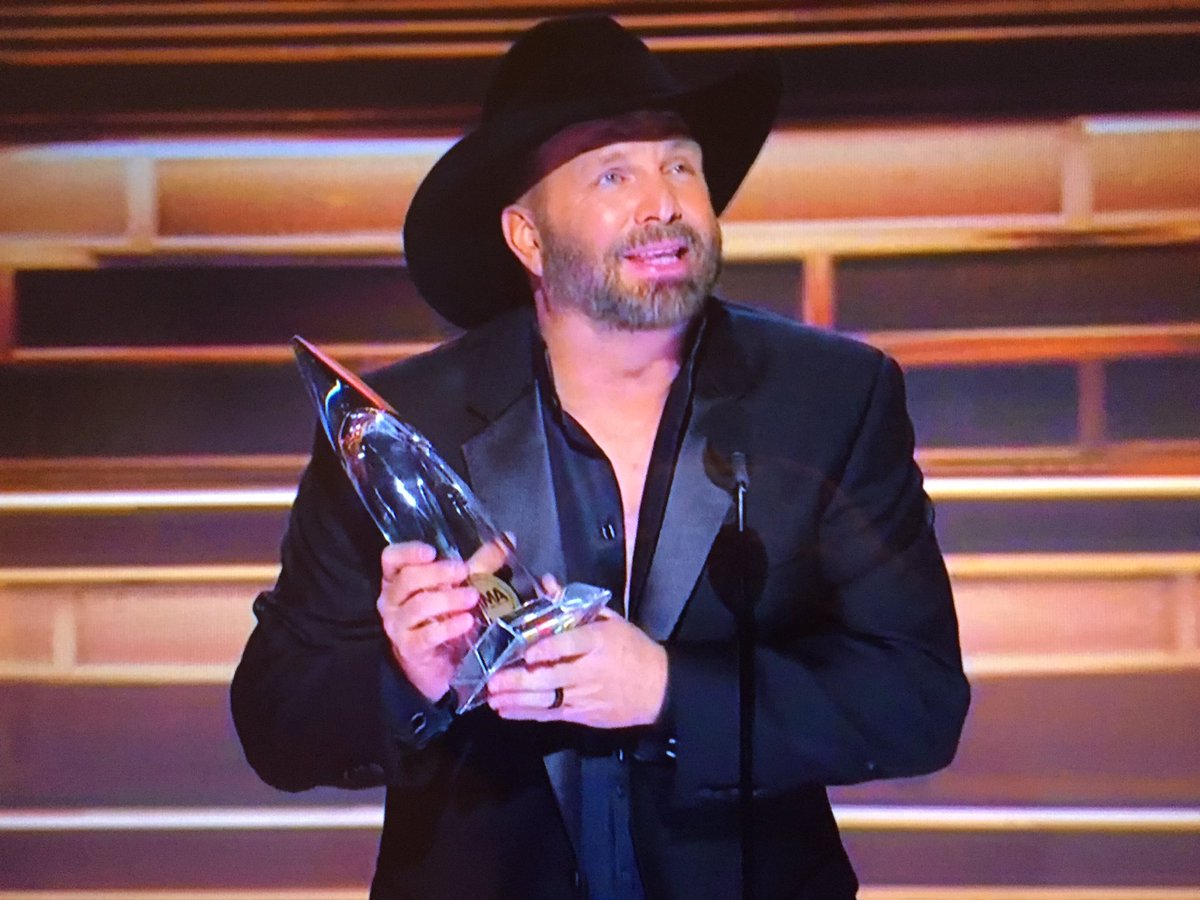 2017 CMA Awards winners were announced tonight (November 8) live from Nashville.   Congratulations to Garth Brooks – Entertainer of the Year, Chris Stapleton – Male Vocalist of the Year and Album of the Year; Miranda Labert – Female Vocalist of the Year; Little Big Town – Vocal Group of the Year; Brothers Osborne – Vocal Duo of the Year; Jon Pardi- New Artist of the Year; Taylor Swift – Song of the Year;  Keith Urban – Single of the Year; Brothers Osborne – Music Video of the Year; Glen Campbell with Willie Nelson – Musical Event of the Year; and Mac McAnally – Musician of the Year. Winners will be updated as they are announced.
The 51st Annual CMA Awards, hosted by Brad Paisley  and Carrie Underwood, was broadcast live from Bridgestone Arena in Nashville November 8 on ABC.
2017 CMA Awards Winners
ENTERTAINER OF THE YEAR
Garth Brooks
MALE VOCALIST OF THE YEAR
Chris Stapleton
FEMALE VOCALIST OF THE YEAR
Miranda Lambert
VOCAL GROUP OF THE YEAR
Little Big Town
VOCAL DUO OF THE YEAR
Brothers Osborne
ALBUM OF THE YEAR
(Award goes to Artist and Producer(s))
From A Room: Volume 1 – Chris Stapleton
Producers: Dave Cobb, Chris Stapleton
NEW ARTIST OF THE YEAR
Jon Pardi
SONG OF THE YEAR
(Award goes to Songwriter(s))
"Better Man"
Songwriter: Taylor Swift
SINGLE OF THE YEAR
"Blue Ain't Your Color" – Keith Urban
Producers: Dann Huff, Keith Urban
Mix Engineer: Chris Lord-Alge
MUSIC VIDEO OF THE YEAR
(Award goes to Artist and Director(s))
"It Ain't My Fault" – Brothers Osborne
Directors: Wes Edwards and Ryan Silver
MUSICAL EVENT OF THE YEAR
(Award goes to each Artist)
"Funny How Time Slips Away" – Glen Campbell with Willie Nelson
MUSICIAN OF THE YEAR
Mac McAnally (Guitar)
CMA Broadcast Personality of the Year Winners
NATIONAL
"The Bobby Bones Show" (Bobby Bones) – iHeartMedia
MAJOR MARKET
"Mike & Amy" (Mike Chase and Amy Faust) – KWJJ, Portland, Ore.
LARGE MARKET
"Amanda and Jesse" (Amanda Valentine and Jesse Tack) – WUBE, Cincinnati, Ohio
MEDIUM MARKET
"Cash and Bradley" (Natalie Cash and Matt Bradley) – KWEN, Tulsa, Okla.
SMALL MARKET
"Officer Don and DeAnn" (Don Evans and DeAnn Stephens) – WBUL, Lexington-Fayette, Ky.
CMA Radio Station of the Year Winners
MAJOR MARKET
WIL – St. Louis, Mo
LARGE MARKET
WQDR – Raleigh-Durham, N.C.
MEDIUM MARKET
WIVK – Knoxville, Tenn
SMALL MARKET
WYCT – Pensacola, Fla.
PAST CMA AWARDS WINNERS
"The 51st Annual CMA Awards" walked the line between celebration and commemoration Wednesday night as Garth Brooks won Entertainer of the Year for a record-extending sixth time while Chris Stapleton and Brothers Osborne took home two Awards apiece.
An all-star group that included Kelsea Ballerini, Brooks, Kix Brooks, Eric Church, Ronnie Dunn, Faith Hill, Lady Antebellum, Little Big Town, Reba McEntire, Tim McGraw, Thomas Rhett, Darius Rucker, and Keith Urban struck a chord of togetherness through the ABC Television Network broadcast with an emotional collaboration that began with Church singing "Amazing Grace" a cappella in silhouette, then the rest of the group joining in on Rucker's uplifting hit "Hold My Hand" from his time as the lead singer of Hootie & The Blowfish.
Co-host Carrie Underwood then summed up the evening's mission statement in the opening of her 10thyear monologue with Brad Paisley: "Las Vegas. Charlottesville. New York. Sutherland Springs. Historic storms in Texas, Puerto Rico and Florida. The list goes on and on. This has been a year marked by tragedy, impacting countless lives, including so many in our Country Music family. So tonight we're going to do what families do – come together, pray together, cry together and sing together."
By the end of the night, fans and members of the industry had done a little of all those things, celebrating the best music of the last year while calling for unity in a nation torn asunder by violence and tragedy, to remembering departed heroes such as Glen Campbell, who lost his fight with Alzheimer's disease, to Troy Gentry, one half of the duo Montgomery Gentry, taken too soon when his helicopter crashed on the way to a gig. The later was honored with a performance by Dierks Bentley, Rascal Flatts, and surprise guest and bandmate Eddie Montgomery.
In a special candlelit moment, Underwood delivered a show-stopping performance of "Softly and Tenderly," remembering industry leaders lost this past year and closing by honoring the victims of the Las Vegas tragedy.
But the mood was lifted when, in traditional Brad and Carrie form, they brought levity to their 10th year co-hosting with humorous parodies reflecting current events "Way Down Yonder on the Scaramucci" and "Before He Tweets." Often the subject of Paisley and Underwood's jokes, this year Hill and McGraw flipped the script by surprising them with Brad and Carrie Barbies.
Brooks thanked his crew and band after winning the top CMA Awards honor for a sixth time. It marked the third time he's won Entertainer of the Year back-to-back years – 1991-92, 1997-98 and 2016-17.
"It's been 30 years," Brooks said. "Never have I felt more like a part of this industry. It's weird. We don't belong to a label or anything, but every label guy in the industry is hugging me out there. It feels like family."
Urban won the night's first telecast award, taking Single of the Year for "Blue Ain't Your Color." Urban co-produced the song with longtime collaborator Dann Huff and it was mixed by Chris Lord-Alge. "Blue Ain't Your Color" was the fourth single from Urban's Ripcord album and stayed atop Billboard's Hot Country Songs chart for 12 weeks.
Though she wasn't there, former CMA Entertainer of the Year Taylor Swift was a presence at "The 51st Annual CMA Awards," winning Song of the Year for "Better Man," given solely to the song's writer. Performer Little Big Town accepted the trophy for Swift.
"We're really grateful that Phillip checked his email one night and that song was in there because he doesn't always check his email," LBT member Karen Fairchildsaid of her quartet-mate Phillip Sweet. "She couldn't be here tonight with us, but Taylor, wherever you are, thank you for this beautiful song and for loving songs and loving Nashville."
A clearly emotional Jon Pardi took home New Artist of the Year, one of three nominations he scored in 2017. His breakthrough "Dirt on My Boots" from his second album, California Sunrise, also scored Song of the Year and Single of the Year nominations. Pardi's hands visibly shook as he held his trophy backstage while meeting with reporters and photographers. On display behind him was a painting of the singer created on the spot by artist David Garibaldi.
Chris Stapleton won his second Album of the Year Award for From A Room: Volume 1, an album captured by producer Dave Cobb at historic RCA Studio A on Music Row, the place where so many classic Nashville records were cut. Stapleton won his first Album of the Year Award for his debut Traveller in 2015.
Little Big Town won its sixth straight Vocal Group of the Year Award on a night that included a moving tribute to Campbell with their touching version of his "Wichita Lineman" that featured an appearance by its writer, the incomparable Jimmy Webb.
"The talent we see in this category alone just humbles us so much," Sweet said. "We love making music, we love seeing your faces … ."
"And tonight should be about harmony," Fairchild said. "It should be about what we can do together to change things. Kindness is an attractive quality. We actually could change the way things are going. We just have to step out and be together. And I love Country Music because we're together and we can change everything because of harmony. We take care of each other."
Lead nominee Miranda Lambert, who sang a moving version of her song "To Learn Her" during the telecast, took her record-extending seventh Female Vocalist of the Year award. She won the award six straight years before yielding to Underwood in 2016. And Stapleton took Male Vocalist of the year for the third straight year.
"Every one of these guys is the reason I'm up here," Stapleton said of his fellow nominees. "Luke (Bryan) took me out when nobody even heard of me. Eric (Church) took me out when nobody had even heard of me. Thomas (Rhett) wrote songs with me. Dierks (Bentley) wrote songs with me. Every one of these guys deserves this thing."
Brothers Osborne's great day started early when Kelsea Ballerini joined "Good Morning America" host Lara Spencer live Wednesday morning from downtown Nashville to announce the first awards of the day. The brothers took home Video of the Year for "It Ain't My Fault," directed by Wes Edwards and Ryan Silver, a sly poke at the politics of the moment, before winning Vocal Duo of the Year for the second straight year.
"If you look at the other names on the ballot, we are the luckiest dudes on the planet," John Osborne said to reporters at the end of the night.
Glenn Campbell and Willie Nelson took Musical Event of the Year for their duet of "Funny How Time Slips Away" during the morning announcement, a win and a song made even more poignant by Campbell's death earlier this year.
"Thank you, God, for just blessing our family in so many ways and sustaining us through our journey through Alzheimer's disease," said Kim Campbell, Glen Campbell's widow, who accepted the award during the pre-telecast ceremony with children Ashley and Shannon. "Glen would just be so pleased and proud to be a part of this. … Glen, this is for you, and for everyone who's dealing with dementia."
Guitarist Mac McAnally won Musician of the Year for a record-tying ninth time, pulling even with Nashville's most-venerated musician, Chet Atkins. The award was presented by host LOCASH during the pre-telecast portion of the awards.
"I don't deserve (to be) in his league at all," McAnally said of Atkins, whom he met as a child. "I'm happy to be in the same phone book. He's one of my all-time heroes."
Closing the show was newly-inducted Hall of Fame Member and 16-time CMA Awards winner Alan Jackson performing a rousing rendition of "Don't Rock The Jukebox," joined by co-hosts Paisley and Underwood that had the audience on their feet.