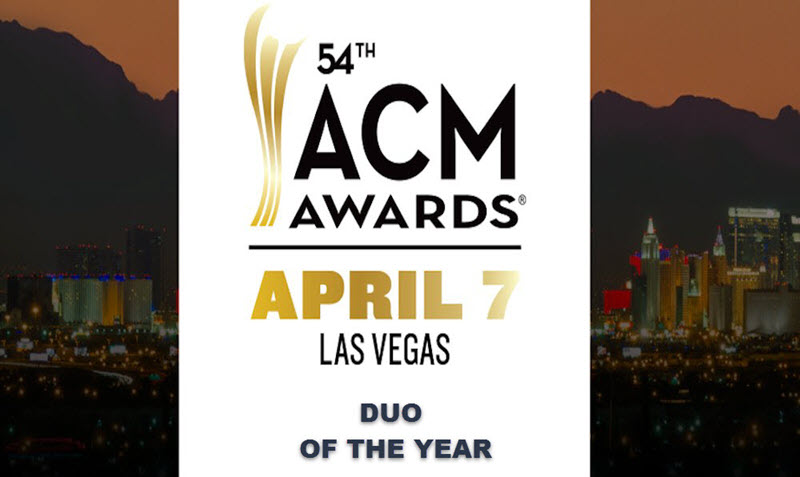 2019 Academy of Country Music Awards nominees for Duo of the Year are Brothers Osborne, Dan + Shay, Florida Georgia Line, LOCASH, and Maddie & Tae.  Here's a look at each of the contenders.  The winner will be announced at the ACM Awards live from Las Vegas on April 7, 2019.
News update:  2019 ACM Awards Winners
DUO OF THE YEAR
Brothers Osborne
T.J. and John Osborne are more than just brothers; they're one of our favorite country duos right now! The two grew up in Maryland, and eventually moved to Nashville in their adult lives to chase the dream. They've worked with artists like David Nail, Lee Ann Womack, and Dierks Bentley— they've even been touring with Dierks! Their musical style is unlike most country nowadays, mixing neotraditional country, southern rock, and outlaw country, and we love the refreshing spin they're putting on the charts right now!
Dan + Shay
One of our favorite bromances, Dan + Shay met just 7 years ago and wasted no time on working together. What do we mean by that? Well, they met December 7th of 2012, and starting writing songs together on December 8th. Before becoming the power duo that we all know and love, Shay grew up in Arkansas while Dan is a Pennsylvania native. Though the two have very different backgrounds, one thing they have common is their passion for country music, and it shines through in every song!
Florida Georgia Line
FGL started off strong with their breakout hit, "Cruise". I know, it will always be THE summer anthem. Along with Cruise, they've released dozens of songs that have stolen our hearts and topped charts all across the world, quickly earning themselves a very prominent name in the business. The boys helped to pioneer a sub-genre called "Bro Country", which means they frequently work with artists from other genres and incorporate both stylings into one song. It's no wonder why they've taken over country music the way that they have, and we personally wouldn't be surprised one bit if they took home the award for this category!
LOCASH
LoCash— formerly known as LoCash Cowboys— have their roots set in Indiana and Maryland, but they now reside in Nashville. Along with their own hit singles like "I Know Somebody" and "I Love This Life", the pair has also taken part in co-writing with Keith Urban for "You Gonna Fly" and Tim McGraw with "Truck Yeah". We're big fans of their music and their energy, and we're excited to see where they take this industry!
Maddie & Tae
These country girls have only been making music since 2015, but the hits never stop coming with these two! Most recently, I've been absolutely obsessed with "Die From A Broken Heart", and that's just the tip of the iceberg. Maddie and Tae met while they were being trained by the same vocal coach and soon became inseparable, and eventually started spending every weekend traveling from Texas and Oklahoma to Nashville. After high school graduation, the two officially made the move from the homelands to the country capital and immediately started spitting out records, and it's been all up-hill from there. They're the only female duo nominated for this award, and we're absolutely here for the girl power!
2019 ACM Awards nominees for Duo of the Year are Brothers Osborne, Dan + Shay, Florida Georgia Line, and Maddie and Tae. Watch the videos on ACountry - who's your favorite to win?
Click To Tweet
Check out the full list of 2019 ACM Awards nominees. The ACM Awards will be broadcast live from MGM Grand Garden Arena in Las Vegas on Sunday, April 7 at 8:00 PM ET/PT on CBS.  Who's your pick to win Duo of the Year?