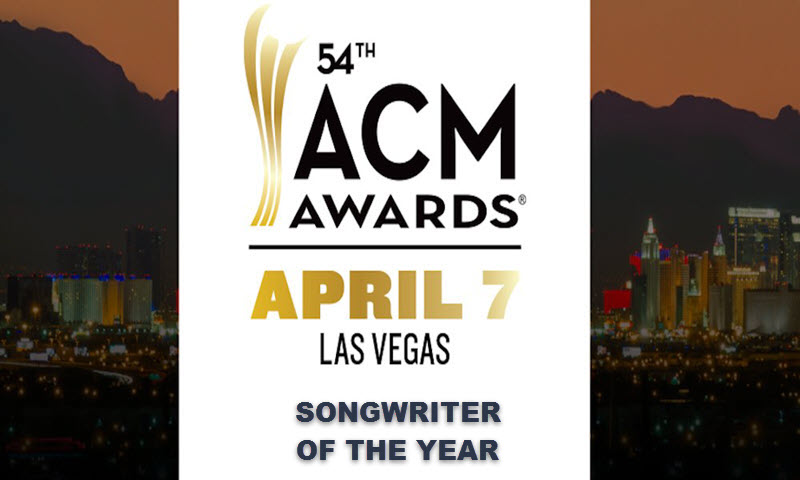 2019 Academy of Country Music Awards nominees for Songwriter of the Year are Ross Copperman, Ashley Gorley, Shane McAnally, Chase McGill, and Josh Osborne.  Here's a look at each of the contenders.  The winner will be announced at the ACM Awards live from Las Vegas on April 7, 2019.
News update:  2019 ACM Awards Winners
SONGWRITER OF THE YEAR
Ross Copperman
Do you love "Beat of the Music" by Brett Eldredge? What about Billy Currington's "Don't It"? Well, meet the man behind the music! Ross began as an artist in the UK, which lead him to discover a deep passion for country music. Over the last 6 years alone, Ross has written over a dozen #1 singles, and we're JUST talking #1's— that doesn't include all of the other jams that you hear on the radio every day. Will he take home another title this year? Our guess: probably!
Ashley Gorley
Ashley Gorley is a songwriter and producer who has written 37 number one singles and has had over 300 of his songs recorded by notable artists, including Keith Urban, Carrie Underwood, Brad Paisley, and more. He's based in Nashville, Tennessee (as most notable country singer/songwriters are) although he was born in Danville, Kentucky. We have to admit, he's got a pretty impressive track record!
Shane McAnally – WINNER
From singing, to songwriting, to producing, this man does it all! He's worked with the likes of Old Dominion, Miranda Lambert, and Thomas Rhett, topping the charts with dozens of his hits. Having 3 Top 50 hits of his own (performed and written by himself), he's revolved his life around what he loves: Music. And obviously, it's paying off!
Chase McGill
From piano lessons at age 12, to his first rock band at age 15, to becoming one of the most sought-after writers in Nashville just 7 years ago, Chase has always chased his dreams of being part of all that music has to offer the world. He's worked with all of your favorite artists, like Luke Bryan, Kenny Chesney, and Little Big Town. You may know him better by the songs he's written, but he's just as impressive as a performer!
Josh Osborne
Inspired by Keith Whitley, The Beatles, and Dwight Yoakam, Josh was raised with a love for music that has carried on throughout his entire life, pushing him to pursue a career as a songwriter. His biggest hits to date include "Body Like A Backroad" (performed by Sam Hunt), "Merry Go 'Round" (performed by Kacey Musgraves), and "Drinkin' Problem" (performed by Midland). But he's not stopping there, as he's looking to take home another win at the ACM Awards!
Check out the full list of 2019 ACM Awards nominees.  The ACM Awards will be broadcast live from MGM Grand Garden Arena in Las Vegas on Sunday, April 7 at 8:00 PM ET/PT on CBS.  Who's your pick to win Songwriter of the Year?