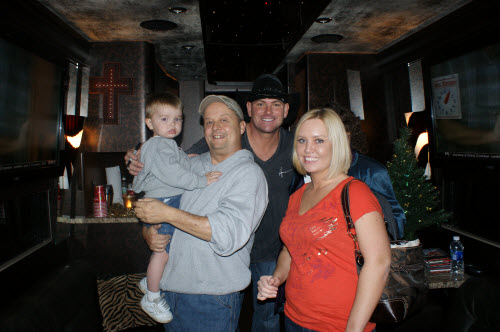 Keith Anderson with Sean, Tommy, and Cassie of Hendersonville, TN
Keith Anderson and Darryl Worley joined over thirty country music artists last night (Dec. 14) at the 2009 Christmas 4 Kids Tour Bus Show at Wal-Mart in Henderson, Tennessee. Artists including Gretchen Wilson, Randy Houser, Cowboy Troy, Bo Bice, Bryan White, T.G. Shephard, and Danielle Peck welcomed fans onto their tour buses for photos and autographs to help raise money for the Christmas 4 Kids organization. The organization will take over 400 children Christmas shopping at this same Wal-Mart today.
"It's cool to be able to open it up and show them basically our home, our house on wheels. I spend more time every year on this bus than I do in my house," said Keith Anderson.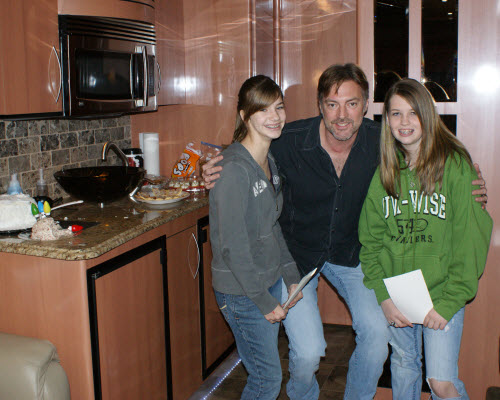 Darryl Worley with Courtney & Tracey of Westmoreland, TN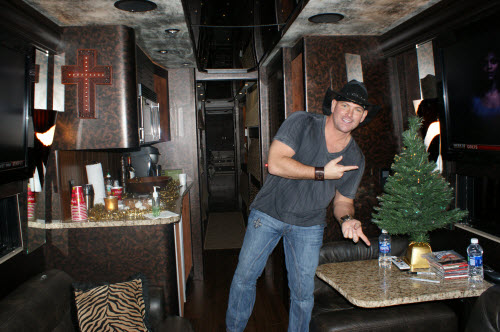 Keith Anderson's Christmas tree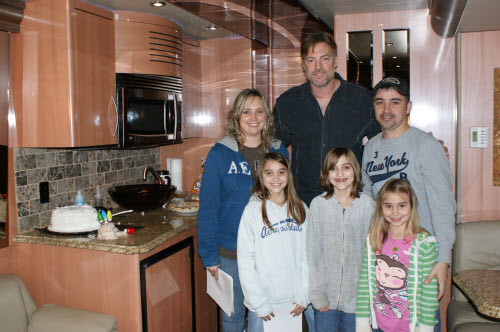 Darryl Worley with Denise, Frankie, Jasmine, Haley and Hannah of Hendersonville, TN
Keith Anderson showing off his trusty hand sanitizer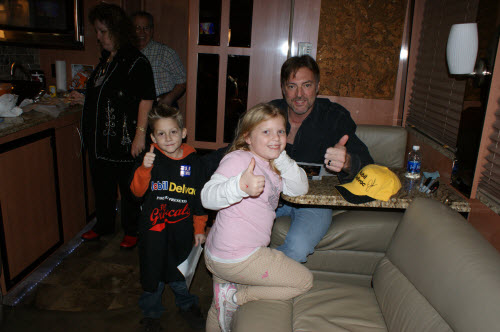 Darryl Worley with Zackary and Raven Stroebert of Hendersonville, TN
Photos by April Arceo : ACountry.com
The Christmas 4 Kids Tour Bus Show is held in December each year. On the first day (for a small donation per person) the public has the opportunity to tour the buses of some of their favorite country music stars. The bus companies and artists lend their buses to the drivers and many even furnish the fuel. We have approximately 50 buses on display each year. The buses are open on the first day from 5:00 P.M. to 9:00 P.M. at Walmart in Hendersonville (weather permitting). Some of the artists who have stopped by for autograph sessions in past years include Conway Twitty, Chris Young, Trisha Yearwood, Naomi & Wynonna Judd, Jeff Bates, Larry the Cable Guy, Gretchen Wilson & Taylor Swift.
Garth Brooks & Tim McGraw & Faith Hill & Charlie Daniels are a few of the artists who donate items for all 300 children. A concession table is set up in Walmart on the first day and merchandise is sold that the artists have donated.
The second day of the event, all the buses are sent to the schools to pick up the children. Adult chaperones are assigned to each bus. The children are taken to a local church in Hendersonville. They enjoy a meal provided by Garth Brooks and a photo session with Santa. After a couple of hours of fun at the church, they once again board the buses. Their destination…Wal-Mart and shopping! Each child is assigned an adult chaperone before entering the store to ensure that each child spends their $150 on anything THEY want.