We are excited to feature Drew Jacobs, one of country music's most standout young bucks in this week's ACountry Artist Spotlight.
Drew hails from Port Huron, Michigan, and is poised to take the country music scene by storm. At age 19, his single "Damn Good Night!" has exploded all over social media and landed at #31 on the iTunes charts.
We got to chat with Drew about his influences and future plans. We hope you take a few minutes to get to know him as well.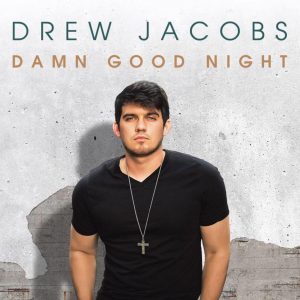 1.) Tell us about your earliest performance experience. Was there a stand-out performance that made you know this is what you wanted to pursue music for a living?

My first performance was Junior year of high school. At that time I'd never sang in front of anyone, not even family or friends. As soon as I finished the song, the audience was roaring. I knew at that exact moment that I wanted to sing and perform for the rest of my life.

2.) Who are some of your primary influences?
My grandfather is a HUGE influence in my life. I grew up listening to him sing and play songs on the guitar and I believe that's what shaped me into the musician I am today. So, I thank him very much for being a huge part of my life.

3.) Do you think Michigan has a distinct sound in country music? Are there any other regional artists in that part of the country you enjoy?

I do believe Michigan has it's own style. One of my favorite artists, Frankie Ballard, is from the mitten state and I think Kid Rock's style of country music really brings out that Detroit spirit.

4.) Tell us about what your plans are for your upcoming album? Any touring?

Right now my focus is entirely on growing my social media audience, but we're already starting to plan my first run of live shows! I cannot wait to get out there and travel across the country performing these songs. The album came roaring out of the gate and we shot up the iTunes Country chart, landing firmly at #31. It was crazy and totally unexpected! I'm beyond blessed with amazing fans. They have shared and spread the word like a wildfire, I love them. We're gonna continue to get these songs out to the people and keep that fire blazing!

5.) If you could tour with any artist, who would it be?

Hands down FGL. Florida Georgia Line has been a huge influence in my music and I can't thank them enough for being so humble and inspiring. I hope to one day share a stage with them.

6.) Was there a particular influence behind 'Damn Good Night?'

"Damn Good Night" is one of my favorite songs off of the album but it was probably the most difficult to write. We came to the table knowing that we wanted to write a song about living it up that everyone can jam to. I brought the idea up to my good buddy, Marcus Brown, and he said, "You need to write about having a damn good night!" From there, it sparked a plethora of ideas. We kept writing and writing until finally we all just looked at each other and said, "This is it. This is the first single." And it was!

7.) Anything else you'd like people to know about yourself, your upcoming album, etc?

If you're reading this, I'd love to connect with you on Facebook (Facebook.com/DrewJacobsMusic) and Twitter (@DrewJacobsMusic)! My supporters mean the world to me and I want you to be there with me every step of the way. Last but definitely not least, a HUGE shout out and thank you to Leah Concialdi for taking the time to put this interview together!
Help keep Drew's fire blazing by sharing this interview and taking a listen to his videos. We're pretty sure you'll be hooked and you can pat yourself on the back for following him from the start!