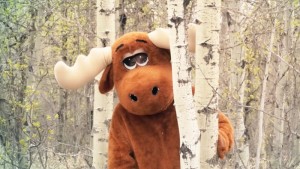 Dan Davidson "Found" the fun in country music with a music video for his #1 selling Canadian Country Music single. The video  was filmed for only $500 and cracked the CMT Top 20.
"The 'Found' video was sort of a hilarious experiment. I wanted to do something that no one was doing. We pulled together the tiniest of indie budgets, rented some mascot costumes and the rest is history! When I started seeing it on TV, I had a moment where I thought 'I'm a grown man, dressed as a moose for a living.' Am I doing this grown up thing right?"
"'Found' in my mind, is a modern day "Thank God I'm A Country Boy", Dan says.  "It's a fun drunken proposal song that I think everyone can relate to. There is no better feeling than to fall in love and to start seeing a brighter future."
"I always knew 'Found' was a strong song, but I had NO IDEA it would do what it did for my career. It gave me a renewed faith that a great song CAN do some of the heavy lifting. I never could have dreamed that I would have the #1 selling Canadian country single, the #1 tested song in most major markets, a video in the CMT Top 20 countdown, a top 15 iTunes single, and a song that cracked the top 20. This just doesn't happen to indie artists, what a great year, I could not be more thankful!"
Alberta's newest up and coming country sensation Dan Davidson exploded onto the Canadian country scene in 2016 with the release of his second single " Found " (Co-written by Clayton Bellamy of The Road Hammers ). "Found" was the #1 selling Canadian country song in Canada for several weeks in July and August 2016. It had also #16 on the charts and was the 8th highest charting Canadian song in the country. The hit single also went top 50 on the Shazam charts across all formats and hit #15 on the iTunes sales charts.
The future is bright for Davidson . Already in only 2 years of being involved in the country music scene, his name is right up there on the charts with some of the top artists in north America – and he has found a way to do it 100% indie. Dan is new to the country scene, but is far from "green" in them music industry.  He spent 10 years playing in the well-known Canadian indie rock band Tupelo Honey (who had several top 40 hits, top selling iTunes records and toured with bands like Bon Jovi).
For more information, visit DanDavidsonMusic.com