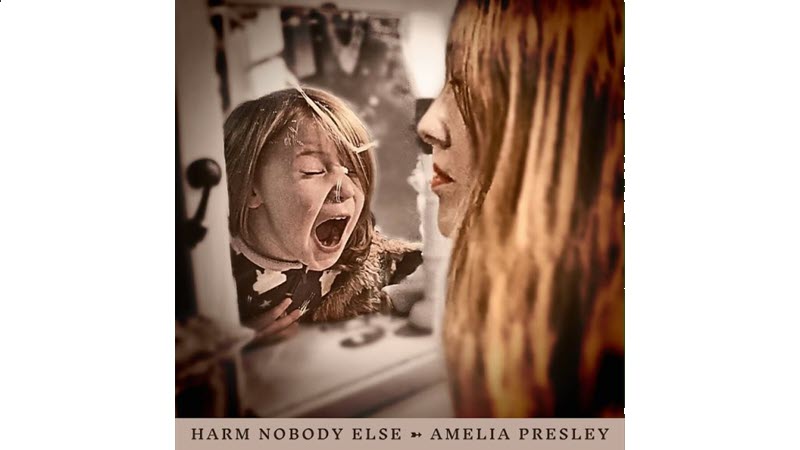 This adventure we call Country Music often takes us for an interesting ride as we experience stories, tales, and musicianship.  Amelia Presley's new single "Harm Nobody Else" is a haunting tale of overcoming child abuse and helping other survivors validate their own feelings.
When you hear Amelia Presley sing, it is impossible not to hear pangs of profound sorrow wrapped in a soulful voice fraught with struggle and deeply buried secrets.  It's a burned up and scarred over foundation from which her songs have been harvested, and she a phoenix born of the very flames that have tried to consumed her completely.  Through her newly acquired liberation from her own emotional self-imprisonment, she aims only to set the record straight and in so doing, act as key- bearer to others who find themselves in that same kind of bondage.  Amelia doesn't want pity.  She only wants you to listen.  
"Harm Nobody Else"  has been embraced by 95.9 The Ranch in Ft. Worth, one of the most influential radio stations in Texas.  Not only did the song make it the Hall of Fame on Ben Ryan's Local Music Showdown, but it also broke the record of votes that landed it there winning 5 nights in a row.
Discover Cool Music – Listen to Amelia Presley
"Harm Nobody Else" took only minutes to write, but was over 25 years in the making.  Physical abuse is often that way, something that is kept in the shadows out of shame until one tear drop too many falls and forces the flood gates to open.  From the age of 3 years old to the age of 15, Amelia silently bore the crushing blows of physical and emotional abuse at the hands of her step mother.  The release of  "Harm Nobody Else" comes on the heels of a podcast called "The Insignificant Diary of a Burden Named Phoenix" in which Amelia tells for the first time the story of the 13 years of abuse she endured.  With this declaration she hopes to help other survivors validate their own feelings by facing them head on rather than living under the burden of their abuser's secret.
The phrase that comes to mind when talking about Amelia Presley is 'she's as country as cornbread!'  Vocally and lyrically she sings from the heart with a beautiful southern draw.  The first time I played 'Harm Nobody Else' on the radio people were calling and texting me asking 'who is this and where can I find this song?'  'Harm Nobody Else' is a strong and passionate song. I'm so proud of Amelia and excited for her future.  She's gonna need some shades cause it's lookin' bright!  Remember the name, she's here to stay!"
–Ben Ryan/95.9 The Ranch Ft. Worth, TX
I'm on the road! First stop; #NewMexico! "Harm Nobody Else Tour" starts 2morrow & it's sponsored by my friends @ The Texas Silver Rush!

Note:8/14 at Black & Blues Music & Brews in #LovelandCO – Seating is limited, so be sure to buy tickets ASAP! Details: https://t.co/vJYBJuW4cw pic.twitter.com/atbrAt1QyI

— Amelia Presley Music (@amelia_presley) August 5, 2020
For Amelia Presley, as with many people, music is often times a safety net 100 feet below the tightrope.  She always wrote songs, even as a child when she had to keep them hidden in her mind, tucked away like her many other secrets.  In a clamorous need to fund her music career with very limited life options to do that, Amelia enlisted into the US Coast Guard at the age of 21 where she spent 5 years as a machinery technician.  The selling of her horse and trailer and an overnight trip down to Nashville resulted in her first studio session, and soon after, live performances on stage. In the following years she recorded and released a handful of singles including "Get Lucky" that was featured on iTunes New Artist Spotlight and iTunes Hot Tracks under the country music genre, one EP and a full length album called " No Pony Ride." Her absolute love for performing has led to several coveted appearances including the CMA Music Festival and The Grand Ole Opry in Nashville, TN.  It also led to the teaming up with KK Bodiford in 2017 to form the Highway Sisters, a duo of Texas sirens that is still alive and well today. 
"Harm Nobody Else" is a standalone single release because it has to be.  It's a compelling message with a duty so enormous that it requires a wide birth in which to travel.  Keeping in sync with the rawness and the isolation of such a memoir, Amelia confronted her fears by going back to the childhood home where it all happened, and filmed the music video completely alone, save for her young daughter who portrays her.  "  I don't want to feel ashamed anymore.  I want to talk about it so other people feel they can talk about it too.  And now that I am, the world is a different color and I feel like I am in my own body for the first time." 

" Amelia Presley is a talent to be recognized and reckoned with.  Her voice is so unmistakable, and her writing skills set her songs apart from the crowd.  I feel like 'Harm Nobody Else' will be a great anthem for radio play. I was happy to play her tunes on the Homegrown Country show on K99 Biloxi, and had the chance to get to know her at the MS Songwriters Festival." 
–Sherri Marengo/K99 Country Biloxi, MS
Discover cool music - listen to @amelia_presley new single 'Harm Nobody Else' on ACountry #listen #countrymusic #nowplaying #harmnobodyelse
Click To Tweet
I think 'Harm Nobody Else' was very brave for Amelia to write, and even more brave for her to record it and share it with the world. It takes guts to open up about your past and your personal life. As an artist myself, there are songs I've written that I won't put out because they still hit too close to home.  Seeing Amelia tell her story is truly inspirational. I've known her since the beginning of her music career, and to watch her grow into the talented artist she is today is awesome! There's big things coming for her, that's for sure."
–Asher Cataldo/songwriter and artist
For more information about Amelia Presley visit ameliapresleymusic.com and follow her on Facebook.
source: RPR Media