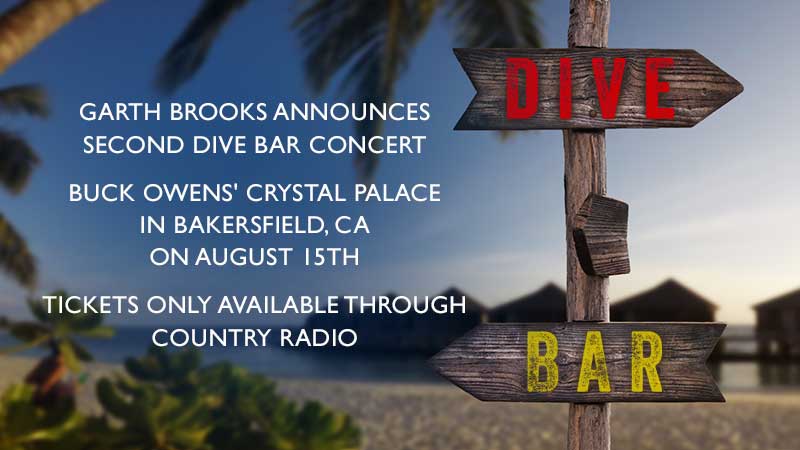 Garth Brooks second Dive Bar concert will be August 15 at Buck Owens' Crystal Palace in Bakersfield, CA.  "I know Bakersfield, that place is going to be humming," Garth said. "We're excited."
The news was first announced last night (July 29) on Inside Studio G, Garth weekly Facebook live series, where he shared the great personal importance of this storied country music venue. Buck Owens' Crystal Palace is the spot where Garth proposed to Trisha Yearwood  in May 2005.
Local country radio station KUZZ got to announce the date of the concert this morning. Tickets will be available to win exclusively through country radio, with more details to follow. All ticket holders must be 21 and over.
Fans eager to listen to Garth Brooks and Blake Shelton's new single, "Dive Bar" can now stream it exclusively on Amazon Music. It's already being called The Summertime Anthem!
.@GarthBrooks second #DiveBar concert will be August 15 at Buck Owens' Crystal Palace in Bakersfield, CA. Tickets are free via country radio stations #garth #countrymusic #buckowens
Click To Tweet
"Dive Bar" will be featured on Garth's upcoming new album, FUN. The day of its debut on country radio, "Dive Bar," was the most added song with 135 total stations. Brooks and Shelton performed the song for the first time together live in Boise, ID on July 19 on The Garth Brooks Stadium Tour.
Garth Brooks Bakersfield is sure to be a priceless experience for the fans. Check out the Garth Chicago Dive Bar setlist for a taste of what's to come!
Which Dive Bar should Garth play next?
source:  garthbrooks.com