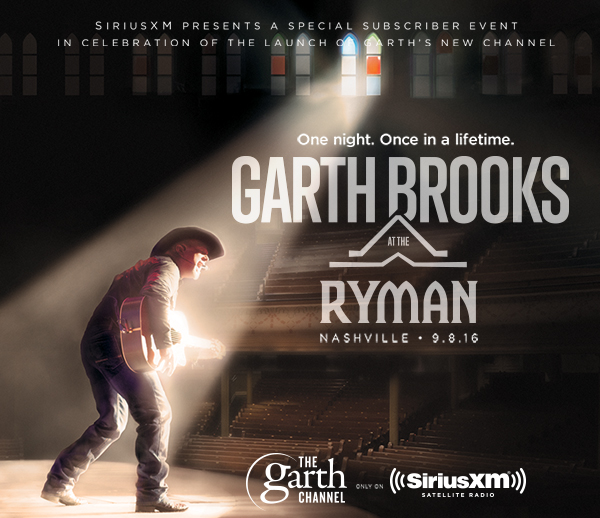 News Update:  Garth Brooks kicked off the launch of SiriusXM's "The Garth Channel" (55) September 8 with his first-ever concert at the Ryman Auditorium in Nashville  – a private show for SiriusXM subscribers that was also broadcast live on the new channel.
He opened the show with snippets of his favorite songs, including Cal Smith's "Country Bumpkin," George Jones' "He Stopped Loving Her Today," Dolly Parton's "I Will Always Love You," George Strait's "Amarillo By Morning" and Keith Whitley's "Don't Close Your Eyes."
And then it was time for his own tunes – starting with "Friends In Low Places" and including "The Dance," "The Thunder Rolls," "The River," "Callin' Baton Rouge" and "Unanswered Prayers." Trisha Yearwood joined him for "In Another's Eyes," "Walkaway Joe" and a new duet, "Whiskey To Wine."
At his  pre-show press conference, Garth revealed what he'll program on his channel. "My input is, 'Do I like it? Yeah. It goes on the channel,'" he said.
"What format? Doesn't matter. So you're going to hear Ray Charles, Lady Gaga, to George Strait, to Bruno Mars, with some Garth thrown in there. …
Who's the greatest voice that's ever graced country music? George Jones. Who's the greatest country artist that ever lived? Merle Haggard. This is just my opinion. But since [my] name's on the channel, I get to pick that stuff. Of course, the King's [George Strait] going to be on there all the time. I'm a huge Strait fan. And there will be a female named Trisha Yearwood on there, quite a lot. She's also going to be one of the deejays who'll have a show every week. That woman's got great taste in music, so you'll probably hear a lot of her heroes – Dolly, Emmylou, Loretta, Linda Ronstadt."
When asked if he would debut his own music on the channel, Garth said, "It's going to be a delicate balance between The Garth Channel and Country music radio, terrestrial radio. Those are the guys that have brought you where you're at, long before Sirius was here, long before streaming was here. So it's going to be a delicate balance of making sure they understand that you're a brother with them. The people that want to play the music, you give them the way. For those that don't want to play the music, then we've got another place to play it, right here on The Garth Channel." As he continues his three-year world tour, Brooks stressed to the crowd of journalists before heading to the Ryman for soundcheck, "My retiring days are behind me. I want to either drop dead doing this or get thrown out doing it."
###
Garth Brooks will perform a special invitation-only concert for SiriusXM listeners September 8 at the Ryman Auditorium in Nashville. It will be the first time in his career that he has put on a full concert at "The Mother Church of Country Music." SiriusXM subscribers who have had an account since July 11 will have the exclusive opportunity to enter to win tickets.
"Just the thought of playing the Ryman is crazy," said Brooks. "The fact that SiriusXM is going to capture the evening makes it even a bigger event for me."
The private concert will air live September 8, 2016 on the brand new The Garth Channel (Ch. 55) and through the SiriusXM app on smartphones and other connected devices, as well as the online player at siriusxm.com.
The Garth Channel, curated by the music icon himself, will be first time Brooks' music is being presented 24/7 in one place, on radio or online and feature music from his four-decade career as well as songs from artists who've influenced him and hand-picked favorites by contemporary acts. It will also include regularly hosted shows and behind-the-scenes commentary from Brooks, guest DJ specials hosted by his fans and friends, live concert recordings and other rarities from Brooks' treasured archives.
Brooks spoke about his hopes for the new channel upon announcing it earlier this month.
"I want this to be the home of kindness, to be the home of love, just like a concert," Garth todl The Highway's Storme Warren. "I want to take you on a roller coaster ride. Hopefully the next song is going to surprise you and the song after that's going to surprise you. We're going to start out slow, just focus on the music, start listening to the voices that are listening to it and let them kind of sculpt where we go. So we want to build, and we just want to do our thing."
See Official Rules for complete details at www.siriusxm.com/GarthBrooksRyman.