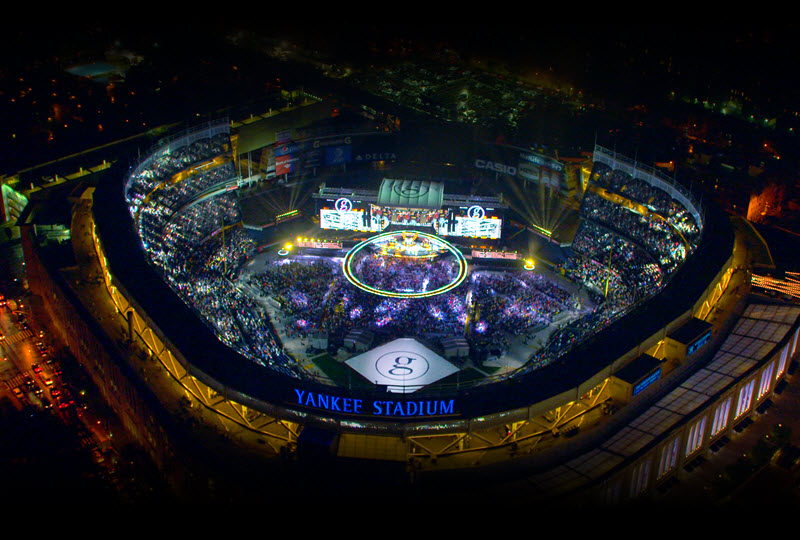 Garth Brooks/Yankee Stadium Live, filmed this past summer and presented by AT&T's AUDIENCE ® Network,  will  broadcast nationwide tonight (November 10) at 8:00 p.m. ET/PT across all AT&T platforms, including  DIRECTV channel 239, U-verse channel 1114, DIRECTV 4K channel 106 and live stream simulcast via http://att.com/garthbrooks and http://music.directv.com/garthbrooks.
News Update:   Set your DVR's!  Encore presentations of Garth Brooks/Yankee Stadium Live will air Monday, November 14 at 7:00 a.m ET, Thursday, November 17 at 6:00 a.m. ET,  and Thursday, November 24 at 4 p.m ET. 
"I can't thank AT&T enough for this opportunity," said CMA Entertainer of the Year Garth Brooks . "I will say no matter what device you view the show on, none of them are going to be big enough!!  This show is HUGE!!! I got to see the show for the first time this week and I was blown away with how clear it looks, how real it feels…it is like you are right there when it is happening!"
Fans can witness a historical night in the making as Garth Brooks performs the first-ever country music concerts live at Yankee Stadium in the Bronx . The two- night, sold out arena shows mark Garth's first return to New York City in 19 years after his 1997 Central Park concert, which remains the largest-ever held at the park.   Watch this legendary night for music,as Garth moves seamlessly through anthems and ballads such as "The Dance, "Friends In Low Places," "The Thunder Rolls," "The River," "Ain't Goin' Down ('Til the Sun Comes Up)," "People Lovin People" "Papa Loved Mama" and many more hits.In a specialconcert moment, Garth's wife Trisha Yearwood joins the stage for a striking series of songs including " In Another's Eyes," "She's in Love with the Boy" and others.
2016 marks even more legendary moments for the music pioneer as Garth Brooks was recently crowned CMA Entertainer of the Year, is now certified by the RIAA as the #1-selling solo artist in U.S. history with over 138 million albums sold , and is the first artist in history to receive 7 RIAA Diamond awards for the now seven albums ( No Fences , Garth Brooks , Double Live , Sevens , The Hits , Ropin' the Wind, The Ultimate Hits) that have sold over 10 million units each.
Brooks is currently in the midst of a three-year Garth Brooks World Tour with Trisha Yearwood . The tour began with 11 sold out shows at the Allstate Arena in Chicago . The tour is smashing records previously held by such acts as The Beatles , The Rolling Stones , and even Brooks himself. In just over a year and a half, the tour is approaching 5 MILLION tickets sold, making it the biggest tour in the world.