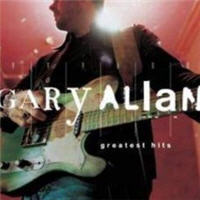 Surfs up as Gary Allan makes a big splash atop the Billboard Top Country Albums Chart this week. With sales of over 69,600, Greatest Hits is Allan's second Number One album in less than two years. Known for his electrifying live shows, Allan played for over one million people in 2006 and has continued to sell out venues, breaking attendance records across the country. Combine his live show, his success at radio and high praise from music's toughest critics and you begin to understand why Allan has become one of Nashville'Äôs premiere artists. Come join the party and celebrate Number One at Gary Allan Greatest Hits Weekend at participating nightclubs across the country March 15-31, 2007.
Each nightclub will be playing songs from Gary Allan's Greatest Hits throughout the evening and pausing periodically to give away Gary Allan prize packs, including license plate holders, T-shirt Iron-Ons, shot glasses, stickers, key chains, and Gary Allan Greatest Hits CD's. Fans are also eligible to win a Nationwide Grand Prize – an autographed guitar signed by Gary Allan.
Gary Allan Greatest Hits Track listing
1. Feelin' Like That
2. Right Where I Need to Be
3. Songs About Rain
4. Smoke Rings in the Dark
5. Her Man
6. Best I Ever Had
7. Nothing on But the Radio
8. Man to Man
9. One
10. Lovin' You Against My Will
11. It Would Be You
12. Man of Me
13. Tough Little Boys
14. As the Crow Flies
15. Life Ain't Always Beautiful
Gary Allan Greatest Hits is in stores now.
source: MCA Records
: : : : :
Buy Gary Allan CD's from ACountry Music Store
listen to Gary Allan free samples / download from iTunes