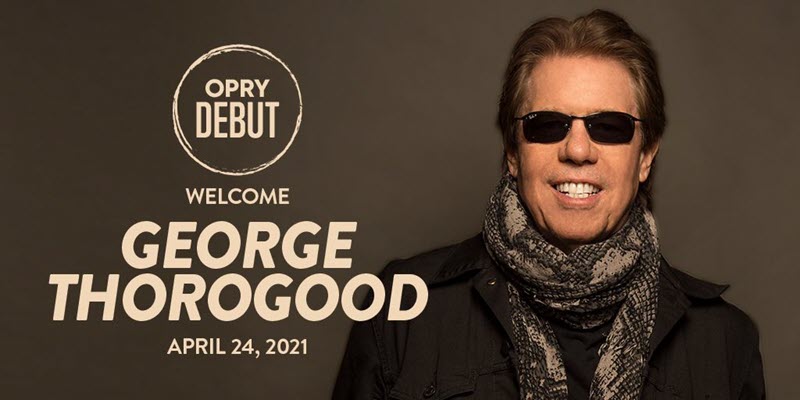 Rock legend George Thorogoodwill make his Grand Ole Opry debut on Saturday, April 24.  "I'm incredibly humbled by the honor and excited to connect with this audience," says Thorogood. "I'll be stepping onto the Grand Ole Opry stage with my guitar to share some great American music."
"Of course the Opry showcases the best in country music to fans around the world each week, but we also appreciate opportunities to welcome guests from other genres and walks of life, including Rock & Roll Hall of Famers, Academy Award-winning actors and directors, and even a U.S. President," said Opry Executive Producer Dan Rogers. "George Thorogood is an Opry fan himself, and we're all in for a great show."
In a special collaboration, a unique "SiriusXM Road to George Thorogood's Opry Debut" will be rolled out including involvement across a wide array of SiriusXM channels discussing this historic moment. Thorogood will be a guest on SiriusXM's Outlaw Country (ch. 60) and Volume (ch. 106) sharing his one-of-a-kind perspective on music and what this Opry debut means to him.
News Update: George Thorogood : Move It On Over – Live at the Grand Ole Opry

Craft Recordings recently released a comprehensive reissue of George Thorogood and The Destroyers' fiery concert album Live in Boston, 1982. The 27-track Live in Boston, 1982: The Complete Concert includes 12 previously unreleased tracks (including performances of "Bad to the Bone," "Who Do You Love?," as well as the country classics they have made their own including Hank Williams' "Move It On Over" and T.J. "Red" Arnall's  "Cocaine Blues").
Don't miss George Thorogood @thorogoodmusic making his Grand Ole @Opry debut on Saturday, April 24 #badtothebone #thorogood
Click To Tweet
Opry member Luke Combs and Niko Moon will also perform on this special live broadcast on April 24. Tickets for the Saturday, April 24 performance are at capacity, but the show can be seen on Circle TV's Opry Live. Bobby Bones will host the performances at 9 PM ET / 8PM CT on Circle, and on Gray TV stations, DISH Studio Channel 102, Sling TV and other TV affiliates in addition to a companion live stream on Circle's Facebook and YouTube. The Opry can also be heard on SiriusXM's Willie's Roadhouse and the Opry's flagship home 650 WSM AM and wsmonline.com, allowing fans from around the world to enjoy the performances from home.
Tickets for other in-house audience Opry shows are available now at opry.com.
The Opry livestream has consistently been in the top of the Pollstar Livestream Chart with an average of over 1 million+ viewers each week and earning the #1 spot on Pollstar's Top 100 Livestreamers Chart across all genres in 2020, and remains in the top three livestreamers across all genres in Q1 2021.
The Opry welcomed a limited capacity audience for its Opry's 95th Anniversary celebration on October 3, 2020 and currently hosts limited audiences at its Tuesday, Friday, and Saturday night shows. In-venue Opry audiences continue in compliance with operating plans developed in collaboration with the Nashville Public Health Department that include socially distanced seating, mandatory masks for all guests and staff, as well as enhanced cleaning practices.
The Opry, the world's longest-running radio show, will mark a historic, record-breaking milestone with its 5,000thSaturday night broadcast on October 30, 2021.

"When I was growing up, I'd hear Johnny Cash and Marty Robbins on the radio alongside Ray Charles and Bo Diddley," George Thorogood says. "Music didn't need to be labeled 'country' or 'rock'. If it was good music, you enjoyed it. I loved it all." And for an artist whose worldwide hits include a cover of Hank Williams' 'Move It On Over' – as well as self-penned classics like 'I Drink Alone' (a song he originally wrote for George Jones) and the ultimate badass anthem 'Bad To The Bone' – it's clear that George Thorogood remains one of the most enthusiastically unique interpreters of what can only be categorized as American music.
Though best known for the past 45 years as the guitar-slinging ringleader of George Thorogood & The Destroyers – with whom he's sold over 15 million albums –  George actually began his career as a solo acoustic performer. "Since I was 17," he explains, "all I wanted to do was see how far I could go with my guitar, putting my own spin on music I loved." Thorogood would revisit this period with his acclaimed 2017 album Party Of One which featured solo recordings of personal favorites like John D. Loudermilk's 'Bad News' and Hank Williams' 'Pictures From Life's Other Side', and was hailed by Renowned For Sound as "good old country living soundtracked by good old no-nonsense melodies, something that is few and far between these days." And for the entertainer who's played over 8,000 ferocious live shows over the past four and a half decades, George's Opry debut on April 24th will surely be one of his most iconic performances of all. "In a way, this feels full-circle to me," Thorogood says. "I'm incredibly humbled by the honor and excited to connect with this audience. I'll be stepping onto the Grand Ole Opry stage with my guitar to share some great American music.

Opry presents the best in country music live every week from Nashville, Tenn. The Opry can be heard at opry.com and wsmonline.com, Opry and WSM mobile apps, SiriusXM, and its flagship home, 650 AM-WSM. The Grand Ole Opry is owned by Ryman Hospitality Properties (NYSE: RHP). For more information, visit opry.com.
source:  Grand Ole Opry