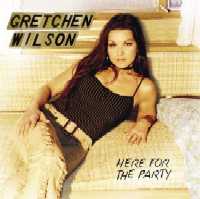 Gretchen Wilson brings her band and gee-tar back down under for a party, southern style, in February. Gretchen won the American Music Award for Breakthrough Artist of the year and is nominated for four GRAMMY awards.
In a new world where everyone with a pick up truck, an ex spouse, a pet in doggy heaven and an acoustic guitar is being touted as a 'country music artist', the genuine article stands out like a paradise island in an ocean of mediocrity. For Gretchen Wilson, the signs of impending stardom came early in the piece. One night about 1:00 a.m, Gretchen and friends found a side door of Nashville's landmark Ryman Auditorium open. They snuck in and finding a guitar on an empty stage Wilson jumped up and began singing Patsy Cline's 'If You've Got Leaving On Your Mind'.
"I felt I had an audience in there. It was totally empty and nothing but wood pews. It was like I was singing to a room full of ghosts."
It turns out that she did, in fact, have an audience – the venue security, who were so taken by her emotive performance that they waited until she was finished before ejecting Gretchen and friends from the venue!
As Gretchen Wilson prepares for the Grammy Awards, where she has been nominated for an impressive four awards, the amazing singer/songwriter's debut album Here For The Party, featuring the smash hit 'Redneck Woman', has just been certified triple platinum in the US for sales in excess of three million units.
Add to that the fact that she is one of the fastest-selling female artists in history, who has also scored a prestigious American Music Award gong for Breakthrough Artist of the year and The 2004 Horizon Award at the U.S Country Music Association Awards among her many recent accolades, and it's no surprise her Nashville based label aren't making plans to finish making those platinum plaques!
Australian music fans – and those who caught a sneak peek at her roaring live show during her 2004 promo tour down under – will be privileged to the company of Ms. Wilson in February 2005 when she brings her sensational band to town for Perth's acclaimed Moonlight Festival, The Melbourne International Music Festival and two intimate shows in Sydney & Brisbane. Don't miss this party – tickets are on sale now!
Gretchen Wilson Australian Tour Dates
February 23 ….. The Tivoli, Brisbane
February 24 ….. The Metro, Sydney
February 19 ….. Moonlight Music & Wine Festival, Perth
February 26 ….. Melbourne International Music Festival, Melbourne
source: Sony Music Australia
: : : : :
listen to Gretchen Wilson free samples / download from iTunes