Wow, this is something like you've probably never heard. Why? Because of the world we live in. The internet rules supreme in the realms of instant gratification where all you have to do is whisper in Google's ear or scroll down your social profiles to keep up-to-date with your friends, current events, and the latest trends.
However, the internet and social media have its downfalls. With access to a plethora of information, it can be quite the task to find diamonds in the rough. So, when something piques your interest, you know it's special.
This is exactly how we felt when we stumbled upon the music of Elektrohorse. We are inundated with news, videos, promotions, and more, and sometimes, we just want to know what the BEST music out there is. Elektrohorse's music stood out like you think a literal electronic horse would stand out amongst the herd. His music, dubbed as "Country Dance Music," is just that—a one-of-a-kind fusion of country music and EDM (electronic dance music). Before we get too descriptive, we had a chance to chat with the man himself and we'll let him do all the talking.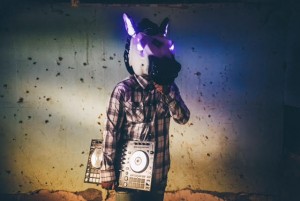 1.)  Were you into country music or EDM first?
"Definitely EDM. House, to be specific. I still remember one of my first house records was one of the biggest dance records of all time, the Outhere Brothers' "Boom Boom Boom." Country music came a little later in life. I began listening to country music because of the storytelling. I wanted something to help me relax. I'm also heavily influenced by funk and soul and infuse it into my sound as well. This hybrid of genres will help me contribute to where I can take music into 2020 and beyond."
2.)  What was your musical background growing up?
"I didn't do high school band or anything. I produced urban and pop music coming up and picked up the acoustic guitar later in life. As I got comfortable with both, I started in bringing in other musicians to collaborate. I don't know a whole lot about theory, but I hear what I want in my head and can whistle and sing parts. It's such a unique process that I've brought in people to film our creative process from start to finish."
3.)  Talk about your first single, "Stomp." Who are the collaborators and what is the concept behind it?
"First off, I like to think music is music each person's opinion and how they interpret it. I started a movement called The Party Don't Care where we realize that we may not agree on everything, but our common thread is music. With that belief, we can move forward, love one another, and collaborate.
We intentionally like to have diverse backgrounds on our records. "Stomp" came together in about 20 minutes when we were in Atlanta. Floyd Halloway is on the first verse. He's a very urban soul singer and his mom was a disco singer with a deep gospel-type of voice. Jesse Cherette sings the second verse and is based in Georgia. He came in the next day, we wrote the verse at a friend's house, and then went back and recorded. The final verse is Terrell Skreetz. He's from Carolina and put his own personal flavor on his part. I purposely like to have these diverse backgrounds in my music and it shows".
[Note: You can check out the lyric video to "Stomp" below at the end of the interview.]
4.)  What do you look for in a live performance? Do you use live instruments, controllers, have additional production, etc?
"Right now it's just me on vinyl and production, but I'm planning on bringing in other musicians to build up the stage show.  I envision a big country EDC-type festival with theatrical productions as my ultimate goal. I want there to be dancers. I want the crowd to feel energized and experience something they never have before."
5.)  What does the name Elektrohorse come from? What's the story behind the mask?
"I recorded a record in Korea a long time ago called "Ride Like a Horse." As time went on, I began to think, "let's take it to another level" and started with EDM music and evolved my process to include country music. Elektrohorse is a cross between electronic and country line dancing energy. Everyone loves horses and the connection between a horse and humans is about trust."
6.)  What are your future plans? Any album releases, tours, etc that you want to include?
"The second single will be out soon. I'm planning on releasing the album in late-August/early-September. The Party Don't Care is a product and we'll be collaborating more and continuing to create. I'm currently in three states a week dealing with promo, different sponsors, and trying to get more fans. No matter what, I want to put great energy into the world.
…..oh, and I'd love to work with Kacey Musgraves, Darius Rucker, Chris Stapleton, and Mickey Guyton."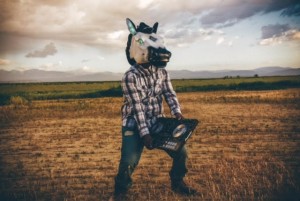 Watch Elektrohorse's Stomp Lyric Video
We'll make sure to keep our followers posted on more exciting releases from Elektrohorse.
In the meantime, make sure to check him out on the following: