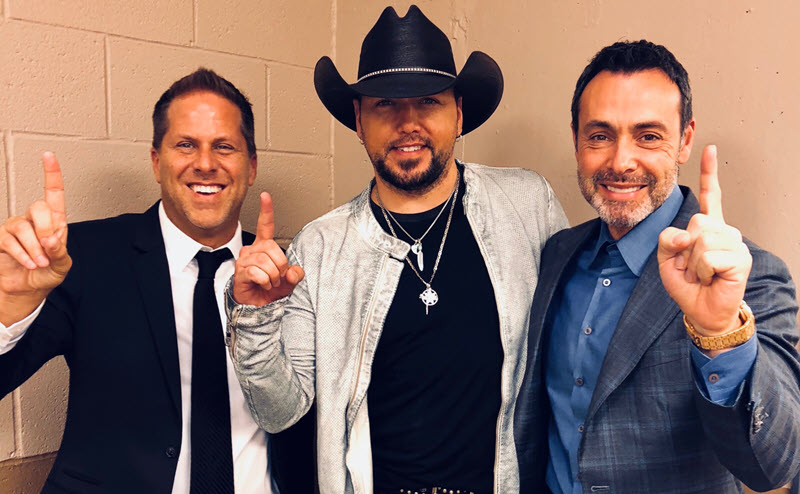 ACountry salutes Jason Aldean,  BMG and BBR Music Group as Rearview Town debuts as the Number One album on the Billboard 200 with 183,000 equivalent albums in its first week.  Rearview Town is the first country album to top the all genre chart in 2018.
Aldean was recently named Entertainer of the Year for the third year in a row at the ACM Awards in Las Vegas.
Jon Loba, EVP BBR Music Group, said "Having worked with Jason from album one, I am always amazed that with each new project he delivers on fan expectations, while at the same time continuing to evolve and develop new sounds that drive the genre forward. There are a few artists who can do that over the course of three to four albums, but it's very rare for an artist to pull that off over eight albums and continue being commercially successful. Jason is in rarified air in that respect."
Zach Katz, President, Repertoire & Marketing, BMG US, said, "Jason Aldean is an incredible force in music. His drive, determination, and creativity make his achievements limitless. This is an enormous accomplishment for an artist truly at the top of his game. We congratulate and thank the entire team at BBR, BMG, and Maverick Management for their tireless efforts and support. One year on together and it's been nothing short of an exciting and inspiring partnership."
Jason Aldean : Rearview Town Track Listing:
1. Dirt to Dust
2. Set It Off
3. Girl Like You
4. You Make It Easy
5. Gettin' Warmed Up
6. Blacktop Gone
7. Drowns the Whiskey (Feat. Miranda Lambert)
8. Rearview Town
9. Love Me or Don't
10. Like You Were Mine
11. Better at Being Who I Am
12. I'll Wait for You
13. Ride All Night
14. Up in Smoke
15. High Noon Neon
For more information, visit www.jasonaldean.com.