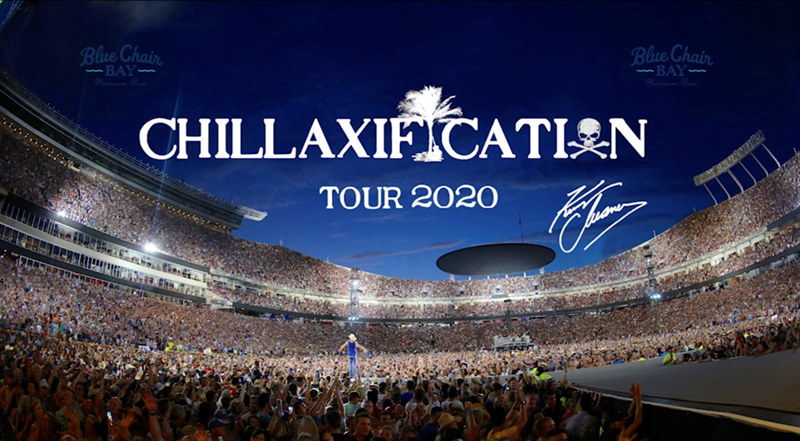 Kenny Chesney Chillaxification 2020 Tour kicks off Saturday, April 18 at AT&T Stadium in Arlington, Texas with special guests Florida Georgia Line, Old Dominion, and Michael Franti & Spearhead.  Tickets for all dates will go on sale October 4 at 10 a.m. local time.
"These stadium shows are the most fun thing I do," says the high-energy songwriter. "It's been a year, so when I get out there, I wanna make sure that No Shoes Nation is being rocked, having fun and getting all the music they can out of the day. We always try to do something different, bring someone new – and for anyone who's never seen Michael Franti and Spearhead, just wait!"
The only country artist on Billboard's Top 10 Touring Acts of the Last 25 Years, Chesney's summer stadium treks have become legend – and gave rise to the iconic No Shoes Nation. Built on a strong commitment to the fans, Chesney's No Shoes Radio serves as a connector for the man The Los Angeles Times deemed "The People's Superstar" and The Wall Street Journal hailed "The King of the Road."
"I love playing for No Shoes Nation any time, anywhere," says the soft-spoken superstar, "but these stadium shows are always something so powerful, I can't tell you how much anticipation goes into each one. Not to mention, we're always wanting to top what's come before – and I think this lineup might just pack the most fun of them all."
News update:   Before the tickets have officially gone on-sale, response to the Gillette Stadium finale of Kenny Chesney's 2020 Chillaxification Tour was so strong, they've already decided to add a second show on Saturday, August 29.

It's amazing to me how much the people there and where I'm from have in common," Chesney says of the unlikely bond. "Passionate people who care about each other, who work hard, play hard and see music as something that brings them together. I am always amazed at the way these final tour days in Boston hit us so strong and so hard. Rather than waiting, based on the calls, texts and tweets, we figured we should just go ahead and get this second show on sale, too."
Kenny Chesney Chillaxification 2020 Tour Dates
Apr 18 ….. AT&T Stadium ….. Arlington, Texas
Apr 25 ….. Miller Park ….. Milwaukee, Wis.
May 02 ….. U.S. Bank Stadium ….. Minneapolis, Minn.
May 09 ….. Raymond James Stadium ….. Tampa, Fla.
May 16 ….. Mercedes-Benz Stadium ….. Atlanta, Ga.
May 22 ….. Minute Maid Park ….. Houston, Texas
May 23 ….. The Alamodome ….. San Antonio, Texas
May 30 ….. Heinz Field ….. Pittsburgh, Pa.
Jun 06 ….. Lincoln Financial Field ….. Philadelphia, Pa.
Jun 13 ….. Busch Stadium ….. St. Louis, Mo.
Jun 20 ….. Ohio Stadium ….. Columbus, Ohio
Jun 27 ….. Nissan Stadium ….. Nashville, Tenn.
Jul 11 ….. Arrowhead Stadium ….. Kansas City, Mo.
Jul 18 ….. CenturyLink Field ….. Seattle, Wash.
Jul 25 ….. Soldier Field ….. Chicago, Ill.
Aug 01 ….. SoFi Stadium ….. Los Angeles, Calif.
Aug 08 ….. Empower Field at Mile High ….. Denver, Colo.
Aug 15 ….. Ford Field ….. Detroit, Mich.
Aug 22 ….. MetLife Stadium ….. East Rutherford, NJ
Aug 28 ….. Gillette Stadium ….. Foxboro, Mass.
Aug 29….. Gillette Stadium ….. Foxboro, Mass.
…and more dates to be announced.
Be sure to share your Kenny Chesney concert photos with our hashtag #acountrymusic
Get ready! @KennyChesney #Chillaxificationtour kicks off April 18 in Texas with @FLAGALine @OldDominion @michaelfrantiand includes 20 stadiums. Is he coming to your town? See the tour dates on ACountry
Click To Tweet
Blue Chair Bay Rum returns as tour sponsor. Chesney's award-winning line of rum will again be the presenting sponsor, with activations throughout the summer.
American Express® Card Members can purchase tickets before the general public beginning Thursday, September 26 at 10 a.m. local time through Thursday, October 3 at 10 p.m. local time. General ticket sales begin at 10 a.m. local time on Friday, October 4.
Recently singled out by Variety as "Country's only long-term stadium act," Chillaxification 2020 builds on the enduring rite of summer that Chesney's stadium shows have become. With the multiple week No. 1 "Get Along" from his deeply personal Songs for the Saints, benefiting the Love for Love City Fund, and the steamy "Tip of My Tongue" hovering just outside the Top 10 at Country radio, there's a lot of new music, old favorites and surprises on tap for what will be the summer's biggest tour.
Having defined the country music stadium experience over the last decade and a half, Chesney spent this year's Songs for the Saints Tour taking his music to the cities that have been overlooked on his massive million-tickets-a-summer treks. Having played 159 stadium shows – rocking over a million people at Gillette Stadium alone – Chillaxification 2020 promises to be everything No Shoes Nation has come to expect from the man who gave them "American Kids," "Beer In Mexico," "Out Last Night," "Noise," "When the Sun Goes Down" and more.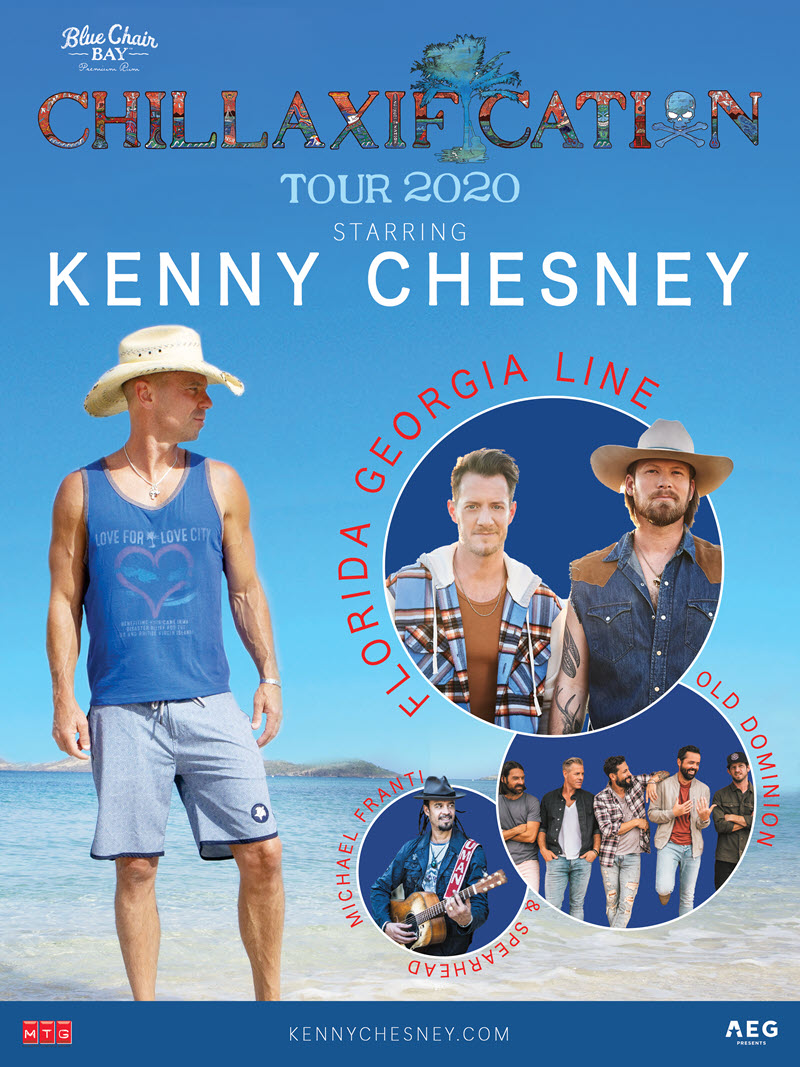 For more information, visit kennychesney.com
Source:  Essential Broadcast Media