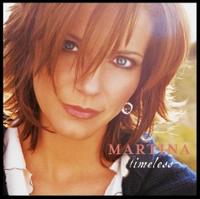 By Bobby Reed
(c) 2006 CMA Close Up News Service / Country Music Association, Inc.
Martina McBride has been surrounded by traditional Country Music her entire life.
At age 7, the Kansas native joined her father's band, which played cover versions of chestnuts including "Heartaches By The Number," "Satin Sheets" and "I'll Be There."
Then she grew up to become a Country Music superstar.
In 1995, McBride joined the cast of the Grand Ole Opry, where she has frequently shared the stage with trailblazing artists such as Country Music Hall of Fame member Loretta Lynn, Jeanne Pruett and Connie Smith.
With the October 2005 release of her album Timeless, which debuted at No. 1 on the Billboard Top Country Albums chart and has since gone Platinum, McBride has come full circle, returning to the classic Country songs that were such an important part of her formative years. The singer's eighth studio album is comprised of 18 new recordings of songs from the 1950s, '60s and '70s, including tunes that were hits for Lynn, Pruett and Smith. The album's lead single is "(I Never Promised You A) Rose Garden," a song written by Joe South that became a No. 1 Country hit for Lynn Anderson and helped her earn the honor of CMA Female Vocalist of the Year in 1971.
The key inspiration for Timeless was a new version of Buck Owens' "Together Again," which McBride recorded for My Heart, a compilation of her music that was sold exclusively at Hallmark Gold Crown stores in 2005.
"That was the spark that started this whole thing," McBride said. "I had such a great time recording 'Together Again,' and it reminded me how much I loved this music and loved singing it. I thought, 'Someday, I'm going to do a whole album of this music.' And then I thought, 'Why wait until someday? Why don't I just do it now?'"
In addition to paying tribute to legendary stylists, the album also salutes the craftsmanship of some of the genre's most revered tunesmiths. McBride delivers dazzling renditions of Bill Anderson's "Once A Day," Johnny Cash's "I Still Miss Someone" (with guest vocalist Dolly Parton), Harlan Howard's "Heartaches By The Number" (with guest vocalist Dwight Yoakam) and Hank Williams' "You Win Again."
"Martina's love and understanding of Country Music is part of every word she sings on this album," said Joe Galante, Chairman, RCA Label Group. "There is no doubt in my mind that the writers of these timeless songs would agree that they have been given an equally timeless voice."
McBride has a deep respect for all the artists whose songs she interprets on Timeless, but she feels a special kinship with the pioneering female vocalists. Throughout her career, McBride has drawn inspiration from those courageous women who triumphed in an era when chauvinism and gender discrimination were prevalent in the music industry.
"Those women made it possible for me to do what I do," McBride said. "They had to face obstacles that I don't even have to think about now because of the path that they've set for us. In choosing these songs, I wanted to pay my respects to those women. So I went back and listened to how Loretta and Connie sang the songs. I didn't want to copy them note-for-note, but I did pay respect to their phrasing and enunciation and the kind of style in which they sang the songs."
McBride has become a groundbreaking artist in her own right, combining Platinum sales with social commentary. Her hit singles, such as "Independence Day," "A Broken Wing" and "Concrete Angel," have often addressed social ills, and she has served as the spokesperson for the National Network to End Domestic Violence. To date, McBride has sold 15 million albums, and has won the CMA Female Vocalist of the Year nod in 1999, 2002, 2003 and 2004.
Timeless is a landmark album for McBride because it is the first release for which she was the sole producer. She and Paul Worley co-produced several of her earlier albums.
"Paul has been a mentor to me in the truest sense," McBride explained. "He taught me everything I know about making albums. I felt that I was at the point where I could make an album by myself. So I asked Paul to come play on the tracks and to be available to me if I had a question or needed help with a final mix. It was the best of both worlds because I was able to make the album 90 percent on my own, but I still had him available for whatever I needed."
"Martina had the image in her head of what the album should sound like," said Worley, who played acoustic guitar on Timeless. "Once the magic started happening on the very first song, we all had the sense that we were doing something historic. And something that people were really going to love."
McBride hand-picked most of the musicians for the sessions, and they used vintage instruments, microphones and amplifiers. In another nod to the techniques of the golden age, McBride recorded her lead vocals live in the studio, backed by an ensemble.
"I put together a band that was just as excited as I was about making this album," McBride recalled. "I wanted to get the feel of the original recordings. I was really open to everyone's input and suggestions because the passion for this project was something we all shared."
The core musicians for the sessions included Eddie Bayers (drums); Stuart Duncan (fiddle); Paul Franklin (steel guitar); Steve Gibson (guitars); Gordon Mote (keyboards); Marty Schiff (guitar); Glenn Worf (bass); and Larry Paxton (bass).
"Martina presented these songs to us in a way that utilized our creativity, allowing us the freedom to make each song our own while maintaining the integrity of the original classic," Franklin said. "I was so impressed by the way Martina's voice captured the soul in each lyric. In my solos, I tried to capture the same kind of emotional connection she had with the song."
McBride has a long personal history with the tune "I'll Be There," which was a hit for Ray Price in 1954. "I have a 78 rpm of my dad singing it when he was probably 15 years old," McBride said. "He won a contest and the prize was making a record at a recording studio somewhere in Kansas. When we were kids, my grandma would pull out this record and play it for us."
McBride recorded another memorable classic, "Harper Valley P.T.A.," for Music From And Inspired By Desperate Housewives, released in 2005 by Hollywood Records. The TV soundtrack includes contributions from Sara Evans, k.d. lang, LeAnn Rimes, SHeDAISY and Shania Twain.
In July 2005, McBride joined the ranks of icons such as Elvis Presley, Diana Ross and Frank Sinatra by being immortalized with a collectible Barbie doll from Mattel. The Martina McBride Barbie doll retails for $19.99 and is available at Toys "R" Us and other stores.
"We like to partner with the No. 1 person in his or her category, and Martina McBride has cross-generation appeal for both our older and younger collector," said Elizabeth Grampp, Mattel's Barbie Collector Senior Marketing Manager.
"Having been a fan of Barbie doll since I was a little girl, it's incredible to actually have a Barbie created in my likeness," McBride said.
The singer is promoting Timeless with numerous TV appearances and a headlining tour that kicked off in January with dates already confirmed through July including the CMA Music Festival in Nashville.
Hallmark Gold Crown and Barbie are registered trademarks and are property of their respective owners
source: CMA Close Up News Service / Country Music Association
: : : : :
Buy Martina McBride now from Amazon
listen to Martina McBride free samples / download from iTunes