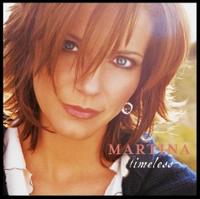 Everyone who was there knew something really special was happening. Martina McBride's recording sessions at Blackbird Studio during the first half of 2005 had an atmosphere of contagious enthusiasm. For the first time in her career, the multi-platinum country star was solely producing an album. But not just any album. An album unlike any she has ever recorded. An album celebrating her place in a genre she holds dear while reminiscing and paying homage to the songs where her journey began. This is an entire album dedicated to some of the most revered country classics of our time.
"Every time I hear this music, it feels like coming home," says Martina. "What I love about these songs is that they are like conversations. These lyrics are so simple yet so eloquent. It's just honest. I have a comfort level with this music and a respect for it that is deep."
Timeless, Martina's eighth studio album, will be released October 18, 2005. The first single, "Rose Garden," which produced a number one in 1970 for Lynn Anderson, was released to radio on August 1. "Martina's love and understanding of country music is part of every word she sings on this album. There is no doubt in my mind that the writers of these timeless songs would agree that they have been given an equally timeless voice," says Joe Galante, Chairman, RCA Label Group.
Martina gathered a group of musicians who shared her vision. They worked out the arrangements together, then recorded the songs live. It was an organic, simple, old-fashioned process because Martina McBride, steel guitarist Paul Franklin, fiddler Stuart Duncan, bass players Glenn Worf and Larry Paxton, keyboard player Gordon Mote, drummer Eddie Bayers and guitarists Steve Gibson, Paul Worley and Marty Schiff were all dedicated to the same goal ' paying homage to classic country songs.
"It was just a joyful process," says Martina. "I wanted only musicians who had the same kind of desire to do this record as I had. I wanted people who were excited about recreating this music and who would understand how to give it the authenticity I wanted. I wasn't interested in doing a 2005 version. I wanted to get the feel of the original recording. I have to say, the musicianship on this record is some of the finest I have ever heard."
From the catalog of the immortal Hank Williams came "You Win Again" and "Take These Chains from My Heart." Country Music Hall of Fame member Buck Owens provided "Crying Time" and "Love's Gonna Live Here." Ray Price, another Hall of Famer, was the originator of "I'll Be There (If You Ever Want Me)" and "Heartaches by the Number."
Martina also tipped her hat to such Country Music Hall of Fame members as Loretta Lynn ("You Ain't Woman Enough"), Eddy Arnold ("Make the World Go Away"), Hank Snow ("I Don't Hurt Anymore"), Don Gibson ("I Can't Stop Loving You"), The Everly Brothers ("Let It Be Me"), Merle Haggard ("Today I Started Loving You Again"), Tammy Wynette ("Til I Can Make it on My Own"), Waylon Jennings ("Dreaming My Dreams") and Kris Kristofferson ("Help Me Make it Through the Night"). On "I Still Miss Someone," Martina paid her respects to one Hall of Famer, Johnny Cash, and enlisted harmony vocals from another, Dolly Parton.
Rounding out the Timeless collection are such beloved country standards as "Satin Sheets," "Rose Garden," "Walk on By," "Once a Day," "True Love Ways" and "Pick Me Up on Your Way Down." Each one was recorded straight from the heart for this extraordinary album.
Martina McBride was raised making music on a farm in tiny Sharon, Kansas. Her dad, Daryl Schiff, had a band that rehearsed every week in the family's house. When she was seven and little brother Marty was five, they joined the group. But it wasn't only nostalgia that prompted this record. These performances have been smoldering inside Martina McBride since the dawn of her recording career.
"I've always wanted to make a traditional country album and I'd say that every time I'd start a record. Then I'd gather songs that always kind of led me in another direction. But it has always been in my heart to do a record like this."
Martina McBride has been a steady presence in the country Top Ten since 1993. Her fiery, passionate vocals have created such memorable hits as "Independence Day," "Wild Angels," "A Broken Wing," "Blessed" and "This One's for the Girls." She has placed nearly 20 singles in the Top Ten, has sold 15 million records and has been named CMA's Female Vocalist of the Year in 1999, 2002, 2003 and 2004 and ACM's Female Vocalist of the Year in 2004, 2003 and 2002.
"I wasn't thinking of the "business" of country music when I made this album," she says. "I made Timeless for the love of the music and for the experience of singing these songs. Obviously, I hope people like it. But for me the bottom line was just trying to pay tribute to these songs and give them the respect they deserve."
"This record really is not about me. It's about this music," she adds. "I want everybody who hears it to go, "Wow, what great songs." I think there will be a lot of people who have fond memories of these songs and also many people who will be hearing them for the first time. It's exciting to think that it may inspire someone to go back and listen to the originals and discover how wonderful traditional country music is."
source: Front Page Publicity
: : : : :
Buy Martina McBride now from Amazon
listen to Martina McBride free samples / download from iTunes