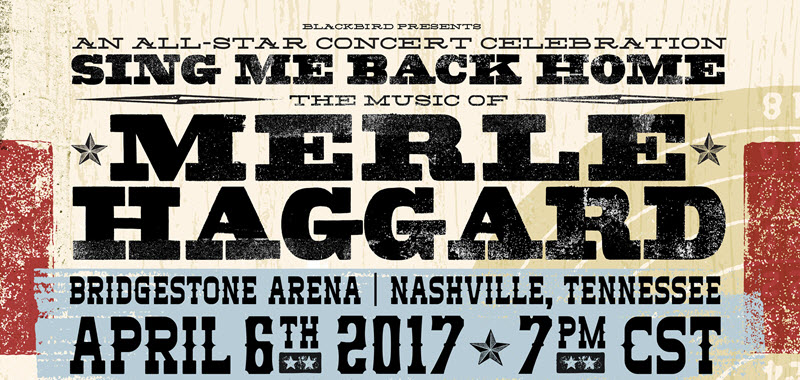 The Merle Haggard tribute concert, Sing Me Back Home: The Music Of Merle Haggard, will be taped at the Bridgestone Arena in Nashville on April 6, 2017  in honor of what would have been Merle's 80th birthday and the one-year anniversary of his passing.   Featuring Willie Nelson, Kenny Chesney, Miranda Lambert, John Mellencamp, Dierks Bentley, Loretta Lynn, Hank Williams Jr., The Avett Brothers, Alison Krauss, Ronnie Dunn, Warren Haynes, Jamey Johnson, Kacey Musgraves, Lynyrd Skynyrd, Lucinda Williams, Ben Haggard, John Anderson, Connie Smith and Bobby Bare, and more to be announced, the event will be filmed and recorded for multi-platform distribution throughout traditional media (worldwide broadcast, music, and digital). A portion of the proceeds will benefit the T.J. Martell Foundation.
Tickets go on sale Friday, March 3, 2017 at 11 A.M. CT online at ticketmaster.com , by phone at 800-745-3000, all Ticketmaster locations and the Bridgestone Arena box office.
In a career that spanned more than 50 years, Merle Haggard racked up an astounding 38 No. 1 country hits and every major award imaginable. Songs like "Mama Tried," "Okie From Muskogee," "I'm A Lonesome Fugitive" and "The Fightin' Side Of Me" continue to inspire new generations of artists and fans alike, and as we approach what would have been a major milestone, the time has come to celebrate his truly remarkable career. He was an iconoclast who refused to bend to country music convention and helped create the indelible Bakersfield sound. He gave voice to outlaws and outsiders and in a way that few, if any, have ever equaled.
Keith Wortman, Mark Rothbaum and Theresa Haggard are the creators and executive producers of the show. Don Was, Ben Haggard and Buddy Cannon will serve as music directors and preside over a stellar house band backing the performers at this historic concert event taping.
"I am so very thankful for this tribute to my husband, Merle Haggard.  Please come join me and my family at this fantastic show that Merle would be so proud of," said Theresa Haggard.
"I am honored to produce a show that celebrates the life and music of Merle Haggard," says Wortman. "His music and lyrics continue to shape the lives of musicians and millions of fans. I can't think of any better way to celebrate his 80th birthday than to honor his legacy with this extraordinary event. It's going to be an unforgettable evening."
For more information, visit   http://musicofmerle.com    #musicofmerle