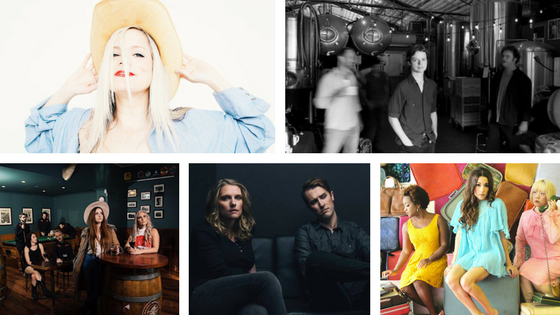 It's November and we know you're tempted to hunker down under blankets and fireplaces and hibernate. That's cool. While you're down there, you might as well give yourself some light at the end of the tunnel and something to look forward to this spring. That's why we took the liberty to bring you a special edition of our monthly social roundup and showcase country and Americana artists who will be performing at 2018's SXSW Festival in Austin, TX. Man, what a diverse roster. From 60's girl group throwbacks to frontmen with fiddles, we're already wishing for warmer weather and springtime in ATX. However, we're fans of savoring the moment, so for now, throw these on your favorite music player, bookmark them, and enjoy the ride.
Tori Forsyth (@ToriForsythh)
Location: "The Sticks" Australia
Sometimes, we get a little bummed out seeing artists lumped into country music who have no traces of the style anywhere in their music. As we scrolled through artists that just sounded like another indie band, our ears perked up immediately when we heard Tori Forsyth. Hailing for what she proclaims as "The Sticks" Australia, she possesses the full package of storytelling lyrics, a haunting voice, and a killer backing band. We already see "Johnny and June" becoming an instant hit in our rotation as she beautifully narrates a love story as beautiful and wild as Johnny Cash and June Carter. We're also suckers for banjos and upright basses over electric and amplified instruments. This song is perfection.
Barbara Nesbitt (@barbara_nesbitt)
Location: Austin, TX
As much as SXSW has exploded over the past 30 years, we love it when there's still local talent in the mix and we can't wait to catch Austin local Barbara Nesbitt at this year's festivities. Glancing at her bio, this is an accolade well-deserved and far from her first first rodeo as she has been immersed in music scenes in Georgia, San Diego, and was recently listed as one of the top 10 female vocalists in the 2017 Austin Music Awards. We're loving this video of Nesbitt performing "Into the Sun" at a house concert as it gives us a firsthand glimpse of her friendly nature and engaging stage presence. Once the schedule is released, make sure to pencil her in!
Charlie Faye & the Fayettes (@CharlieFaye)
Location: LA, ATX, and on the road
Before you drop the hammer on us for not listing a straight-up "country," band, please just press play and get taken away to a soulful, retro vibe that washes all your cares away. We just can't pigeonhole this group and that's why we're digging it so much. Equal parts Americana, soul, and 60's "girl group" that makes you want to smile and dance around while making dinner or driving with the top down would be our best bet. "Sweet Little Messages" will be be stuck in your head in the best of ways and have you tapping your toes even during the most mundane workdays.
The Warren Hood Band (@WarrenHoodBand)
Location: Austin, TX
Mix more alt-soul, country, fiddle-infused tunes into the SXSW mix = a recipe that has us dancing for joy! Plus, you've gotta give mad daps to any frontman with a fiddle. Hood's solo on this video for "This River" is oozing with emotion and a beaming sense of pride which makes sense as the video's description mentions that he had recently returned from his honeymoon when it was being filmed. Although Hood has am impressive list of achievements already (Berklee graduate and an album produced by Charlie Sexton and released on Red Parlor Records), it seems like his career is only beginning and we hope to walk hand-in-hand with him for quite some time.
Dead Horses (@deadhorseswi)
Location: Milwaukee, WI
Before we even get into anything, push play immediately and listen to that gorgeous beautifully bowed double bass solo in the intro of the "All I Really Know" video above. It just tugs on ALL the heart strings. Dead Horses hails from Milwaukee, WI and they have an impressive track record up north as the recipients of the 2017 WAMI Best Artist, Best Female Vocalist, and Best Americana Artist. The talent committee really did their research and picked a good one to bring down this year. Their arrangements are well-crafted and their chemistry seems effortless—this is such a rare combination in a world where it seems like everyone and their mother is in a band. Real musicianship right here.