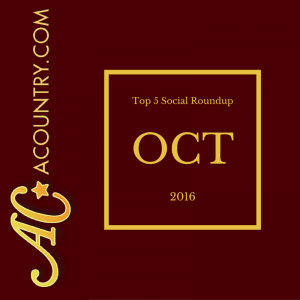 Fall is a great time of transition to try new things. We've been at the blogging and promotion game for more than a hot minute, so what would we do that we haven't done before? Our social game is hot hot hot! We have over 12.5K country music fans following us and they can be Chatty Cathies, so why not ask THEM what they're listening to.
Here's the deal: We message new fans asking for input on their favorite country tunes. We call the bands to action asking them to share new music with us. And we got people to speak up!
Introducing the ACountry roundup of our top 5 favorite recommendations by up-and-coming artists and fans. We hope you enjoy these tunes as much as we do.
1.) Two Ways Home (@twowayshome)
For a group with a 2-piece core, Two Ways Home packs a punch. This London-based alt-country duo of Lewis Fowler & Isabella Mariee is the perfect respite for those seeking refuge from the raucous and boisterous world of modern country music. Whether they're singing in unison or harmony, the duo's voices complement each other naturally and they never step on one another's toes. We really enjoy their track "Just For Now."
2.) Grant Maloy Smith (@GrantMaloySmith)
Grant is social-savvy. He has over 105K followers on Twitter, posts positive content, and seems like an all-around good guy. But THEN, you listen to his music and it's captivating. Smith is another artist who doesn't need his work to be clouded by overproduced effects and visual spectacles. He has an old school country style that's primarily American roots music with hints of bluegrass, and folk. You can get a real good grasp in his ability to paint pictures with words with his song "All the Long Way."
http://www.grant-maloy-smith.com/
3.) Saint Luke's Drifters (@MitchLaney)
We first found out about these guys through a photo Mitch Laney submitted of the band. Naturally, we go check out Saint Luke's Drifters for ourselves and couldn't help but nod along to their tunes. Based out of Watertown, Tennessee, these guys are all top-notch performers and it's clear that they've not only mastered their respective instruments, but have natural chemistry as well. "Trials and Tribulations" comes out of the gate swinging with a harmonica solo and we have a feeling that fans of country, Americana, blues, and beyond would dig these guys.
http://www.saintlukesdrifters.com/
4.) Emma Bacon (@EmmaBacon2018)
We first ran across Emma Bacon when reading a post about her Pledge Music campaign. Our core mission at ACountry is not only to connect artists to fans, but to spread the word about new artists as well. We checked out her music and highly encourage you guys to chip in what you can to her new album. Bacon has the voice of an angel and it shines on this track "Free Falling."

http://www.pledgemusic.com/projects/emmabacon
5.) The Krickets (@thekrickets)
We couldn't help but take note of these ladies with a description like "Swamp Folk Girl Band." Plus, their debut album 'Spanish Moss Sirens' was produced by Ben Tanner of Alabama Shakes. The vocal harmonies are on-point, the arrangements aren't too busy, and these tunes will have you smiling, singing along, and foot stomping all at one. Check out the song "Guinevere" to see what we're talking about.

http://www.thekrickets.com/music
We hope these posts inspire you guys to share any new music you discover or music of your own with us. Happy October and share away!