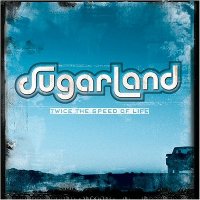 Sugarland and rockers Bon Jovi are scheduled to perform in the critically acclaimed CMT Crossroads series, premiering Friday, Sept. 16. New Jersey-based Bon Jovi and Atlanta's Sugarland are set to deliver each other's music before an invitation-only audience at New York's Hammerstein Ballroom.
Bon Jovi's new album Have a Nice Day will be released on September 20, 2005 and includes the song 'Who Says You Can't Go Home,' a duet with Sugarland's lead singer Jennifer Nettles. CMT Crossroads will be the premiere live performance of the collaboration.
CMT Crossroads pairs country music stars with popular and legendary artists from other genres – pop, rock, R&B – to play together, swap stories, and share their common love of music. Recent episodes of CROSSROADS have included Keith Urban and John Fogerty; Los Lonely Boys and Ronnie Milsap; and Lionel Richie and Kenny Rogers.
In their twenty-year career, Bon Jovi has sold more than 100 million albums and performed more than 2,500 concerts in over 50 countries for more than 32 million people around the world. Originally formed in New Jersey, Bon Jovi has emerged as one of the most recognized and beloved rock bands around the globe with an audience that spans generations. Comprised of Jon Bon Jovi (vocals/guitars), Richie Sambora (guitars), David Bryan (keyboards) and Tico Torres (drums/percussion), Bon Jovi's timeless hits include "Wanted Dead or Alive," "Livin' On A Prayer" and "Always." The group remains at the forefront of concert touring and continue to gain new fans with their renowned live performances.
Atlanta based trio, Sugarland, has realized phenomenal success, in just one short year, as their debut album, Twice The Speed of Life, was recently certified platinum by the Recording Industry Association of America. It has been in the Top 5 on Billboard's Top Country Albums chart for seven consecutive weeks and in the Top 10 for 14 consecutive weeks. The trio of singer/songwriters that include Jennifer Nettles, Kristen Hall and Kristian Bush wrote all 11 tracks on the album, including their debut single, "Baby Girl" and their current single, "Something More." Since their introduction to the country music world, Sugarland has garnered the highest-charting debut single by a country group in 14 years.
source: CMT
: : : : :
listen to Sugarland free samples / download from iTunes