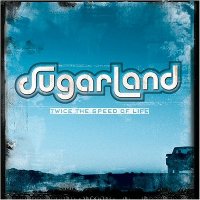 Sugarland : Jennifer Nettles : ACountry exclusive interview
April 7, 2005
by Jarrod Vrazel
Hot on the success of their debut album, Twice The Speed of Life, and their hit single, "Baby Girl," Sugarland spiced up the Road To The CMA Festival Tour with appearances in Dallas (April 5)and San Antonio (April 7).  ACountry spoke with lead vocalist Jennifer Nettles prior to the San Antonio show to discuss the Road to the CMA Festival and Sugarland's plans for the summer.
ACountry: Hi Jennifer, how is your day so far?
Jennifer: So far so good.  We didn't have to get up before dawn today, so that makes you feel incredibly human.
ACountry: Did you fly in?
Jennifer: No, we drove from Dallas to San Antonio.
ACountry: Are you looking forward to the Road to the CMA Festival show tonight?
Jennifer: Yes, actually I am.  We did one day before yesterday, as far as one of the CMA/Wal-mart promotions.  We were with Blue County then and we'll be with Craig Morgan tonight.  It's a fun thing.  It's really informal and every body gets to come out to the parking lot. And we do a meet and greet afterwards and sign CD's.  It's a lot of fun.
ACountry: That sounds like a great treat for the fans.  I spoke with Craig Morgan earlier and we both thought it unique to have a free show at Wal-mart with the top two charting artists in the country.
Jennifer: What are the chances?  I think it may be more than a coincidence. (laughs)
ACountry: You'll be playing with Craig onstage tonight and possibly replacing him at the top of the charts.
Jennifer: I don't know.  He is holding strong, and we're looking at a new single that we're kinda focusing on. "Something More" is our next single, and it's already being played.  In fact, from what I understand, it was the most added song on country radio last week.  We've kinda put our focus on that, so we'll see.
ACountry: I saw you perform it about a week ago on the Tonight Show.
Jennifer: Yes, that's actually the song we performed there, too.  What a thrill that was.  Super exciting – it was our first time on the Tonight Show. We got to meet Jay Leno.  He was just as gracious as everyone says he is.  He came by the dressing room and met everybody.  He doesn't have to do that -he's a busy man.  We were really appreciative.
ACountry: How was the crowd response to your show and the overall meet and greet concept in Dallas?
Jennifer: It was good.  It was really good, I think.  We had a lot of people show up afterwards, and we did a whole lot of signing.  A lot of people had the CD, and those that didn't – a lot of them bought it there.  I think that's a good thing, too.
ACountry: That's definitely a good thing.  People can see how you are live, and then take home something to listen to.  What's the rest of your summer looking like?
Jennifer: Second verse same as the first! We are doing a lot of promotional shows, and then we are doing a lot of fairs and festivals.  It is fair and festival time, and that's a great opportunity to get out there and get a lot of fans at one time – in one hit.  Hopefully we'll be able to get across, meet a lot of fans, and gain a lot of new fans.  So far, so good.  I'm excited about all the food options that you have at the fairs and festivals – funnel cakes, and bratwurst, and food on a stick.
ACountry:  You played with Blue County earlier this week and Craig Morgan tonight.  Do you have any plans to tour with any other artists, other than the fairs?
Jennifer: Right now, we have so many of those fairs and festivals on the books, it doesn't look like there is any space or time for a whole run with somebody.  But by the fall, when fair season dies down, I would love to be able to get on a tour as an opener, as a support act, and go out and have a bit more of a routine.  That would be great.  We don't have anything like that on the books right now, but we're really crossing our fingers and hoping that that's going to come.
ACountry: I believe that having singles reach the top ten and appearances on shows like the Tonight Show will definitely get the attention of some of the other artists and booking agents.
Jennifer: You would think so.  Surely it will bring good things.
ACountry: Speaking of some of the other bands, who are some of the female vocalists that have impacted the direction that you take?
Jennifer:  Wow.  I have a lot of different influences.  I come from a southern gospel background – I grew up singing in the church.  But I always had radio around – my mom always did – she was playing radio all the time.  As a little girl, there was Linda Ronstadt, Rita Coolidge, and Juice Newton, and all those strong female singers.  I definitely think they were an influence.  Then, as you grow up, you develop your own taste in music.  I went in every direction at that point.  I love Emmylou Harris, I love Tori Amos, and I love REM.  I went through a big California phase.  I love the Eagles and James Taylor.  Some of those are songwriting influences as well, and also as performers and singers.
ACountry: That's definitely a nice selection of entertainment.
Jennifer: You know, all three of us are pretty diverse in our music taste.  As long as it's good, we're not respect of genre across the board.  As a matter of fact, this week we talked about Patty Loveless and her new record.  Kristen and I have been on a big Gwen Stefani kick with her new record – it's awesome.  On the way here, we stopped off at Best Buy and bought Billy Idol's new record.  It is hysterical and wonderful.  I'd recommend everybody getting it.  He is back to his true form.  We like all kinds of music.
ACountry: I just missed seeing Billy play in Austin at SXSW. Everyone who went has said it was amazing.
Jennifer: I bet it was awesome.
ACountry: I know you've got your show to get ready for.  I appreciate you taking the time to speak with us this afternoon.
Jennifer: Thank you, Jarrod.  Thanks for taking the time.
ACountry: Best wishes on a great year. Congratulations on the success of "Baby Girl." Hopefully your new single will be hitting the top of the chart as well.
Jennifer: Cross your fingers.  I rea
lly appreciate that.
: : : : :
listen to Sugarland free samples / download from iTunes