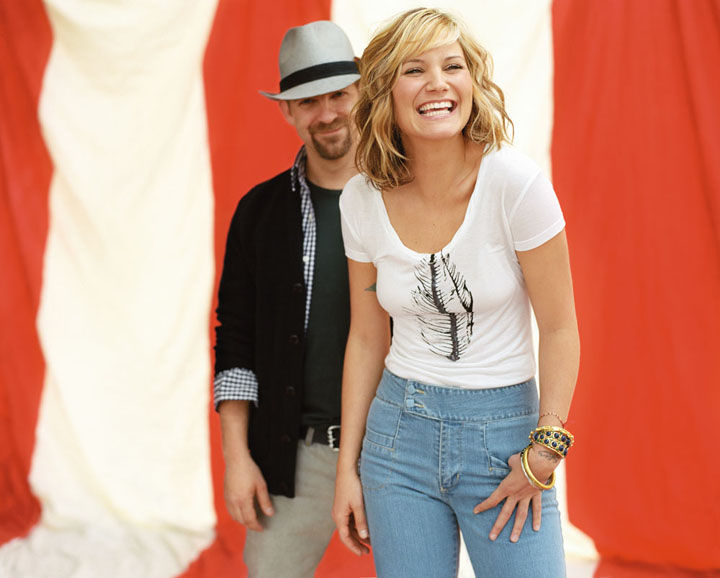 Sugarland's new album, Love On The Inside,will be released July 22, 2008. Jennifer Nettles and Kristian Bush co-wrote all 13 tracks and have teamed up with Byron Gallimore again to produce.
Sugarland will premiere the album's debut single All I Want To Do on the Academy of Country Music awards live from Las Vegas May 18 on CBS . The new single will ship digitally to radio across the country immediately following their performance, which promises to be a showstopper.
The world premiere of the music video for All I Want To Do, which was shot in Hawaii and directed by Shaun Silva, will be featured on Yahoo (www.yahoo.com/music) after their live ACM performance.
The video's first television broadcast appearance will debut on CMT and CMT.com, as well as GAC on Monday, May 19, 2008.
"We've been playing some of the new songs during our live shows," says lead singer Nettles. "The fans have been so responsive. We couldn't wait to get the whole album to them. I am more excited about this album than any other that I've recorded thus far," continued Nettles. "It is special to us and has a lot of emotion, heart, laughter, tears and love on the inside!"
"Love On The Inside is just that…it is a recording full of love," Bush says. "It's in the strings and wood of the instruments, in the vocal chords, in the hearts that beat behind them and in the words that flood out through them into microphones. Our hope is that new Sugarland fans and old ones alike will hear this album and feel like the soundtrack to their life is magically playing in front of them."
This third release is the follow up to their two previous, multi platinum-selling records Enjoy The Ride and Twice The Speed Of Life.

Click to listen to why they named the album "Love On The Inside"

Sugarland Love On The Inside Track Listing:
1. All I Want To Do
2. It Happens
3. We Run
4. Joey
5. Love
6. Genevieve
7. Already Gone
8. Keep You
9. Take Me As I Am
10. What I'd Give
11. Steve Earle
12. Very Last Country Song
(Deluxe Fan Edition)
13. Fall Into Me
14. Operation: Working Vacation
15. Wishing
16. Life In A Northern Town (Live)
17. Come on Get Higher (Live)
Sugarland : Love On The Inside – Cut by Cut
"All I Want To Do"
The duo's intent here was to have a lot of swing to the lead single of this album. To funk it up a bit, and keep it very hooky. Musically, this number's somewhere between Bonnie Raitt and Jack Johnson, with some Marvin Gaye and Van Halen thrown in. "I love the flirty sound," says Jennifer Nettles. "We just always want to bring different energies, and we got to play on the lighter side this time." If you listen close, the easy percussion from Matt Chamberlain gives the song its sexy heartbeat.

"It Happens"
Sometimes, you just gotta let go. That's what this gritty little tune's all about, says the duo. "We always say we should take the music seriously, but not ourselves," Nettles says. When the guitar comes in at the top, you know this is going to be a little more 80s pop than down-home country. Think "Walking on Sunshine". Because this tune wraps it all up with some very advisable lyrics: "Let go, laughing". And Nettles thinks the ironies, like getting in a fender bender with your ex and his new girl, shows listeners what a grand sense of humor the universe has. It's a very uptempo way to look at a world that's out of your control.
"We Run"
New love. Young love. Green love. There's an excitement to that experience that Sugarland has captured in this intoxicating bluegrassy rocker. Nettles admits this grew from a seed of an idea that Bush had, since he grew up playing mountain music in Tennessee. And this song lends itself to that Appalachian sound, that driving four-on-the-floor beat. You can't really describe that feeling, so the duo chose to show it rather than tell it. The imagery—of pockets of dirt and reckless weather on the breath—convey how beautiful, messy and powerful love can be.
"Joey"
Teenage love doesn't always have a happy ending. Especially when a tear-jerker like Bill Anderson has pen in hand. He helped Nettles and Bush craft this modern take on the traditional teen tragedy, and yet much more alternative influences went into the vocals. "We ended up with a haunting wail in the chorus and this R.E.M. background vocal," says Bush of the mel
ancholy music. "It's simple and dark." The rich texture of this song is built around all those "what ifs" that run through your mind as you explore regret. "Nothing mitigates loss," says Nettles "But everyone has regrets, so we can all relate."

"Love"
Nettles' powerhouse pipes take center stage in this ballad. And that strength comes though in the form of questions, about how you can possibly define love. Is it the face of a child? Kindness in the eyes of a stranger? In a hotel room in Washington D.C., when Sugarland was chasing down the theme of the whole album, the topic of love came up. "No way could you ever narrow it down," Nettles says of their writing time with Tim Owens ("SettlinҔ). There's love lost, love found, new and old loves. So this tune gets right in the middle, and makes some reaches musically. Bush's powerful voice is featured for the second half of this song. "When we were writing the back half, Jen said 'I want you to sing these words I wrote just for you,Ҕ recalls Bush. "I will always feel special singing those words."
"Genevieve"
Nettles said that Bush had the whole first verse worked out. That verse—and his pure, sweet mandolin work—were inspiring enough. But when the idea for some three-part harmony came up, it only made this dirge of a country heartache even better. Nettles says it reminded her of some of the southern Baptist hymns she grew up on, and likes that the story's not clear cut. "It's a beautiful thing when we get to play characters that are complicated." There's a mystery of who this character is that is coping with such a dramatic loss. It's a little twisted. But that creates an even stronger pull into the lyrics.
"Already Gone"
A waltz-time lope? On a country album? Writing with Bobby Pinson ("Want To"), the duo was determined to do a song in six-eight. And to keep it very personal. "This is the story of coming of age, literally and emotionally," says Nettles. And it's such a healing tale, about a woman who is growing up, leaving home, falling in love and saying goodbye.
"Keep You"
Is it possible to write an emotional song about being numb? It's like writing a song about being loud by being quiet, Nettles and Bush think. That irony, blended with a bittersweet epiphany of knowing it's time to walk away, make this one of the most contemporary done-me-wrong songs of our time. "Subtlety and nuance make all the difference in this song. Painting emotions with broad strokes is easy, but this time we're using a toothbrush to dig through the finer emotions," says Nettles, comparing the duo to archeologists. And the vocal range she plays with throughout keep this song on the edgier side, because of the way she explodes into huge notes that few singers can even attempt.
"Take Me As I Am"
When the curtain opens, there's a woman in a hotel room at night. As the song unravels, so does the mystery of why she's there. In this character-driven narrative, with a Pat Benatar influence and some solid electric guitar work, the empowering message is clear. When you reach that point, when you are comfortable in your own skin, the line about "I'm not perfect, but I'm worth it" makes all the sense in the world. This could very well be the anthem of the unsung heroes who walk among us every day. "This is a very grown-up place to get to in your life," Nettles explains.
"What I'd Give"
Written with Kenny Chesney's long-time lead guitarist Clayton Mitchell, this one builds a lingering story around some Faces era guitar and mandolin stylings. The kind that Sugarland thinks make for a story of their own. Usually in country, the song ends when the bow is tied off neatly with a lyric. But after the last lyric ends, they still had more to say musically. Nettles vocals are sultrier than they've ever been, and she likes the romantic implications of the lyrics. And both she and Bush agree that if you aren't making out halfway into this six-minute yearning, then you aren't ever going to be.
"Steve Earle"
If you know anything about Steve Earle, this song will thrill you with its comic pining for his songwriting. If you don't know him, it'll certainly pique your curiosity. Both Nettles and Bush share a fondness for Earle's brand of country. It taught them that country was still viable, and gave them confidence to reimagine the sound. And when the duo found out what a shameless romantic Earle was, they had to set all his comings and goings to music. This upbeat barn burner fueled by a big pedal steel, is a playful way to process a painful subject. Nettles looks at it this way: "There comes a point in life of a troubadour when the character can become heroic. Even legendary."

"Very Last Country Song"
Aptly named, the last song on the album is a look at what would happen if nothing ever went wrong again. "If life stayed the way it was, if those conditions weren't in our lives, then this would literally be the last country song," says Nettles. Everything is as it should be was the impetus and inspiration behind this song. Co-writer Tim Owens told the duo that someone had once asked him why country music was always so sad. Owens' answer was that if bad things never happened, then what would we have to write about? The ethereal tones underneath this song stay quiet enough so the insight into the human condition can be felt. Like when you can hear Nettles smile as she sings the verse that looks back on the unexpected joy of an unexpected child.

About Very Last Country Song

source: Mercury Records
: : : : :
listen to Sugarland free samples / download from iTunes
Buy Sugarland CD's from ACountry Music Store
Sugarland rocks! – said Jarrod Vrazel on Jun 12, 2008