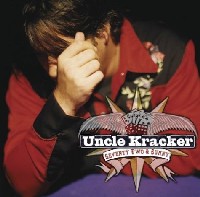 "I was exposed to a variety of rock, soul and country music growing up as a kid in Detroit. One minute I'd be listening to my dad's old Soul and Doo Wop records, and the next minute hear Hank Williams, Merle Haggard and George Jones come through the speakers on my radio. It was a powerful experience for me. Inevitably, fusing elements of country into my music seemed like a natural progression . Country music has been a part of me since I was a kid and it will remain with me as I grow old."
-Uncle Kracker
When it comes to weather conditions, we can all agree that Seventy Two and Sunny is pretty perfect. It's warm enough to get a tan but not so hot that you're sweating like a pig. It's nice enough for any outdoor activity but not so oppressive that it prohibits any of them. Seventy Two and Sunny is also the title of Uncle Kracker's third album, and it's, well, pretty perfect itself. Following 2000's double-platinum Double Wide and 2002's chart-topping No Stranger To Shame — which launched Uncle Kracker's record-setting rendition of Dobie Gray's "Drift Away" — Seventy Two and Sunny is the most fully realized album to date from Kid Rock's former DJ and hype man. Its 13 songs offer an artistic triumph of songwriting and performance that is the best expression yet of the Uncle Kracker sound, emphasizing high-quality melodic songwriting and a unique stylistic synthesis that knits together elements of pop, rock, country, soul, blues and even doo-wop but retains a strong identity that could only belong to one singer-songwriter. Think about the warm, earnest sound of classics such as The Band, Rod Stewart's Gasoline Alley or Little Feat's Time Loves A Hero and you have a sense of the high artistic mark Uncle Kracker aspires towards this time out.
Uncle Kracker (aka Matt Shafer) recorded Seventy Two and Sunny with Michael Bradford, his collaborator on Double Wide and No Stranger To Shame, earlier this year primarily at Bradford's Chunky Style Music Studios in Burbank, Calif., with additional work at Ocean Way Studios in Nashville. Bradford did the majority of the instrumental work, with drums by Jerome Day from Uncle Kracker's touring band and session legend Russ Kunkel. Country superstar Kenny Chesney duets with Uncle Kracker on "Last Night Again," returning the favor for Uncle Kracker's participation in Chesney's No. 1 hit "When the Sun Goes Down." Other guests include Poison's Bret Michaels and Nashville luminary Phil Vassar. Grammy and Oscar-winning songwriter Diane Warren, meanwhile, penned the first single, "Rescue," especially for Uncle Kracker.
Seventy Two and Sunny blazes a new pathway for the man who, in his own words, "can write a song to make the whole world laugh or cry." With its tales of loves lost and found, redemption and good times, Seventy Two and Sunny runs an emotional gamut that few artists achieve anymore and definitely leaves us smiling in the end. The forecast is perfect indeed.
What did you set out to do on Seventy Two and Sunny?
Uncle Kracker: We didn't set out to accomplish anything outside of going back to songwriting and just doing good songs. I wanted some warmer tones and warmer-sounding songs, yeah. But there was no game plan at all. It was really sticking to the same thing that we like. I hate the bells and the whistles; I like to just go for something you could've listened to 10 years ago or 10 years from now. That type of stuff is what I like to do.
This seems like a much more musical kind of album. There are no real hip-hop or hard rock touches like there were on the first two albums?
Uncle Kracker: That's right. It's funny; when I first started I was supposed to be a rapper. Now I'm a "songwriter"! (laughs) I almost don't have the desire to rap anymore; I don't know why, because I do love it so much, but this time around it was gone for me, I guess.
Do you feel like you've established an Uncle Kracker sound?
Uncle Kracker: I don't want to say I've found my niche, because I don't know that I have. But I have found myself, meaning I'm way more comfortable with this kind of easy-listening, driving recording. I've heard people say things, like I've read articles where people say if it weren't for Uncle Kracker and "Follow Me," radio wouldn't have played John Mayer or Jazon Mraz and blah, blah, blah. I don't know how true that is, but I think there's something we do that stands out as "our" thing.
How do you describe your songwriting?
Uncle Kracker: I like songs where the choruses keep repeating themselves — (Bob Seger's) "Like a Rock," that type of stuff. Bob (Kid Rock) always makes fun of me because I'm always beating people up with the choruses. But, y'know, I grew up listening to all the old Motown songs and classic rock and some country and even rap, where those choruses just keep coming and coming and coming at you, and that's what you always remember about the song. So from the time I did my first record, that's what I did, beat `em up with the chorus. I guess that's the only way I knew.
How much of Seventy Two and Sunny reflects your own life?
Uncle Kracker: Everything. Last year was a weird year for me and my entire family. I almost went through a divorce. My parents almost went through a divorce. My brother finalized a divorce. From, like, one week before No Stranger to Shame dropped, it was weird. So that's what most of this record is about, just a weird year and putting a lot of things in perspective. I had no choice. I couldn't think of anything else to write about.
The first single, "Rescue" fits in with that, even though it was written by Diane Warren.
Uncle Kracker: Oh, man, doesn't it? She pitched me that song right after my wife and I squashed the divorce. That was about a month before Diane Warren called me and said "I've got your song. This is for you to sing, nobody else." I heard it and thought, "Wow, if I could've written that…" I mean, if I could've written a song at that time, that would've been the one. I wish I'd written it even now, to be honest.
Seventy Two and Sunny is the first album you did in an actual recording studio, right?
Uncle Kracker: That's right. The first album was on a (tour) bus, the second was above my attorney's office. We never really messed with many tones or spent a lot of time getting a good guitar sound or mixing up the drums or anything that you usually do in the studio. So this time we thought we'd try it like that, the "normal" way (laughs) and see what we could get. I liked it. Everything was the same — the same plan of attack, the same way of writing it, the same way of everything. But I'm so much happier now than with the other two records — but I'm a little biased, too.
This is your third album with Michael Bradford. What does he bring to the party?
Uncle Kracker: Where Mike is great is he won't let you re-think or second guess, because it'll take you forever to finish the record if you do it like that. Someone like me is naturally like, "God, that's not done. I've got to re-do the entire vocal. We've got to take everything out and re-write this and that…" And Mike, as a producer, will just be like, "Stop. Just go on to the next song and be done. I need somebody like that because otherwise I won't ever finish.
Kenny Che
sney duets with you on "Last Night Again," and you did the same for him on his hit "When the Sun Goes Down." Why is it that your audiences are so receptive to the other?
Uncle Kracker: I think it's the same audience, to a degree. It's a lot of college kids, a lot of women. Every time I've come out (as a guest) at one of his shows, they know every word of my songs, man.
There are also a lot of country touches in your music, especially on Seventy Two and Sunny.
Uncle Kracker: Sure, there is. I don't think we could go balls-out country. I don't think Nashville would even allow it, if you know what I'm saying. But if we can tiptoe around it, I'm not scared of that. I like country, and I like Nashville; it's always about the songwriter down there, and they all know the chart position and who's doing what and stuff like that. I think I actually get recognized more in Nashville than I do in any other place in the country.
So in the four years since Double Wide came out, do you feel comfortable as a solo artist?
Uncle Kracker: Oh my God, completely. When I started out, I didn't know what the hell was going on. Now it's kind of like I found a market. I found a niche. I'm comfortable that that's out there. And I'm happy to have stuck around long enough to try and keep carving away at a niche and to go into a third record in this day and age in music and not have any worries or anything. I just do what I do, man, and don't think about it much beyond that.
: : : : :
listen to Uncle Kracker free samples / download from iTunes