Vince Gill performed on the Rachael Ray show on CBS-TV February 16, 2007. Click to watch a clip of Vince performing "The Reason Why" on the show.
Vince Gill recently won the 18th Grammy of his career – the latest being for Male Country Vocal Performance for "The Reason Why" at The 49th Annual Grammy Awards. Gill is currently on tour with his 15-piece road band. These Days is in stores now.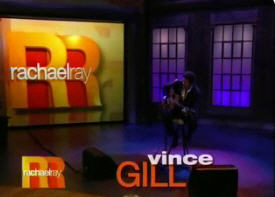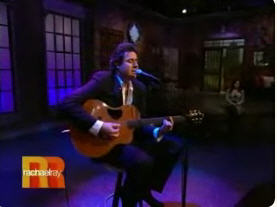 Eighteen-time Grammy award-winning artist Vince Gill has sold more than 22 million albums. Among his many musical honors include his induction into the Grand Ole Opry in 1991 and winning five Academy of Country Music Awards. In addition to his music and performing, Gill is also dedicated to giving back to those in need. Gill dedicates much of his time to programs for children's recreation and education, the terminally ill, the homeless and hungry, cultural and environmental preservation, and the humane treatment of animals. In 1993, Gill established "The Vinny," an annual pro/celebrity golf tournament, to raise money for the Junior Golf program. Gill also sponsors and participates in dozens of organized charities, and nearly all of his concerts have a local charity component as well. Gill was presented the 2006 Academy of Country Music/The Home Depot Humanitarian Award on May 23, 2006.
source: Rachael Ray/MCA Records/AAPR/Morris Public Relations
: : : : :
Buy Vince Gill now from Amazon