Don't miss Reckless Kelly as the Wicked Twisted Road tour winds it way across America. ACountry invites you join the party as Reckless Kelly rocks the night with old favorites and cuts from their new Sugar Hill records release, Wicked Twisted Road.
"There is a lot of the most country stuff and a lot of the most rock stuff we've ever done on this record," said guitarist and songwriter Willy Braun. "We were trying to make a record that went from country to country-rock and back to country, with maybe some classic rock in the center," added Willy's brother Cody Braun, a triple threat on fiddle, mandolin and vocals.
Of Reckless Kelly, a critic for Music Row magazine wrote, "Rootsy, jangly country-rock, with all its punch in place. In my perfect world, this is what country radio would sound like." The Reader's Poll, conducted annually by the Austin Chronicle, named the group Best Roots-Rock Band for five years running (and they captured the award once more last year). The Detroit News and Free Press inquired, "Who knew alt.country could be so much fun?" The (Nashville) Tennessean referred to their "passionate twang-rockÖa striking blend of churlish guitar, acoustic instruments, bluesy rock and memorable melodies." And Joe Elyówho should knowólauded them as "My kind of band: Hell-raising, hard playing, kick-ass songwriting, feet firmly in the present but with an amazing knowledge of where it has all come from. What," he asked reasonably enough, "else is there?" ACountry is giving away FREE tickets to see Reckless Kelly live on the Wicked Twisted Road tour. To enter, click the "Win Tickets" link next to the show you want to see and enter a few comments about your favorite Reckless Kelly song. Winners will notified via email. Good luck!
March 25 ….. Dallas, TX ….. Gilley's
March 26 ….. Oklahoma City, OK ….. Wormy Dog Saloon
March 28 ….. Lawrence, KS ….. The Bottleneck
March 30 ….. Columbia, MO ….. Mojo's
April 1 ….. Berwyn, IL ….. Fitzgerald's
April 2 ….. Minneapolis, MN ….. Lee's Liquor Lounge
April 5 ….. Cleveland, OH ….. Wilbert's
April 7 ….. Newport, KY ….. Southgate House
April 8 ….. Nashville, TN ….. Exit/In
April 9 ….. Atlanta, GA ….. Smith's Olde Bar
April 14 ….. New Orleans, LA ….. The Hangar at the Rendon Inn April 15 ….. Houston, TX ….. The Continental Club
Thanks to everyone who entered!
Be sure to check out the Reckless Kelly Gruene Hall photos from the sold-out March 5th show.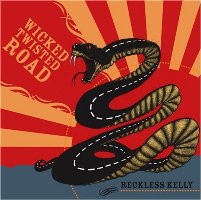 : : : : :

listen to Reckless Kelly free samples / download from iTunes