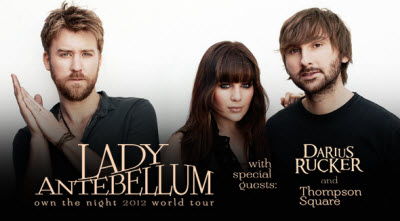 Leave your schedule blank on May 11, 2012 because Lady Antebellum is Coming to Florida!
The Own The Night 2012 World Tour concert will be stopping by 1-800 Ask Gary Amphitheatre in Tampa for a night of great country music.
Buy Lady Antebellum Tampa tickets and Own the Night with Lady A
"Maybe it's a self preservation kind of thing," says Hillary Scott. "Especially on the road we have to work to nurture our relationship. I write so much from about what is happening in my life and the people closest to me, so knowing my friends care about what is going on in my life outside of Lady A, makes me more likely pour it all out into a song."
Lady Antebellum tickets are on sale now.
1-800 Ask Gary Amphitheatre is located at 4802 North US Highway 301 Tampa, FL 33610.
Directions To 1-800 Ask Gary Amphitheatre
FROM TAMPA
– I-4 to exit 7A (Highway 301 South)

– south (right) 1/4 mile

– entrance on the right

– US Highway 301 Entrance gate



OR



– I-4 to exit 5 (Martin Luther King Blvd)

– east approximately 2 miles

– entrance on left

– Martin Luther King Blvd Entrance gate



FROM ST PETERSBURG/CLEARWATER

– I-275 North to I-4 East to eixt 7A (US 301 South)

– south (right) 1/4 mile

– entrance on the right

– US Highway 301 Entrance Gate



OR



– I-275 North to I-4 East to exit 5 (MLK Blvd)

– east (right) 2 miles

– entrance on the left

– Dr Martin Luther King Blvd Entrance



FROM SARASOTA

– I-75 North to exit 260B (SR 574, MLK Blvd)

– west (left) 2 miles, past US 301

– entrance on the right

– Dr Martin Luther King Jr Blvd Entrance gate



FROM OCALA

– I-75 South to I-4 West to exit 5 (MLK Blvd)

– west (left) 1/2 mile

– entrance on the left

– Dr Martin Luther King Jr Blvd Entrance Gate



FROM ORLANDO

– I-4 West to exit 7 (US 301 South)

– South (left) 1/4 mile

– entrance on the right

– US Highway 301 Entrance gate



Lady Antebellum tour dates