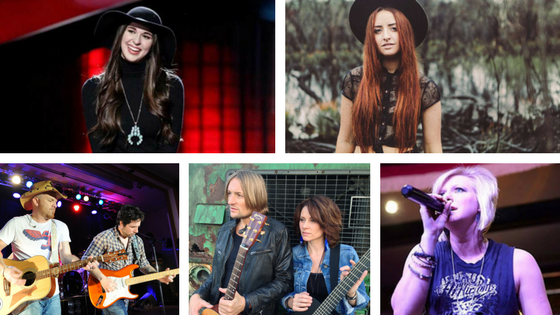 2017 was a great year for country music and we know 2018 will be so much better. With new artists always on the rise, we use these roundups to find the ones we find most notable. Y'all, we couldn't do this with you and we are so glad that you have submitted your recommendations. Here are our favorites from the past year.
LOCASH (@LOCASHmusic)
Nashville, TN
LOCASH is a pretty incredible duo created by Preston Brust and Chris Lucas. With a nice little blend of rock and country, LOCASH provides catchy melodies with catchy verses and, well, the rest is history. Along with their own music, the duo writes for some HUGE voices such as Tim McGraw and Keith Urban. LOCASH is a must-listen and you should keep them on your mind for the new year.
Birds of a Feather (@boaffly)
Location: Ireland
Honestly, the only words that come to mind when revisiting Birds of a Feather are inspirationally incredible. Their latest song "Rise Up" gave me chills between the absolutely awe-inspiring shots in the video and the most encouraging words of a song I've ever listened to. This duo has the most warm, welcoming voices we've discovered in a long time. With passion that seeps through our computer screen, you need to check out their YouTube channel and keep an eye out for them in the new year.
Anthony Fallacaro (@afallacaro)
Location: New York
Anthony Fallacaro was one of those artists we had regretted not finding sooner when we first discovered him earlier in 2017. We had originally included his song "Great Escape" but after revisiting, I really wanted to feature his first video "I Know You Know." This video features couples from around the world sharing fun facts and love stories about their relationship by holding a sign up. While the song plays, the video takes you on a mini journey of the joy and happiness that everyone deserves and the fact that love shows up randomly (ie; blind dates, meeting at radio stations and more). Here's a challenge, watch the entire video without smiling – it's impossible.
Jessica Hannan (@jessicahannan1)
Location: Nashville, TN
We were big fans of Jessica Hannan's "Girls Night Out" video simply for the fact that country does need more females who aren't afraid to speak their minds. After checking in, I found a really great Christmas video showcasing Hannan's vocals and just how perfect they are *eye heart emoji* along with some fun facts about her upbringing and routines around the holidays. We're really looking forward to seeing what badass music Hannan comes up with for 2018.
Kristi Hoopes (@kristihoopes)
Location: Parker, Colorado
Okay, if you're not a fan of The Voice then I'm not sure we can be friends. We were so excited to find see Kristi Hoopes debut on the voice and even more excited to see how the judges reacted to her. With a strong voice and warming stage presence, she's sure to do big things in 2018. With cooking videos mixed with country videos, we really loved digging through her YouTube channel and seeing her personality show. I also found this cover of Taylor Swift that made my heart melt.
Tori Forsyth (@ToriForsythh)
Location: "The Sticks" Australia
Hailing from "The Sticks" of Australia, an on camera presence like no other, Tori Forsyth is everything we want when it comes to storytelling lyrics, a haunting voice (in a good way, of course) and an incredible band behind her. I'm kind of bummed we haven't seen more activity from Tori but I'm not counting her out for this upcoming year. For now, "Johnny Cash and June Carter" and "New Wall" will have to hold us over – and I'm pretty okay with that.
YEE HAW!
Join us in our quest to discover new music on our social channels. We have followers who pimp their friends' bands, bands sharing their own tracks, and we stumble upon some good stuff on our own.  To share your music or your latest favorites, make sure to tweet at us @acountry or drop us a line on Facebook.