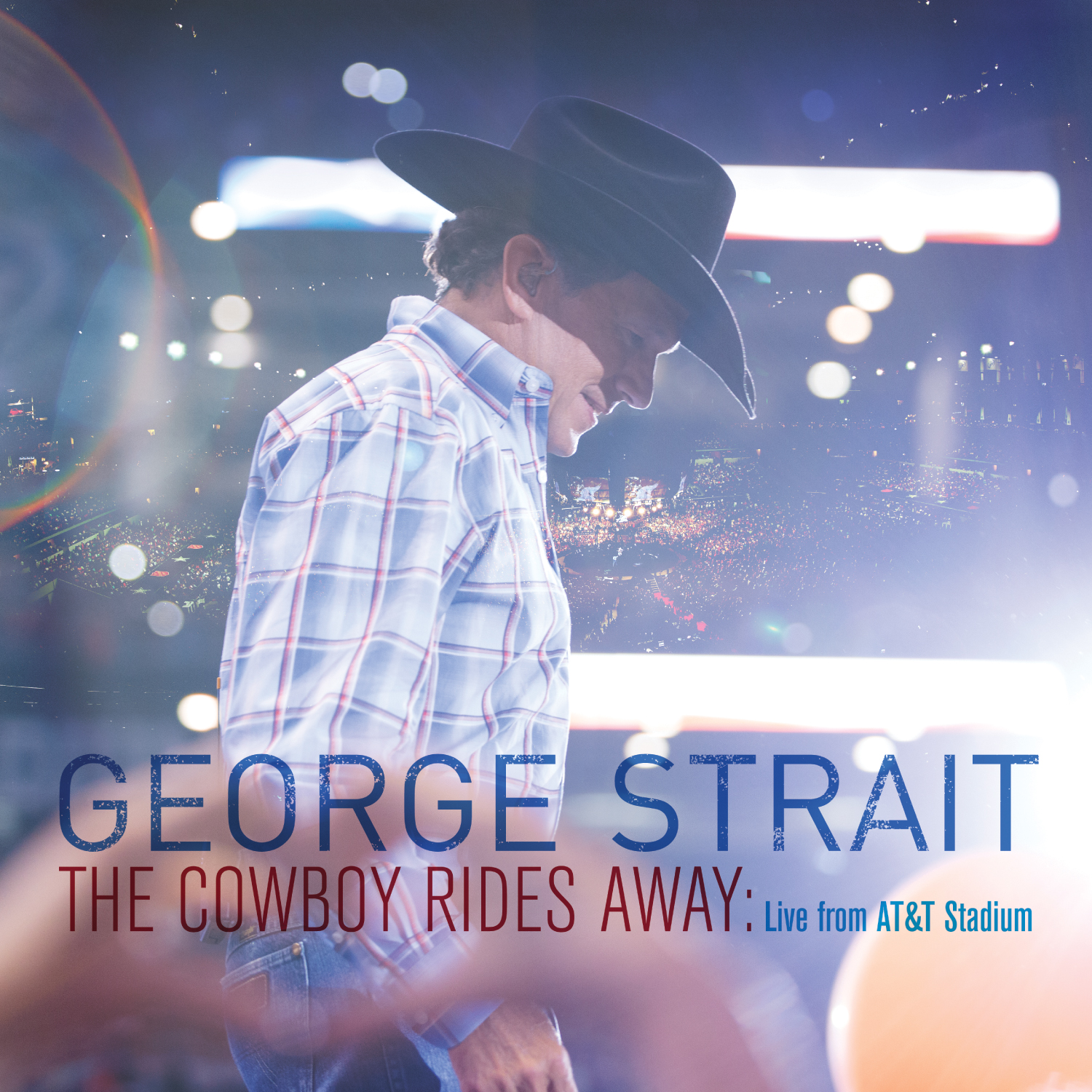 George Strait : The Cowboy Rides Away: Live From AT&T Stadium  will be released on DVD and Digital Formats on August 28, 2015.   Filmed at AT&T Stadium in in Arlington, Texas on June 7, 2014, before a record-breaking crowd of 104,793, The Cowboy Rides Away is an all-star musical production, featuring appearances by Jason Aldean , Ray Benson , Kenny Chesney , Eric Church , Sheryl Crow , Vince Gill , Faith Hill , Alan Jackson , Miranda Lambert , Martina McBride , and introducing George "Bubba" Strait, Jr .
The Cowboy Rides Away DVD features the full concert plus bonus commentary from Strait on his show and interviews with his guest stars.
A Country Music Hall Of Fame inductee with 60 Number 1 singles and over 68.5 million records sold, George Strait is a musical icon with a career spanning over three decades. He was the first country music artist honored with Billboard's "Legend Of Live" Award, and he earned 2013's Entertainer of the Year from the Country Music Association as well as 2014's Entertainer Of The Year by the Academy of Country Music Awards.
The Cowboy Rides Home: Live From AT&T Stadium previously aired on CMT to rave reviews.
George Strait – The Cowboy Rides Away DVD Track Listing:
1.  Check Yes Or No
2.  A Fire I Can't Put Out
3.  Love Bug (with Vince Gill)
4.  Does Fort Worth Ever Cross Your Mind (with Vince Gill)
5.  River Of Love
6.  Lead On
7.  Fool Hearted Memory (with Jason Aldean)
8.  Nobody In His Right Mind Would've Left Her (with Jason Aldean)
9.  Arkansas Dave (with Bubba Strait)
10. I Saw God Today
11. Cowboys Like Us (with Eric Church)
12. Easy Come, Easy Go (with Eric Church)
13. That's What Breaking Hearts Do
14. Marina Del Rey
15. Here For A Good Time (with Sheryl Crow)
16. When Did You Stop Loving Me (with Sheryl Crow)
17. I Can Still Make Cheyenne
18. Drinkin' Man
19. Jackson (with Martina McBride)
20. Golden Ring (with Martina McBride)
21. Give It Away
22. I Got A Car
23. A Showman's Life (with Faith Hill)
24. Let's Fall To Pieces Together (with Faith Hill)
25. I Believe
26. Blame It On Mexico
27. Amarillo By Morning (with Alan Jackson)
28. Murder On Music Row (with Alan Jackson)
29. The Chair
30. Give It All We Got Tonight
31. How 'Bout Them Cowgirls (with Miranda Lambert)
32. Run (with Miranda Lambert)
33. You Look So Good In Love
34. I'll Always Remember You
35. Ocean Front Property (with Kenny Chesney)
36. The Fireman (with Kenny Chesney)
37. Troubadour
38. Unwound
39. All My Ex's Live In Texas (with Jason Aldean, Ray Benson, Kenny Chesney, Eric Church, Sheryl Crow, Vince Gill, Faith Hill, Alan Jackson, Miranda Lambert, Martina McBride)
40. The Cowboy Rides Away