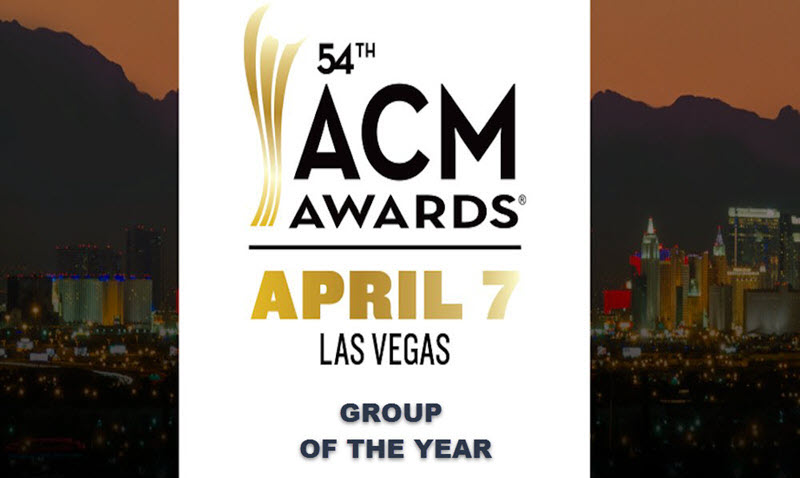 2019 Academy of Country Music Awards nominees for Group of the Year are Lady Antebellum, LANCO, Little Big Town, Midland, and Old Dominion.  Here's a look at each of the contenders.  The winner will be announced at the ACM Awards live from Las Vegas on April 7, 2019.
News update:  2019 ACM Awards Winners
GROUP OF THE YEAR
Lady Antebellum
Lady Antebellum formed in 2006 and quickly won over the hearts of country music fans with their first solo single in 2007 titled "Love Don't Live Here". This group has won numerous awards, even beating Rascal Flatts' 6-year reign as Vocal Group of the Year at the 2010 CMAs. With 7 albums and 5 headlining tours, it's no surprise that they've managed to earn yet another nomination in this category!
LANCO
We were "born to love you", Lanco! Or should we call you "Lancaster & Co.? Brandon Lancaster, Chandler Baldwin, Jared Hampton, Tripp Howell, and Eric Steedly make up this up-and-coming band, and for being such a new band, they're on top of their game! Their album, Hallelujah Nights holds all three of their top-50 singles, and while they've yet to bring home a win, we have a feeling that'll change soon.
Little Big Town
Founded in 1998, Little Big Town has consisted of the same 4 members throughout its entire 21-year run. Unlike most country groups, all 4 members rotate as lead vocalists, and their music relies on the harmonies of each member. The amount of awards they've won, let alone been nominated for, is outstanding and outnumbers most current artists in the industry. Could they pull it off yet again?
Midland
Midland has only been around for the last 3 years, but they're making huge waves in country music with their neotraditional country and country rock influences. Before fame, members used to earn their pay doing everything from modeling, acting, and directing music videos. If we had to pick a favorite, newer band, it would probably have to be this multi-talented trio!
Old Dominion – WINNER
Country, rock, pop, and hip hop all heavily influence Old Dominion's music, which is one of the things that makes them so exciting as performers. Since the band's formation in 2007, they've had multiple number 1 hits including "Written in the Sand", "Hotel Key", and "Snapback", and have taken the win for 3 of the categories they've been nominated for. I'd say that's a pretty decent track record!
2019 ACM Awards nominees for Group of the Year are Lady Antebellum, LANCO, Little Big Town, Midland, and Old Dominion. Who's your pick to win?
Click To Tweet
Check out the full list of 2019 ACM Awards nominees. The ACM Awards will be broadcast live from MGM Grand Garden Arena in Las Vegas on Sunday, April 7 at 8:00 PM ET/PT on CBS.  Who's your pick to win Group of the Year?