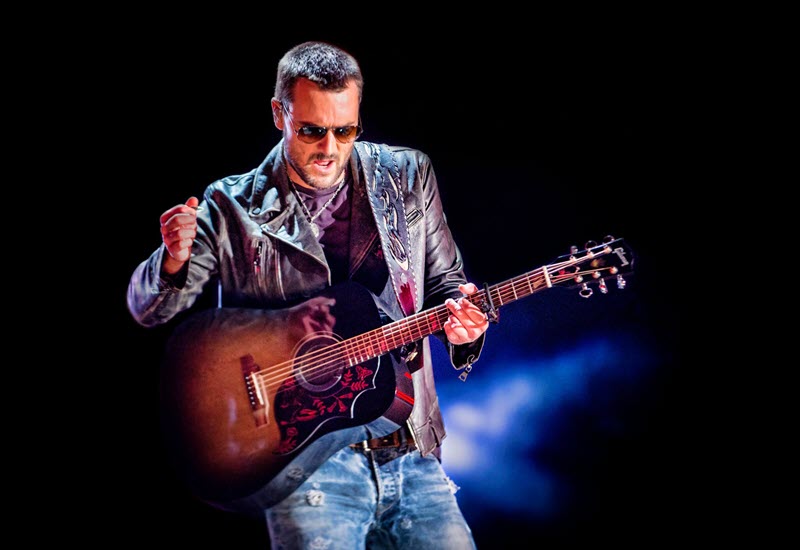 Eric Church Double Down Tour kicks off  January 18, 2019 in Omaha, NE featuring  six albums worth of material across two very different back to back nights of music as well as a stadium-sized tour stop in Nashville.
In a candid cover-story interview in July, Rolling Stone praised Church for "pushing boundaries in a way that sounds natural and unforced." The same goes for his touring in 2019, again foregoing an opening act and instead treating fans to dynamic marathon sets across back-to-back nights.
In keeping with Church's commitment to giving his fan club — known as the Church Choir — priority access, they will be able to purchase tickets during the fan club presale.
To keep scalpers at bay and to ensure tickets end up in the hands of real fans, after the fan club presale, tickets will be sold during Ticketmaster's Verified Fan presale. All fans interested in priority access to tickets should get verified. Registration begins Friday, Sept. 21 at 10 am CT.
Tickets inside Church's stage will be made available exclusively to Church Choir members and only through the brand new Eric Church app. Church is taking full control of the very best seats inside the stage and offering them using cutting edge technology. Church Choir members will also have the opportunity to take advantage of exclusive hotel deals in all Double Down Tour cities plus additional surprises related to the tour. More information is available at ericchurch.com.
Eric Church Double Down Tour dates:
January 18, 2019     Omaha, NE                CHI Health Center +
January 19, 2019     Omaha, NE                CHI Health Center +
January 25, 2019     St. Louis, MO            Enterprise Center +
January 26, 2019     St. Louis, MO            Enterprise Center +
February 1, 2019     Boston, MA               TD Garden +
February 2, 2019     Boston, MA               TD Garden +
February 8, 2019     Minneapolis, MN      Target Center +
February 9, 2019     Minneapolis, MN      Target Center +
February 15, 2019   Detroit, MI                 Little Caesars Arena +
February 16, 2019   Detroit, MI                 Little Caesars Arena +
February 22, 2019   Cincinnati, OH           U.S. Bank Arena *
February 23, 2019   Cincinnati, OH           U.S. Bank Arena *
March 1, 2019         Kansas City, MO        Sprint Center +
March 2, 2019         Kansas City, MO        Sprint Center +
March 8, 2019         Toronto, ON               Scotiabank Arena +
March 9, 2019         Toronto, ON               Scotiabank Arena +
March 15, 2019       Greensboro, NC         Greensboro Coliseum +
March 16, 2019       Greensboro, NC         Greensboro Coliseum +
March 22, 2019       Chicago, IL                Allstate Arena *
March 23, 2019       Chicago, IL                Allstate Arena *
March 29, 2019       Milwaukee, WI          Fiserv Forum +
March 30, 2019       Milwaukee, WI          Fiserv Forum +
April 12, 2019         Dallas, TX                 American Airlines Center *
April 13, 2019         Dallas, TX                 American Airlines Center *
April 19, 2019         Cleveland, OH           Quicken Loans Arena *
April 20, 2019         Cleveland, OH           Quicken Loans Arena *
April 26, 2019         Greenville, SC           Bon Secours Wellness Arena *
April 27, 2019         Greenville, SC           Bon Secours Wellness Arena *
May 3, 2019            Pittsburgh, PA            PPG Paints Arena +
May 4, 2019            Pittsburgh, PA            PPG Paints Arena +
May 10, 2019          Denver, CO                Pepsi Center *
May 11, 2019          Denver, CO                Pepsi Center *
May 17, 2019          Los Angeles, CA       STAPLES Center *
May 18, 2019          Los Angeles, CA       STAPLES Center *
May 25, 2019          Nashville, TN            Nissan Stadium #
June 28, 2019          George, WA               The Gorge Amphitheatre #
June 29, 2019          George, WA               The Gorge Amphitheatre #
+on sale October 5 at 10am local time
*on sale October 12 at 10am local time
#on sale October 19 at 10am local time