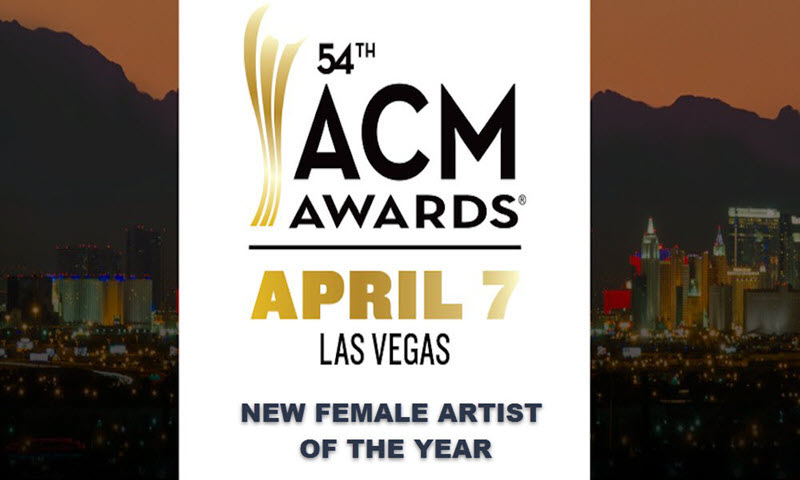 Congratulations to Ashley McBride – 2019 ACM Awards New Female Artist of the Year, edging out Danielle Bradbery, Lindsay Ell, and Carly Pearce.  Here's a look at each of the nominees.  ACM New Artists winners were announced March 25.  Find out the rest of the winners April 7 during the ACM Awards live broadcast from Las Vegas.
News update:  2019 ACM Awards Winners
NEW FEMALE ARTIST OF THE YEAR
Ashley McBryde – WINNER
Ashley McBryde – the winner of this category – has released two albums since her journey began, even earning herself a grammy nomination for Best Country Album earlier this year. The singer grew up in Arkansas, but moved to Nashville after college graduation where she was discovered by none other than Eric Church. Some people might call that "luck", but personally, I consider her a force to be reckoned with; how could he not have noticed her? She's one of the most deserving ladies and we're so proud of her for bringing this one home!
Ashley received an interesting call this weekend about the @ACMawards. Take a look! -Team Ashley pic.twitter.com/H5Dh3NKwxp

— Ashley McBryde (@AshleyMcBryde) March 25, 2019
Danielle Bradbery
This 22 year-old country beauty grew up in Cypress, Texas, and took a chance by auditioning for season 4 of The Voice– a chance that ultimately lead to her victory, and the beginning of her career. Danielle Bradley is the 2nd-youngest champion of the popular talent show, behind Sawyer Fredericks (season 8). Along with her other catchy, empowering tunes, she most-recently released a summer anthem with one of our favorite guys, Thomas Rhett, and that song alone is just validation as to why she deserved this nomination!
Lindsay Ell
Along with being absolutely beautiful, Lindsay Ell is insanely talented. Her first full-length country album, The Project, debuted at No. 1 on the Billboard Country Album Sales Chart when it debuted in August 2017, and we'd be lying if we said we were surprised. This isn't her first award nomination, but it is one of the most prestigious so far. If she continues taking her music in the direction it's been in, there's no doubt in our minds that she'll take the prize next year.
Carly Pearce
You've probably heard the mega-hits Every Little Thing, Hide The Wine, and Closer To You, right? Well, that angelic voice belongs to none other than Carly Cristyne Slusser, more commonly known as Carly Pearce! Carly was born in Kentucky, where she made the decision to drop out of school at 16 and move to Tennessee to perform 5 days a week at Dollywood. She then moved to Nashville when she was 19, where she eventually collaborated with Josh Abbot Band on their most notable song, "Wasn't That Drunk". The song was so successful that it ultimately lead to her solo career, and man, are we lucky for that! She may not have won this round, but she's a winner in our hearts and her rise to the top has only just begun!
Check out the full list of 2019 ACM Awards nominees. The ACM Awards will be broadcast live from MGM Grand Garden Arena in Las Vegas on Sunday, April 7 at 8:00 PM ET/PT on CBS.