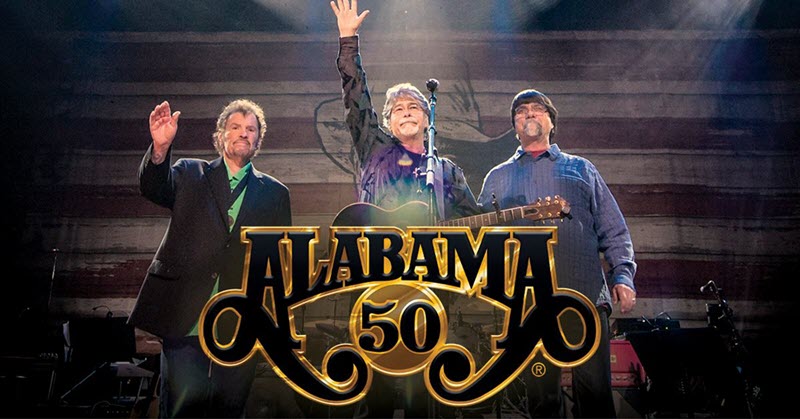 Alabama is postponing the remainder of its 50th Anniversary Tour due to lead singer Randy Owen's ongoing complications with cluster migraines and vertigo. The group had hoped to continue its record-breaking 50-city tour, however, doctors have advised more time is needed for Owen to fully recover.
Rescheduled dates for the tour will be announced in the coming weeks.
Today, Alabama bass player and vocalist Teddy Gentry released the following statement:
The '50th Anniversary Tour' has been very special to us. The support of the fans and their energy at all of our shows has led to some of the most fun we've ever had onstage. As disappointed as myself, Randy, and Jeff are to have to postpone this tour for all of our incredible fans, we know that Randy's recovery is what is most important for everyone at this time. We would like to thank our fans, promoters, and venues and we look forward to seeing you all soon.
It's been 50 years since Jeff Cook, Teddy Gentry and Randy Owen left the cotton farms of Fort Payne, Alabama to spend the summer playing music in a Myrtle Beach, South Carolina bar called The Bowery. It's a classic American tale of rags to riches. From humble beginnings picking cotton in the fields, to international stars that went on to sell 80 million albums, while changing the face and sound of country music. Quality songs that have become the soundtrack for American life are the foundation for ALABAMA's stellar career. The group introduced rock style guitars, lights, pyrotechnics and sounds to the country audience that has inspired many of today's brightest country stars including Kenny Chesney, Jason Aldean and Luke Bryan. While their music continues to stand the test of time, their numbers and stats are beyond compare. Five decades since starting the band, ALABAMA has charted 43 #1 singles, including 21 #1 singles in a row, and have won dozens of CMA, GRAMMY®, and ACM Awards. They are members of the Country Music Hall of Fame and have their own star of the Hollywood Walk of Fame. In addition, they are world-class philanthropists who have raised millions of dollars for various charities.
.@alabamatheband is postponing the remainder of its 50th Anniversary Tour due to lead singer Randy Owen's ongoing complications with cluster migraines and vertigo
Click To Tweet
source:  Absolute Publicity