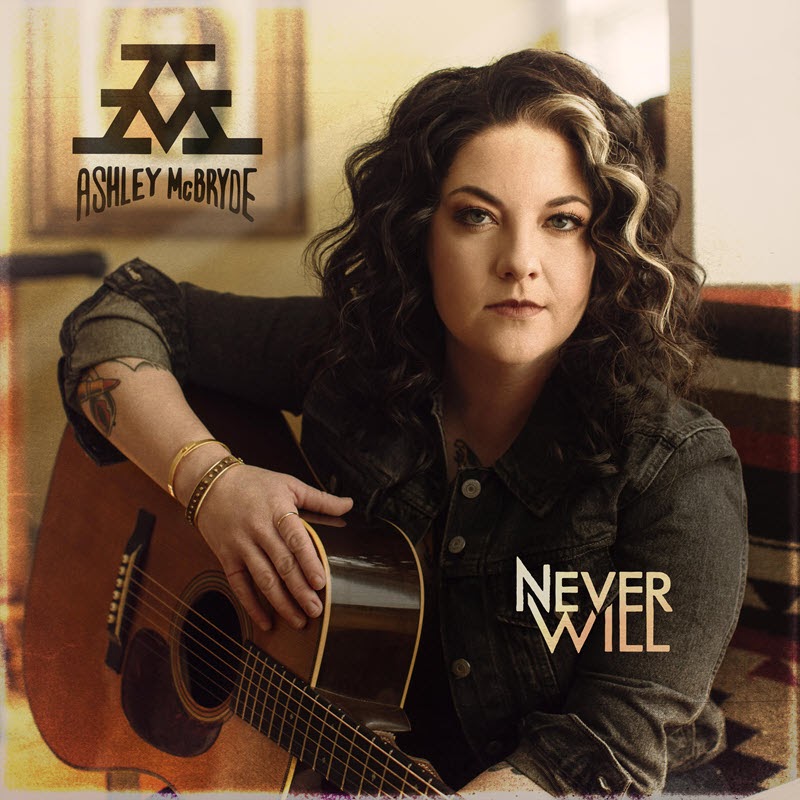 Ashley McBryde's new album Never Will is set for release April 3.  The Reigning ACM New Female Artist of the Year, CMA New Artist of the Year and CMT Breakout Artist of the Year's  sophomore album – the follow-up to her critically-acclaimed GRAMMY-nominated debut Girl Going Nowhere – has been named as one of the year's most anticipated albums by NPR and Rolling Stone.
"The significance behind the album title comes from the lyrics in the title track: 'I Didn't, I Don't and I Never Will,'" McBryde says with the same conviction that fueled Nowhere. "Before we recorded it with Jay ([Joyce) in the studio, I said to my bandmates, 'If we're going to cut this and put it on the record, you're promising anyone who ever listens to our music, we don't listen to the noise in the background. We didn't, we don't and we never will. Don't cut it unless you're willing to promise it.' And we cut it right then."
Never Will, produced by Jay Joyce, boasts 11 tracks including lead single "One Night Standards," which McBryde will perform tonight (Jan. 17) on The Tonight Show Starring Jimmy Fallon, serving as the song's late-night debut.
Earlier this week, McBryde performed her two-time GRAMMY-nominated smash "Girl Goin' Nowhere" on the third hour of TODAY and released "Martha Divine," the second song from Never Will, with an accompanying video that premiered exclusively on NPR stating, "Mark It Down: Ashley McBryde Is In For A Massive Year." The video for "Martha Divine" is the second in a three-part storyline, following the release of "One Night Standards" in December.
Later this month, McBryde is set to perform at MusiCares honoring Aerosmith January 24 in Los Angeles and kicks off her One Night Standards Tour in Birmingham, Ala. on January 30. For more information and additional tour dates, visit AshleyMcBryde.com.
Ashley McBryde: Never Will Track Listing:
Hang In There Girl (Ashley McBryde, Jeremy Bussey)
One Night Standards (Ashley McBryde, Nicolette Hayford, Shane McAnally)
Shut Up Sheila (Nicolette Hayford, Charles Chisholm)
First Thing I Reach For (Ashley McBryde, Randall Clay, Mick Holland)
Voodoo Doll (Ashley McBryde, Nicolette Hayford, Brandy Clark, Connie Harrington, Jake Mitchell, Aaron Raitiere)
Sparrow (Ashley McBryde, Nicolette Hayford, Brandy Clark, Connie Harrington, Jake Mitchell, Aaron Raitiere)
Martha Divine (Ashley McBryde, Jeremy Spillman)
Velvet Red (Ashley McBryde, Patrick Savage, Daniel Smalley)
Stone (Ashley McBryde, Nicolette Hayford)
Never Will (Ashley McBryde, Chris Harris, Blue Foley, Matt Helmkamp, Christian Sancho, Victor Quinn Hill)
Styrofoam (Randall Clay)
The new @AshleyMcBryde album Never Will is set for release April 3. Watch the first 2 music videos form the new album now on ACountry #ashleymcbryde #onenightstandards #marthadivine #neverwill
Click To Tweet
Lauded by The New York Times as "an alluringly flexible singer, fluent in classic country, blues and Southern rock, with a voice that moves easily from tender to tough," Ashley McBryde caught the attention of some of Nashville's most raucous entertainers, landing her dates opening for Eric Church, Chris Stapleton, George Strait and, most recently, Miranda Lambert and Luke Combs. The Washington Post raved, "McBryde's blue-collar storytelling and straightforward singing set her apart," referencing her debut on the Grand Ole Opry stage when she performed "Girl Goin' Nowhere," the seminal title track from her 2018 Jay Joyce-produced LP for Atlantic Records/Warner Nashville. Girl Going Nowhere was the biggest debut by a solo country artist in 2018 and earned the Arkansas native critical acclaim from The New York Times, The Washington Post, Rolling Stone, Variety and more.
For tour dates and more information, visit AshleyMcBryde.com or follow her on Facebook, Instagram @AshleyMcBryde and Twitter at @AshleyMcBryde.
source:  Essential Broadcast Media