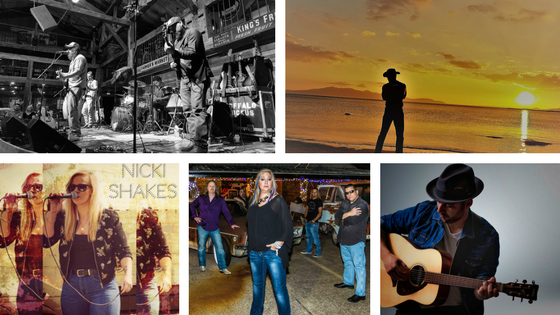 This tail end of summer is shaping up to be a scorcher with our latest finds on social media. We've got Americana, ballads, Southern-infused barn burners, and more on this month's edition of our Top 5 Social Roundup. Every month, we listen to suggestions from ACountry music lovers and scour our social accounts to find some of our new favorite artists. Roll down the windows and crank it up!
The Buffalo Ruckus (@buffaloruckus)
Location: Denton, TX
Folks often associate Denton, TX as being home to the prestigious University of North Texas Jazz program, but it turns out it's home of all facets of American music. Not quite straight-ahead Americana, but laced with hints of Southern rock and Appalachian strumming, The Buffalo Ruckus is a band you need to keep on your radar. Both the music and subject matter ebb and flow in "Hills and Valleys" off of their most recent album "Peace & Cornbread." The group will be spending a good chunk of the month on tour through Texas, Wyoming, and Colorado. If you're in the area, mark your calendar.
Anthony Fallacaro (@afallacaro)
Location: New York
Every month we have acts we run across that we kick our butts that we didn't know about earlier and Anthony Fallacaro falls into that category. We're pretty sure you have no soul if your heart is not melted by the video for "Great Escape." In this heartwarming number, viewers are taken on a journey of a boy's quest to write the perfect song for a perfect girl. If you're already captivated just like us, you're in luck because he has a new single called "New Town, New Life" that you can listen to on Spotify.
Shiretones (@shiretones)
Location: Scotland/UK
It takes a little digging around nooks and crannies of the internet to find out more info about the Shiretones, but we're glad that a country music lover on Twitter recommended "Goodbye Mr. Heartache" to us. Frontman Bazz has taken 40+ years of experience in the Ayrshire music scene and culminated it in his musical collective The Shiretones. His personal brand of country-folk perfectly compliments his baritone voice. We hope to make it across the pond sooner than later and will certainly be checking out Bazz and his incredible group.
Nicki Shakes (@NickiShakes)
Location: London, England
If you don't believe that the UK is home of some of the best country music on the planet right now, we bet Nicki Shakes can change your mind. Nicki is a seasoned performer who is no stranger to the stage, but has finally found a home in country music falling in love with its storytelling nature. Her 4-song EP "Time the Face the Facts" is the perfect taste of her resonate vocals and mature lyrical stylings. The video above highlights her covering Julia Michael's "Issues" and is a stunning display of diversity and a colorful musical sound palate.
Sawdust Road (@Sawdust_Road)
Location: Houston, TX
Here's another killer suggestion from an ACountry music lover who wrote us a few months back. We were already drawn in with their mission statement, "the music of today with the feel of yesterday." Michelle Brown's lead vocals are a force to be reckoned with and the band matches her prowess with their heartfelt musical proficiency. "Not your mamma's country music," as Brown describes, the band has plenty of hometown awards and accolades and is slated to have an active fall with dates all around Texas. Since that's ACountry headquarters, you can bet we'll be checking 'em out ASAP.
YEE HAW!
Join us in our quest to discover new music on our social channels. We have followers who pimp their friends' bands, bands sharing their own tracks, and we stumble upon some good stuff on our own.  To share your music or your latest favorites, make sure to tweet at us @acountry or drop us a line on our Facebook wall.