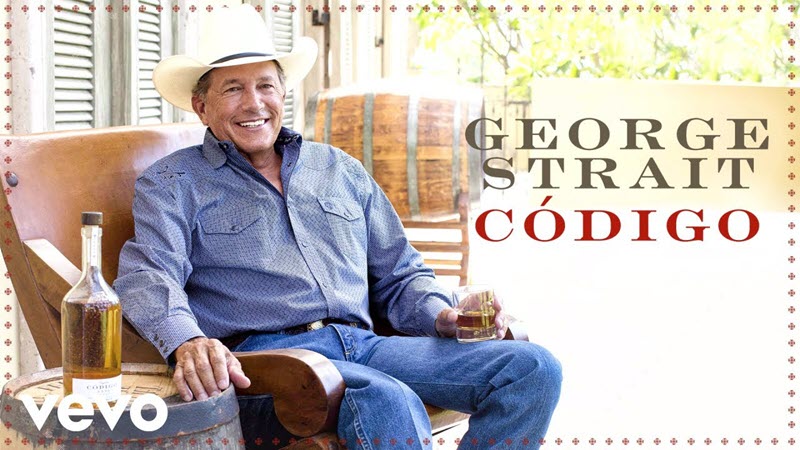 Are you ready for new George Strait music?  The new George Strait song "Código" was released today (Dec 7) – listen to it now on ACountry. Strait, a partner in and longtime fan of Código tequila, wrote the song with his son Bubba Strait and longtime collaborator Dean Dillon. With its accordion and fiddle, the lighthearted track transports the listener to carefree days where the tequila flows. "Código" celebrates its namesake tequila melding the sounds of southwest Mexico and southwest Texas and as the lyrics suggest, "A little sip and you're ready to roll…I'm talkin' 'bout Código."
Listen to George Strait's new song : Codigo
"Código" is the first new music following his 2015 album release, Cold Beer Conversation – Strait's 29th studio album and 26th No. 1 on Billboard's Top Country Albums chart – and 2016's Strait Out of the Box: Part 2. Strait is currently working on new music due out in the new year.
With an unmatched 60 singles hitting the top of the charts – more than any other artist in any genre – during the span of his 30-year career, Strait is the undeniable "King of Country Music." He has collected 33 Platinum or multi-Platinum-selling albums, more than any country artist and third across all genres behind only The Beatles and Elvis Presley. Strait is the only act in history to have a Top 10 hit every year for over three decades, has sold nearly 70 million albums and earned more than 60 major entertainment industry awards, including induction into the Country Music Hall of Fame in 2006.
This weekend, the Country Music Hall of Famer will play his 19th and 20th sold-out shows at T-Mobile Arena in Las Vegas. The "Strait to Vegas" series began with six shows in 2016 and extended with 10 more in 2017. In 2018, Strait headlined Bayou Country Superfest to a sold-out Mercedes-Benz Superdome crowd in New Orleans, Louisiana, two nights in Tulsa, Oklahoma and one night in Austin, Texas. Select dates have already been announced for 2019 including T-Mobile Arena in Las Vegas, Mercedes-Benz Stadium in Atlanta, Ohio Stadium in Columbus (Ohio) and Dickies Arena in Ft. Worth. Tickets and VIP Packages are available now. For more information, visit georgestrait.com
How do you like the new George Strait song?