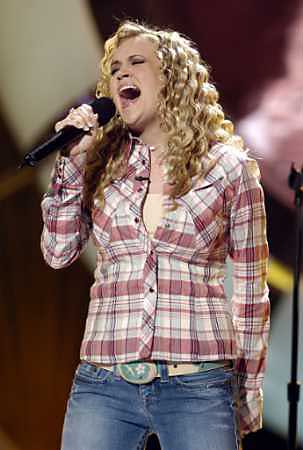 Country singer Carrie Underwood was crowned "American Idol" on Wednesday at the end of a nationwide search for a new pop star that has captivated much of the nation.
Underwood, 22, who was raised on an Oklahoma farm, beat fellow finalist Bo Bice, 29, to win the top-rated televised singing contest that was decided by votes sent in by the public via telephone and text message.
"Thank you America!" said Underwood, fighting back tears.
Underwood, who won a recording contract, was the fourth singer chosen as "American Idol" since 2002 in what has become a television and recording industry phenomenon that shows no sign of running out of steam. Underwood, whose warm smile and girl-next-door looks won hearts, and Bice, a long-haired rocker who looked as if he were born performing, were whittled down from some 100,000 wannabes who auditioned last summer in seven U.S. cities.
The winner was announced during a two-hour live finale in Hollywood that also featured performances by George Benson, saxophonist Kenny G, Southern rock band Lynyrd Skynyrd, country band Rascal Flatts and an appearance by former "Baywatch" star David Hasselhoff.
"American Idol" has been America's most-watched TV show for five months drawing audiences of around 23 million per episode and giving Fox TV, which is owned by News Corp., a weekly ratings hit. A fifth season has already been announced for January 2006.
The viewer-driven format was pioneered in Britain and has now been exported to more than 30 countries worldwide.
"There is tremendous curiosity about the winners. You end up getting to know them, having an investment in them. You go out and buy the record because you like them and identify with their aspirations," said Jeff Pollack, CEO of the music and media consultants Pollack Media Group.
British judge Simon Cowell, whose acid tongue has been fundamental to the show's winning formula, said "American Idol" has an honesty that is rare on television. "It is not sanitized, It is not designed to make everyone look good."
Cowell dubbed one of Underwood's early outfits "Barbie meets the Stepford Wives" and once told Bice he sounded like any lead singer from any aspiring rock cover band.
The past three American Idols — Kelly Clarkson, Ruben Studdard and Fantasia Barrino — went on to make platinum albums and hit singles at a time when the music industry is struggling from online piracy, price pressure and competition from video games and DVDs.
Runners-up have also made careers as singers in genres that range from pop to dance and R&B. Underwood's win extends that appeal to country music.
"The bigger the show and the more successfully it crosses into other genres, the more it will continue to revitalize itself," said Pollack.
source: Reuters
: : : : :
Buy Carrie Underwood now from Amazon
listen to Carrie Underwood free samples / download from iTunes