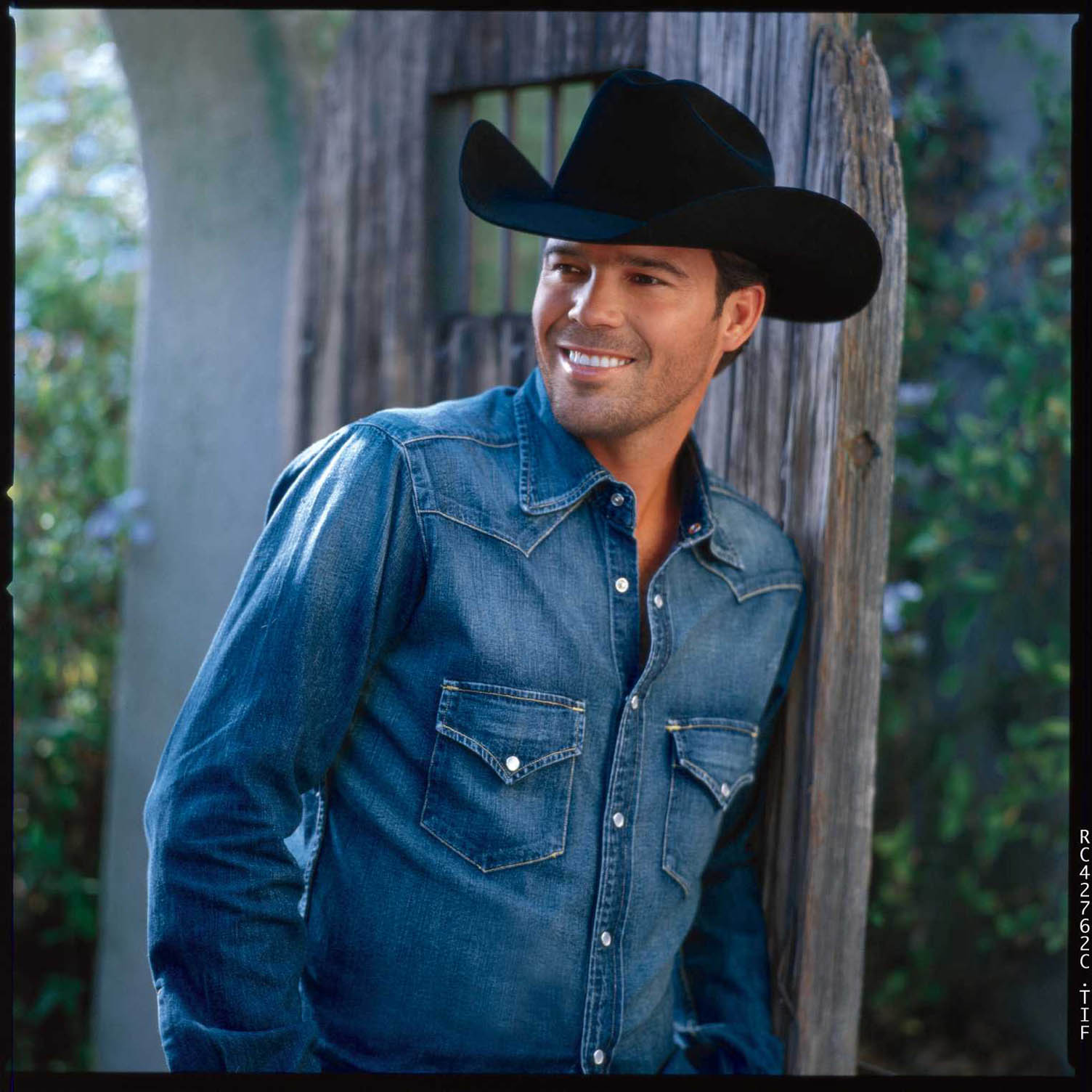 Certain artists just seem to have an innate sense of what it takes to please an audience. Clay Walker is one of those artists. Whether on stage or in the recording studio, Walker never gives less than a hundred percent, and it's that kind of dedicated work ethic combined with God-given talent that have made him one of the most successful country acts of the past decade.
He first topped the Billboard country singles chart in 1993 with "What's It to You" and followed with his second consecutive No. 1 hit, "Live Until I Die." Since then he's placed 31 titles on Billboard's singles chart including such additional chart toppers as "Dreaming with my Eyes Open," "If I Could Make Living," "This Woman and This Man," and "Rumor Has It." (The latter two songs each spent two weeks at the summit.) He's enjoyed his share of success at the cash registers and has consistently been one of the busiest artists on the road. He's scored four platinum-selling albums, signifying sales of a million units, and two gold albums, discs that sold over 500,0000 units.
Upcoming Clay Walker Concerts
However, that doesn't mean Walker has any intention of resting on his laurels. The talented Texan has teamed with acclaimed producer Keith Stegall to record his first album for Curb Records. "He's a great producer," Walker says. "I've always been a fan, but for whatever reason just have not had the opportunity to work with him. He's one of the few producers that really allow the lyric of the song to carry the song more than trying to put huge production around it. He gives the lyric room to breathe in a song and I think that's real important."
With that respect came a level of trust and comfort during the recording process. "I had no anxiety at all working with him," says Walker, "because I didn't feel like there was anything I could add to the record as far as suggestions that would be better than what Keith already had—and that's a real comfort to me."
One of Walker's favorite tracks on the new album is a song titled "Fall." He says Stegall is rather low key in the studio, not very animated at all, but he knew after he'd recorded the song, it met Stegall's approval. "Keith stood up and high-fived the engineer when we got done with the vocal and I thought, that's the first that I've ever seen that, maybe he was just glad that I got all the lyrics right," Walker says with a laugh. "It was refreshing to know there wasn't a lot of wasted time in the studio with Keith. He knows what he wants and he communicates that with the musicians really well."
Walker says his approach to the new album was simple: "The biggest thing that I wanted to do was to just get songs on the radio and make music that people love. I wanted to continue the style they've known me for and not change things too much because the music we've made in the past is good music. Mainly I was looking for stronger lyrics. I think you try to do that with every record, and the more you record, the better you get at being able to pick hit songs."
Walker admits he had plenty of help looking for material for his eighth album, but the process still took longer than he'd anticipated. "There were people involved in the song search that I really, really respect.
Keith Stegall and Doug Johnson are both guys I respect for finding great songs. They know what No. 1 hits are. So that took a lot of pressure off, but at the same time, it took us a year to find all the songs for this CD, which was a lot longer than I'm used to. I'm used to finding the songs in two or three months, but the song search stretched out for nearly a year. They were both saying: 'You know what? We aren't coming until this album is a masterpiece.' I think that that's a wonderful approach. Now that it's finally here, I'm excited to get it all out."
After recording six albums for Giant Records, and one on RCA, Walker recently signed with Curb Records. "I feel like Curb is a great place to be because they are all about artistry. They have the feel of a small record label with only a handful of artists, but they have the power of an RCA or BMG or Sony," he says. "So with that kind of power and that kind of an approach, I see why they are successful and I hope to be a part of that success for them."
Walker has been playing some of new music on the road and getting enthusiastic response. "I love the country sound of this record," he says. "Every one of these songs has a cool flavor to it and none of them sound alike. That's what I love. I guess the only common thing to the whole thing is the fact that they are country."
The cream of the Music Row songwriting community contributed their talents to Walker's project, among them Rivers Rutherford, Doug Johnson, Brett James and Kim Williams. Walker also contributes two cuts himself. "I wrote one in San Diego called 'I Hate Nights Like This,'" he recalls. "It describes a beautiful starry night by the ocean and it's really a true story. The lyrics are 'I hate nights like this, it makes me want to be in love.' I think it's really soulful and heartfelt."
Walker also penned a tune titled "She Likes It In The Morning."
"It's a song that's playful and at the same time says that a woman needs to know that she's the most
important thing in your life. A woman wants to be treated like a queen. She wants to know that she is absolutely everything to you. That's what this song is basically saying. It's a ballad and it really reminds me of some of the stuff that I grew up listening to and loved—some of the early George Strait stuff and even a touch of some Conway Twitty in there and Earl Thomas Conley. It just has that late 80's feel to it and I love that."
The album also includes Walker's first duet, a cover of the country classic "Before the Next Teardrop Falls" that he recorded with Freddy Fender, the country veteran who had a monster hit with the tune in the 1970s. "I've always been a big fan of Freddy's," says Walker."
"He's a great guy."
Walker says he learned Spanish about four years ago and developed an even greater appreciation for the song, but it really came to hold a special place in his heart after he and a friend stopped to eat ribs at a little barbecue place in Mississippi. There was a family holding a wedding reception and—thrilled to find one of their favorite country artists there—they asked him to sing a song for the newlyweds. Walker dedicated "Before the Next Teardrop Falls" to the bride from her father.
"They were standing there together and I could see that although the father was happy for the daughter, I could see exactly what I'm going to feel whenever one of my daughters get married. You do feel like you lose them," Walker says with a sigh. "I could see the look on his face. So I dedicated this song and he started crying and she started crying.
They were dancing to it and I thought that song will never mean the same to me again. I won't think about it as two lovers, I'll think about it as a father saying to the daughter, 'If he ever hurts you, I'll be there before the next teardrop falls.' If you go back to listen to the lyric of it, it says, 'If he brings you happiness, then I wish you both the best. . .but if he ever leaves you blue, just remember I love you and I'll be there before the next teardrop falls.'"
Unlike some artists who record duets at different times and in different places, then edit their performances together, Walker and Fender got together at a Nashville studio to record "Before the Next Teardrop Falls." "When we went in and recorded this together in the studio, it was just magic," Walker says. "You could feel the sparks. I think the musicians could too. There was a vibe inside the studio that I've not felt before. It was really spectacular."
The session is one of the highlights in a career that began in Beaumont, Texas. Walker says he knew early that he wanted to be a country recording artist. When he was only 16-years-old, and working nights as a desk clerk at a Super 8 Motel, he took a tape of a song he wrote to a nearby radio station. The disc jockey told him it was against corporate policy to play such tapes on the air. "I was heartbroken, but when I left the studio and got in my car—and I remember it was about 6:30 in the morning—as I was driving away from the radio station and he said, "Folks, I'm not supposed to do this, but this song is just too good to pass up. This song was written by a hometown boy, his name is Clay Walker!' He spun it and I could not believe it. It was one of the highlights of my whole career. Even to this day, when I think about the one moment in time, it said to me: 'This is what you're going to be!' That defined it. I knew with no question, that was it."
Like Mark Chesnutt and Tracy Byrd, Walker made a name for himself on the competitive Texas honky tonk circuit before graduating to success on a national level. "After I saw Mark and Tracy do it, that gave me even more desire because I knew both of them," Walker recalls. "Watching them do it led me to believe that if I kept trying hard, then maybe I could get my break too."
He did and in 1993, his first single on Giant, "What's It To You," flew up the chart and landed at No. 1. His smooth, evocative voice and energetic stage presence quickly established Walker as the latest Texas export to find national acclaim and a lengthy string of hits has followed. However, the Houston resident has never strayed far from his Texas roots or the Lone Star lifestyle. In fact, one of the accomplishments Walker is most proud of is having placed seventh in the cutting horse competition at the Houston Livestock Rodeo, the largest rodeo in the United States. He took the prize with his horse Maddie.
It's an impressive feat, made even more special because Walker was diagnosed with multiple sclerosis 10 years ago. "If you'd asked me when I was diagnosed that first day if I would still be alive, I would have said 'No' because that's what the doctor's said," he admits. "Here I am, 10 years later and actually I'm probably healthier than I was 10 years ago."
After more than a decade in the national spotlight, Clay Walker believes the best is yet to come. "I trust my gut more than ever now," he says. "I definitely don't feel like a rookie, but at the same time, I think the best years of my recording career are ahead of me. I believe if the good Lord wants it, who's going to stop it?"