Saints Eleven new video, My Heart, is a great taste of Texas Country.  The video was filmed at the historic Coupland Dance Hall in Coupland, Texas.
"My Heart" is about my three most important times in my life as man. Being a father, being a husband and being a son," says frontman Jeff Grossman.  "No matter what has happened or is happening around me, my son, my wife and my parents are my biggest inspirations. The first part of the song talks about being there for your young child, as a father, to guide them as they grow up and to let them know they can always count on you. The second part of the tune is about being a devoted husband and being in love with the woman of your dreams for the rest of your life. The third and final part is about being the man that your parents raised you to be and taking care of them at the end, as they did for you in the beginning. We wanted to make a simple music video in a cool setting and we couldn't have picked a better person to produce it. Natalie Riggs nailed it! She chose the historic Coupland Dance Hall in Coupland Texas. I knew it was going to be good when we walked in the door. It's nice and simple. It just fits the song."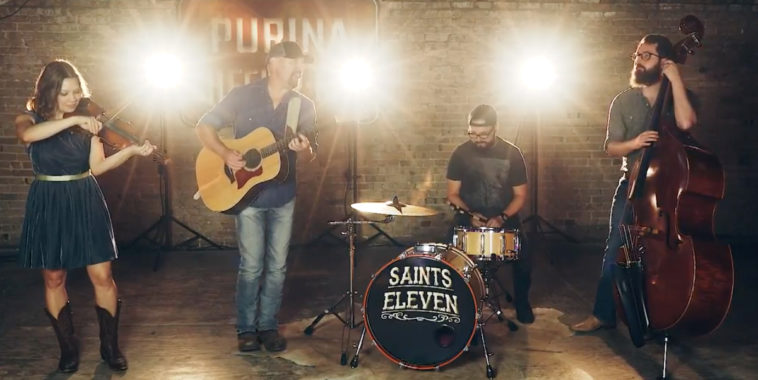 The bands' latest album, Coming Back Around, released in 2017, showcases the band's talents – including the video for the title track.
"The album is stunning in its lyrical honesty, each song fully formed and delivered with the attitude of a well-worn journeyman reflecting on the places and people of his life.  Each member of the trio balances the others like a well-oiled machine, with the twang of guitar, the cry of fiddle and slam of drums building into the album as a while with both humor and heart."   -Elmore Magazine (New York)
"The lyrics of songs combine with instrumental sounds to give you an album that will have you listening over and over trying to grasp the subtle and not-so-subtle reflections of a man who has lived life."-Got Country?
"Saints Eleven shines brightest when they come a bit unhinged and go a little dangerous.  Grossman's uniquely punk-country vocals take center stage on every tune.  While it may also be interesting to hear Grossman accompanied by more layers and textures, the production certainly doesn't abandon the overall aesthetic of the album.  'Coming Back Around' represents a solid step forward for the group and a notable entry into the Texas country jukebox."  -Wide Open Country
"This is a really solid album and a nice introduction to Saints Eleven.  It's definitely country throughout, and the instrumentation is certainly the album's greatest strength.  The songwriting is solid and the music seems to come from an honest place."  -Country Exclusive
"Saints Eleven are nostalgic on 'Coming Back Around.' The Dallas-based band set a stage for a triumphant return. Saints Eleven stays true to the character walking through the lonely rooms of "Coming Back Around' as he redecorates his home to include the pain of the past as his world slowly heals."  -The Alternate Root
Check out more cool music at saintseleven.com