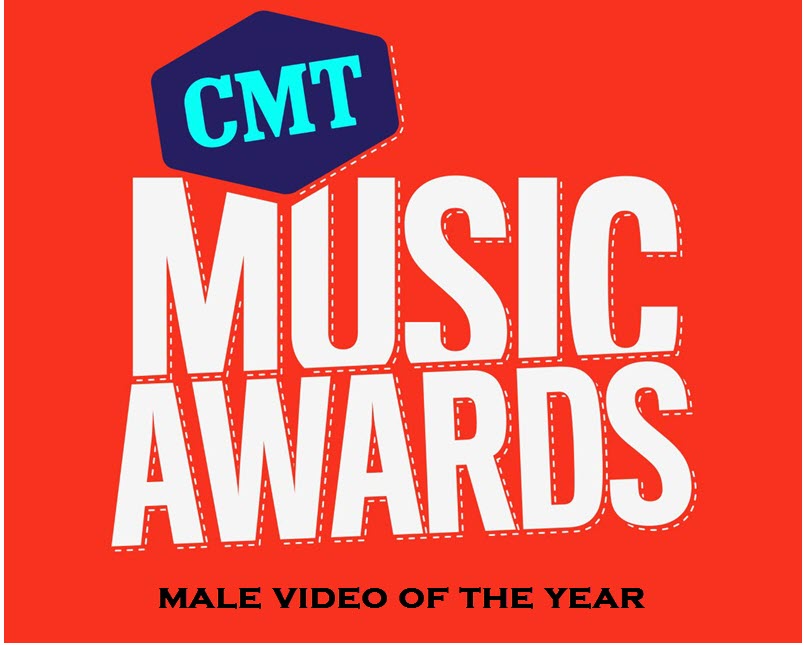 2019 CMT Music Music Awards nominees for Male Video of the Year are Cole Swindell, Eric Church, Jason Aldean feat. Miranda Lambert, Kane Brown, Kenny Chesney, Luke Bryan, and Thomas Rhett  Here's a look at each of the contenders.  The winner will be announced at the CMT Awards live from Nashville on June 5, 2019.
Male Video of the Year
Cole Swindell – Break Up in the End
Cole Swindell is very unique in the style of country music that he's pursuing, the subjects of his songs, and in his vocals, all of which have really helped to boost his career to where it is now. The video shows, in reverse, the ups and downs of a relationship, from end to beginning. It embodies so many of thoughts and feelings that most have during a breakup, and for that reason, I love this video and the emotional connection it provides to its viewers.
Eric Church – Desperate Man
Eric Church's 'Desperate Man' video tells the story of a family man (Church) who commits a crime in order to get his hands on the money his family needs to keep them comfortable, and his almost-capture by the authorities. It's fun, upbeat, and different from most videos released recently, and it's just another reminder as to why he is where he is in the industry.
Jason Aldean feat. Miranda Lambert – Drowns The Whiskey
I've said it before and I'll say it again: I LOVE this song, and the video is just the cherry on top. The video showcases Miranda and Jason in a bar, with the camera rotating between a pool table, the bar, and shots of whiskey, which helps to portray the feelings behind the song: a heartbreak so strong that even a drunken night doesn't stand a chance against the painful memories that come with it. Considering the notoriety of Miranda and Jason and the aesthetics of the video, I'd say this one stands a pretty good chance of taking home the title!
Kane Brown – Lose It
This video takes place in the dessert, and while there's not really a storyline it follows like some of the other nominees for this category, the visuals are stunning and the track itself is fun and upbeat. Kane has had a fast climb to the top, quickly becoming well-known and loved across the country. It would be amazing for him and his fan base if he were able to come out on top!
Kenny Chesney – Get Along
This video stars none other than… Kenny's fans! Lighthearted and fun just like the song, it's all about living it up and having a great time— with the assistance of none other than Mr. Chesney himself. I don't see this one winning, BUT it is very upbeat and positive, which is something I think we could all use nowadays.
Luke Bryan – Sunrise, Sunburn, Sunset
I think it's safe to say that Luke Bryan is a name that we're all familiar with, and his fan base is ever-growing. Sunrise, Sunburn, Sunset is all about young love in the summertime, a feeling most are familiar with. The video brings a sense of nostalgia that I personally find exciting, and reminds me a lot of the style of his older videos!
Thomas Rhett – Life Changes
This. This is the one I want to see win the award for this category. I know that, yet again, it's another concert-themed video. But the graphics, the angles, and the song itself are interesting in a totally different way from the others, and Thomas has been working hard to get to the level he's at now.
Check out the full list of CMT Music Awards nominees and cast your vote now at vote.cmt.com. The CMT Music Awards will be broadcast live from Nashville  on Wednesday, June 5 at 8/7c on CMT.  Who's your pick to win Male Video of the Year?