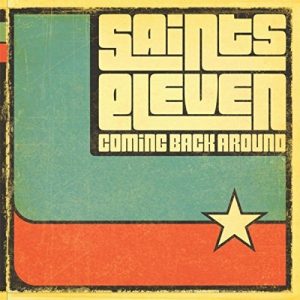 Dallas based red dirt country band Saints Eleven's new video, Coming Back Around, is the title track from their new album. Featuring founding member, lead singer, and guitarist Jeff Grossman co-founding member Jeffery Mosley on bass, and Alex Shepherd on drums and percussion, Saints Eleven will put a pep in your step with their brand of great country music.
Coming Back Around is the album's first single release and the song that sets the definitive tone of the album. The entire collection symbolizes Jeff Grossman's full circle journey in life, mistakes made, pain digested and resolve to wear those scars like a shiny new tattoo. Filmed at Tellers Bar in Austin, Texas, the video was produced by Van Scott Folger.
"This is one of my favorite songs on the new record," says Grossman.  "It's about making dumb decisions in life and learning from those mistakes. Yes, I know I screwed up, but give me a minute, I'll come back around. I had been talking to Van Folger, out of Austin, Texas, for a couple of months. Van had shot the video "Keep The Wolves Away" by Uncle Lucius, which is why I reached out to him. I thought that video was incredible. Then I received the script that the director Shrader Thomas wrote, and I was in. I thought it was brilliant! From the first ten minutes of being on the set the day of the shoot, I knew it was going to be a cool video."
Coming Back Around is the therapeutic result of dealing with loss in all its glorious phases.  In his previous releases,  Jeff Grossman has shown a man bested by love with a heart that has been duct taped time and time again leaving bitter traces across two albums where he is flipping the proverbial finger at his emotional assailants. This new release depicts a man a little wiser for the wear, a soul on the mend who is resolved in sharing a living space with the pain of the past.   A person is usually always drawn back to their roots and looking for redemption after a journey through the desolate abyss, and Grossman admits that is exactly why he wanted Walt Wilkins in the producer's chair declaring, "He's the Texas country Jesus."  Wilkins is noted as one of the most influential songwriters of his generation and has been deemed the John Steinbeck of music. Grossman attributes much of the album's soul to the handiwork of Wilkins who also sings back up on several of the tracks along with his wife Tina Wilkins.  "Coming Back Around" is the softer underbelly of Saints Eleven.  It's a trek through an Americana landscape; waltzing across blue valleys of sorrow, strutting over familiar plains of adversity and two-stepping over mountain peaks of resolve.
Saints Eleven's live show reputation has definitely moved them to the forefront of the music scene attracting music fans from all walks of life, and music business veterans as well. In fact, it was at a recent festival that music manager Bobby Turner caught the band's set and struck up a conversation with them about working together. Turner started out in the entertainment business managing nightclubs and venues in Texas. In 1997 he became manager and booking agent for Cooder Graw, one of the pioneers of the modern Texas music scene. He was responsible for booking the band into venues throughout Texas and has been associated with them for 20 years. While getting back with the band to book their reunion tour, Turner noticed the obvious need for indie artist management, someone to take over the gears when demand becomes overwhelming for the artist. It's that situation that inspired the company name, Shifting Gears Entertainment, and Saints Eleven is a proud new addition to the family. Turner's instinct to sign the band was immediate and he is pumped about their new partnership.
Check out more cool music at saintseleven.com