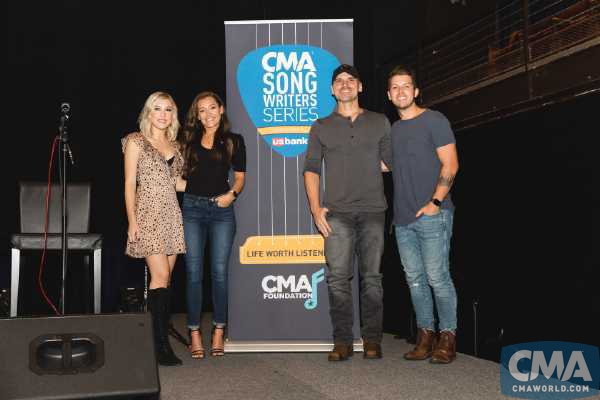 The Country Music Association visited Houston yesterday (September 17, 2018) with Josh Kerr, Maddie & Tae and Jon Nite, joining the CMA Foundation to meet with students at Waltrip High School followed by a CMA Songwriters Series Presented by U.S. Bank performance at The Heights Theater.
Monday afternoon, the songwriters visited Waltrip High School in the Houston Independent School District (HISD), participating in two band classes and a Q&A session, in addition to being treated to special performances by the students in each class. The school's wind ensemble, The Roarin' Ram Band, performed "Hey Baby" from "Dirty Dancing," paying homage to Patrick Swayze, who attended Waltrip High School. Last fall, the CMA Foundation presented the HISD with over $1 million in music education support, instruments and resources through the Mr. Holland's Opus Foundation to ensure all students in the district can participate in fine arts, despite limited budgets or resources.
The CMA Foundation and the Mr. Holland's Opus Foundation are currently hosting a musical instrument drive in Houston through Sept. 24, encouraging the community to donate gently used musical instruments at several drop sites located throughout the greater Houston area. Collected instruments will be cleaned, repaired and donated to Houston school music programs. Visit mhopus.org/instrument-drive for more details about drop sites.
Following the Waltrip High School visit, the songwriters headed to The Heights Theater for a CMA Songwriters Series Presented by U.S. Bank show hosted by Maddie & Tae. Kerr performed "Dibs" and "Love Me Like You Mean It," which he's co-written, and were recorded by Kelsea Ballerini, in addition to Keith Urban's new single "Never Comin Down" and Abby Anderson's new single "Make Him Wait," which he shared is "everything I want to say to my little sister. Lord willing I'll have a daughter some day and I'll be able to say it to her." Maddie & Tae's exceptional harmonies danced throughout their performances, including their breakthrough hit "Girl In A Country Song," which Maddie Marlow of the duo said "completely changed our lives" after being told so many times people wouldn't play it because it was too bold. The song went on to win a CMA Award for Video of the Year in 2015. The duo continued with old and new songs, including "Fly," which they reminisced about writing around the time they first moved to Nashville, just five days after graduating high school, to their new single "Friends Don't," which they wrote with Nite almost exactly a year ago. Nite performed Jake Owen's "Beachin'," sharing that he wrote the song the same day he found out he was having a baby boy, as well as "We Were Us," recorded by Keith Urban featuring Miranda Lambert, laughing that they loved the song so much everyone joked they'd get tattoos. The song won the CMA Award for Musical Event of the Year in 2014.
Set List:
Josh Kerr – "Dibs" (recorded by Kelsea Ballerini)
Maddie & Tae – "No Place Like You" (recorded by Maddie & Tae)
Jon Nite – "Boy" (recorded by Lee Brice)
Josh Kerr – "My Girl" (recorded by Dylan Scott)
Maddie & Tae – "Friends Don't" (recorded by Maddie & Tae)
Jon Nite – "Beachin'" (recorded by Jake Owen)
Josh Kerr – "Never Comin Down" (recorded by Keith Urban)
Maddie & Tae – "Fly" (recorded by Maddie & Tae)
Jon Nite – "Break Up in the End" (recorded by Cole Swindell)
Josh Kerr – "Make Him Wait" (recorded by Abby Anderson)
Maddie & Tae – "Write A Book" (recorded by Maddie & Tae)
Jon Nite – "Whatever She's Got" (recorded by David Nail)
Josh Kerr – "Love Me Like You Mean It" (recorded by Kelsea Ballerini)
Maddie & Tae – "Girl In A Country Song" (recorded by Maddie & Tae)
Jon Nite – "We Were Us" (recorded by Keith Urban ft. Miranda Lambert)
Source:  Country Music Assocation